2018 Super 32 Challenge
Best Early Bouts at Super 32
Best Early Bouts at Super 32
Brackets have dropped and we tell you what to watch for early at Super 32.
Oct 27, 2018
by Willie Saylor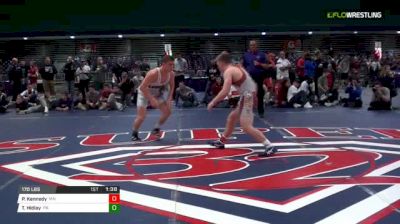 When brackets finally appear for tournaments with as much fire power as Super 32 it's like Christmas.
Who is seeded where? Who is in who's half? Who hits who early?
We'll give you the cliff notes here and tell you what to watch for in the opening rounds in Greensboro.
Oct. 27-28 | 8:00 AM Eastern
We'll focus on the first two rounds because after that, all bets are off and the list is of good matches is biblical in length.
2018 Super 32 Brackets on FloArena
106 Round 1: Kyle Montaperto (NC) vs. Levi Haines (PA)
Both freshmen, Montaperto won S32 MS last year. Haines is one of David Taylor's prize pupils at M2 and just beat three ranked wrestlers at Journeymen.
113 Round 1: James Riveira (MD) vs. Jeremiah Reno (MO)
Very talented Sophomore Riveira will take on returning 3rd Reno who is looking to bounce back from a DNP at Fargo.
113 Round 2: Ivan Garcia (NY) vs. Tristan Lujan (CA)
113 Round 2: Max Black (CO) vs. Nick Babin (NJ)
113 Round 2: Troy Spratley (NY) vs. Kase Mauger (ID)
120 Round 1: Georgi Oroudjov (NY) vs. Julian Farber (GA)
The debut of Vito Araujau's little brother.
120 Round 2: Eddie Ventresca (NJ) vs. Kurtis Phipps (PA)
Ventresca is one of my favorite up and comers. Phipps is a PA Runner-Up.
126 Round 2: Sammy Alvarez (NJ) vs. Caleb Henson (GA)
NC State commit Sammy Alvarez takes on freshman Henson who I promise you'll know sooner or later. The kid is relentless.
126 Round 2: Zach Redding (NY) vs. Gavin Brown (OH)
126 Round 2: Aaziyah Yacapin (WA) vs. Dylan Burnoski (IL)
126 Round 2: Pat Noonan (PA) vs. Caden McCrary (GA)
126 Round 2: Noah Horst (TN) vs. Patrick Allis (AZ)
132 Round 2: Peyton Keller (OH) vs. Jordan Hamdan (MI)
138 Round 1: Jackson Dean (DE) vs.Travis Ragland (VA)
138 Round 2: Jesse Vasquez (CA) vs. Nick Coy (PA)
Returning finalist Vasquez returns to action against UVA commit Coy.
Fargo Runner-up Dean vs. one of VA's top freshmen.
138 Round 2: Chase Warden (TX) vs. Micah Norwood (OH)
138 Round 2: Cael Berg (MN) vs. Cade Balestrini (PA)
145 Round 3: Keegan O'Toole vs. AJ Tamburrino (PA)
Fargo Champ O'Toole''s debut at 145 vs. a sneaky good Tamburrino.
145 Round 2: Devin Schwartzkopf (MO) vs. Nick Bennett (NJ)
An absurd early matchup, Schwartzkopf was 3rd at FloNationals while Bennett is a NJ finalist.
145 Round 2: Fidel Mayora (IL) vs. Antonio Segura (CO)
145 Round 2: Johnny Lovett (FL) vs. Erik Gibson (PA)
145 Round 2: Tate Nichter (PA) vs. Joey Zargo (NJ)
152 Round 3: Thayne Lawrence (PA) vs. John Martin Best (WV)
PA Champ Lawrence vs. Fargo finalist Best.
152 Round 2: Donald Cates (NC) vs. Aaron Gandara (AZ)
Two Fargo AA's.
152 Round 2: Cole Handlovic (PA) vs. Sammy Toggas (DC)
152 Round 1: Nathan Haubert (PA) vs. Tyler Badgett (CA)
160 Round 1: Kai Bele (FL) vs. Coy Cohenour (MT)
NC State commit Bele vs. a very underappreciated talent from Montana.
160 Round 2: Tyler Stoltzfus (PA) vs. Graham Calhoun (IN)
170 Round 2: Dustin Plott (OK) vs. Derek Blubaugh (IN)
One of the nation's premier talents vs. a very solid early foe.
170 Round 2: Patrick Kennedy (MN) vs. Seth Shumate (OH)
Returning Champ Kennedy vs. a Freshman who AA'd in Fargo.
182 Round 2: Nathan Haas (CA) vs. Carson Brewer (IN)
Fargo runner-up vs. state champ Brewer.