2018 Super 32 Challenge
College Fan Viewing Guide: 2018 Super 32 Edition
College Fan Viewing Guide: 2018 Super 32 Edition
Find out where are some of the best Super 32 studs are heading after high school in our college fan viewing guide.
Oct 25, 2018
by Wrestling Nomad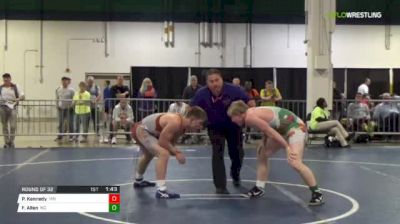 Unlock this article, live events, and more with a subscription!
Get Started
Already a subscriber? Log In
"Super 32 is a monolith." - Willie Saylor.
Monolith is probably a word you learned in college, something taught to you at the old alma mater. Your college decision was probably one of the most important of your life, and for these wrestlers, they've made theirs with the intent of becoming national champions at their chosen institution.
Oct. 27-28 | 8:00 AM Eastern
For wrestling fans in this country, NCAA rules the roost. And with the world championships this week, it's hard to stay up-to-date with even the highest levels of high school wrestling. But fear not, we've got you covered with some top notch prospects fans of these schools should be watching.
Before we begin, please know that this list not comprehensive, but is intended to paint a vivid picture of the high level recruits competing in Greensboro this weekend and let you know which school they'll be attending. The number next to the recruit's name is their weight class rank.
One final thing, make sure to get those FloArena alerts set up! It'll be the easiest way to follow your team's recruits this weekend.
Lightweight Preview | Middleweight Preview | Upperweight Preview
Penn State
#3 Adam Busiello (NY), 126
Our own Ryan Holmes did a piece on Busiello's quest to chase Super 32 history with his seventh belt overall, which would make him the first to ever win all four years on the high school level. Though he'll be wearing blue and white at the next level, the crew there might award him the special red belt reserved for 4x champs. If Nittany Lions are unfamiliar with Busiello, expect some slick stuff on his feet: super ducks, magic stick variations, and more. But it's his top game that has separated him from the field.
Ohio State
#8 Dylan D'Emilio (OH), 132
Although the Buckeyes have a stellar recruiting class coming in, only one of them is making the trip to North Carolina. This is D'Emilio's third try at winning a belt, finishing 8th as a freshman and fifth last year. It's likely 132 will be the toughest bracket this weekend, so it will be a well deserved title if he comes through unscathed. He's a little McKenna-ish in his fundamentals and size.
Iowa
#3 Cullan Schriever (IA), 113
Ryan Sokol (MN), 132
Colby Schriever (IA), 138
#9 Zach Glazier (MN), 170
#5 Patrick Kennedy (IA), 170
#2 Abe Assad (IL), 182
That's a lot of guys who will wear the Black and Gold in the next couple years. Assad and Glazier are graduating in 2019, while the Schreiver brothers and Kennedy are 2020 prospects for the Hawkeyes. Cullan Schriever and Kennedy are both defending champs, winning their finals matches in different ways on their feet, while Colby and Glazier did not place. Assad has never wrestled there in high school and is looking to bounce back after his WNO loss. Sokol is the only member of the 2021 class to have committed, and showed his high ceiling at Fargo 2017.
Oklahoma State
#2 Brevin Balmeceda (FL), 152
#4 Dustin Plott (OK), 170
#6 Konner Doucet (OK), 195
All three of these recruits committed in the same week, seemingly changing the direction of the Cowboys wrestling program. Balmeceda is a defending champ and Plott was in the finals a year ago. Doucet finished fifth and is looking tough heading into his junior year after making the Akron finals. Balmeceda is rock solid on top, Plott's length makes him difficult on his feet, and Doucet is going to make for an athletic heavyweight once he gets to Stillwater.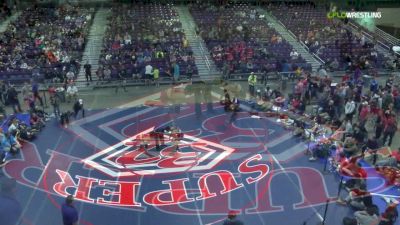 Michigan
#4 Cam Amine (MI), 152
Although it seemed like other schools, particularly Oklahoma State, were seriously in play, Amine stuck with the family tradition and will be a Wolverine. Just like his cousins already in college, his motor never stops running. In saying that though, two-thirds of his takedowns came in the first period, putting opponents in the hole early.
Arizona State
Julian Chlebove (PA), 132
A pretty big "not ranked" asterisk for Chlebove, a two-time PA state champ and FloNats champ who placed fifth last year at this weight, but has not competed since then. He can scramble, his Jones tilt in particular is devastating, and has excellent top work. Chlebove's return might be the most anticipated first match of the tournament.
Missouri
Noah Surtin (IL), 120
#2 Keegan O'Toole (WI), 145
Surtin had a bit of an up and down summer, and it is surprising he's stayed down at 120. The future Tiger can be pretty incredible when he's on, such as Fargo 2017 or his loaded Illinois state bracket. O'Toole is another Fargo champ who looked phenomenal in his WNO match against Jaden Abas. Expect a lot of cradles from the Askren protege.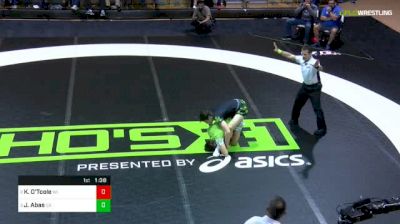 Unlock this video, live events, and more with a subscription!
Get Started
Already a subscriber? Log In
NC State
#9 Kai Orine (MO), 126
Sammy Alvarez (NJ), 126
Donald Cates (NC), 152
#10 Kai Bele (FL), 170
Christian Knop (AL), 195
The first round in 2017 saw a match between two Wolfpack recruits at 195, and we could see that same situation at 126 this weekend. Willie picked Sammy Alvarez to win 113 at that tournament, and although he didn't do that, he was also the last person to defeat Robbie Howard. Orine made the FloNats finals in April. Cates is an interesting prospect, having not placed at the North Carolina state tournament but getting third in Fargo.
Lehigh
#12 Malyke Hines (FL), 132
Nathan Haubert (PA), 152
Luca Frinzi (PA), 160
#13 Edmond Ruth (PA), 170
#20 Louden Haga (WV), 285
On paper, this is the best recruiting class heading to Bethlehem in quite some time, and nearly all of them will be on display this Saturday and Sunday. Ruth is one of the most talked about prospects in the country, in part due to his name, but he's also a PA state champ with a unique style. Haga's made the Fargo finals, and Hines continues a long line of Florida prospects to wear the Brown & White.
Virginia Tech
#8 Sam Latona (AL), 113
#3 Connor Brady (OH), 152
Brady's got a little bit of Brayton Lee in him, in the sense that he has beaten everybody and their brother, but hasn't necessarily earned a title at a national major in a while. It was interesting watching him outscramble Thayne Lawrence at Super 32, because's he going to need to be prepared for some funk this weekend. Latona has always been stronger in freestyle, but as a senior now may have a different outlook and not be afraid to try to impose his will on younger guys.
Who's #1: The Show - Lightweight Preview
Northern Iowa
#19 Kyle Gollhofer (GA), 120
Turns out that Georgia to Cedar Falls isn't stopping anytime soon. Gollhofer seems like a perfect fit for Doug Schwab, right on the fringe with a boatload of potential from a non-power state. They do things a little differently at UNI, and that's the kind of environment in which Gollhofer should excel.
Cornell
#1 Greg Diakomihalis (NY), 113
#9 Chris Foca (NJ), 182
#2 Jacob Cardenas (NJ), 195
Greg D finally earned himself that #1 ranking, and is immediately putting it on the line. The Bergen boys Foca and Cardenas will make for a fun back half of the lineup in Ithaca. Foca's arm bar series is top notch and will scramble with anyone, whereas Cardenas already has a D1 level go-behind. I wonder how well the massive field at 113 will be able to handle Greg's underhook and elbow control stuff.
Rutgers
#6 Jackson Turley (VA), 182
Turley has been very active in the road to Super 32, going 3-1 at Journeymen and picking up a win over Grayden Penner at Agony in Ames. The two-time National Prep runner-up is fearless on the mat, willing to try just about any move at any time. After watching his insane loss against Michael O'Malley last year in the semis, I have a feeling he'll be trying to put matches away early this time around.
Princeton
#11 Matt Cover (OH), 195
Nathan Dugan (NC), 195
Aidan Conner (TX), 285
It's clear the Tigers coaching staff is trying to hoard upperweights for this recruiting class, after taking care of some lightweight needs in 2018. Cover was third in Ohio DII last season and placed eighth in Fargo.
Northwestern
David Ferrante (IL), 160
#12 Troy Fisher (KS), 170
A couple upper middleweights, one from in-state in Ferrante and another from Kansas. Willie in particular thinks Fisher is an excellent value pick to place high.
Illinois
Luke Odom (IL), 138
It's clear that the coaching staff is prioritizing keep kids in state, particularly from the strong 2020 class. Odom is on the fringe of being ranked right now and can kick that door in with a strong performance this weekend.
Wisconsin
Aiden Medora (WI), 138
#8 Josh Otto (WI), 160
Although he wasn't a Wisconsin commit at the time, Eric Barnett made the finals at 113 last October. Coaches Bono, Reader, and McDonough would love similar performances from Medora and Otto, the latter of whom was in the Akron finals. Otto was up at 170 for Journeymen, so not sure if he will be there or 160 in Greensboro.
Who's #1: The Show - Upperweight Preview
Minnesota
Baylor Fernandes (IL), 152
Fernandes completely dominated his opponent at Agony in Ames. From a very strong Lockport Township program, Fernandes can separate himself from the 152 field with an excellent top game.
Iowa State
#2 Ryan Anderson (PA), 145
It seems like a joke, but Anderson bumped up two weights from the one he signed up at to compete and won. Yes, the defending champ was registered for 126 and won 138... insane. The PA state champ from Bethlehem Catholic is up one more weight this time, and as you can see above, has some stiff competition to deal with. Anderson is not afraid to win those gritty, 2-1, 3-2 matches.
Maryland
#7 Lucas Byrd (OH), 120
#9 Michael North (OH), 145
#10 Jorden Pryor (MD), 285
Perhaps the strongest recruiting class joining the Terps in a few years, and you'll see a lot of them wrestling in the Coliseum.
Michigan State
Jordan Hamdan (MI), 132
#6 Jordan Crace (OH), 138
Crace was a surprise commit to the Spartans. He wrestled ten (10!) matches last year to get eighth, which is part of what makes Super 32 so difficult. Sometimes it's a war of attrition and being able to last the whole two days. He did come out swinging though, with three techs and a major. Hamdan is an excellent under-the-radar guy nationally who is the classic bad draw.
Indiana
#6 Jacob Moran, 113
#14 Asa Garcia, 132
Cayden Rooks, 138
Matt Ortiz, 160
Nick South, 160
Donnell Washington, 160
As you can see, there's a lot of opportunity for one of those last three to make themselves the frontrunner to the Hoosier's 165 going forward. Moran's last folkstyle outing did not go as planned, finishing 2-2 and failing to place at FloNats, so he's looking for a bounce back performance. Garcia on the other hand was third at FloNats and might surprise some people even in what we believe to be the toughest weight of the tournament.