2018 Super 32 Challenge
Toughest Weight Of Super 32
Toughest Weight Of Super 32
I suggest you get a glimpse of the potential firestorms that are about to erupt all over the Greensboro Coliseum at this weight.
Oct 24, 2018
by Ryan Holmes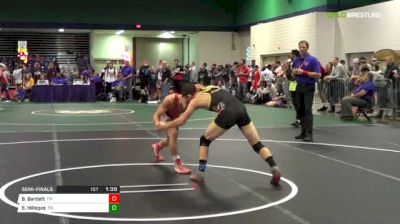 Have you taken a look at 132? Well, it's the toughest weight in the tournament so I suggest you at least get a glimpse of the potential firestorms that are about to erupt all over the Greensboro Coliseum.
Oct. 27-28 | 8:00 AM Eastern
Now, I know more doesn't always mean better, but in this case it does. 132 has the most ranked wrestled registered with 14. That's a lot, especially considering there's only 20 guys ranked per weight. Before we talk about the entire bracket, let's just look at the 14 ranked guys here.
Ranked Contenders:
#4 - Beau Bartlett (PA) - Returning Runner-Up
#5 - Julian Chlebove - ARIZONA ST. - Returning 5th
#7 - Sam Hillegas (PA) - Returning 4th
#8 - Dylan D'Emilio (OH) - OHIO ST. - Returning 5th
#10 - Joshua Edmond (MI) - Fargo Cadet Champ
#11 @ 138 - Patrick Noonan (PA) - NHSCA Champ, FloNats 3rd
#12 - Malyke Hines (FL) - LEHIGH - Returning 5th
#14 - Asa Garcia (IN) - INDIANA - FloNationals 3rd
#14 @ 138 - Frankie Tal-Shahar (FL) - Cadet Trials Runner-Up
#15 - Mick Burnett (OH) - Fargo Runner-Up
#16 - Kenny Hermann (PA) - State 4th
#16 @ 126 - Wyatt Henson, MO - Fargo 3rd
#20 - Justin Rivera (FL) - FloNationals 4th
#20 @ 138 - Gabriel Hixenbaugh (AL) - CAMPBELL
Watch Chlebove take out Josh Saunders for 5th last year: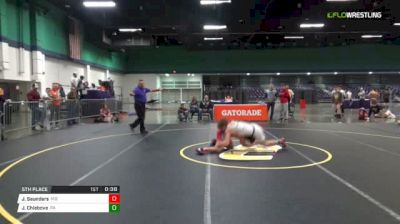 Unlock this video, live events, and more with a subscription!
Get Started
Already a subscriber? Log In
In addition to the ranked wrestlers, there is an incredible amount of contenders outside the top 20 who are looking to do some damage.
Other Contenders:
Matt Bianchi, WI - State Champ
Cael Berg, MN - State 5th
Marckis Branford, PA - GEORGE MASON - Cadet Trials 7th
Jack Ganos, WI - State Runner-Up
Will Grater, NJ - State 8th
Jordan Hamdan, MI - FloNationals 7th
Kellyn March, SD - Fargo 6th
Justin McDougald, NY - State Runner-Up (to Busiello)
Darren Miller, PA - BUCKNELL - State 3rd
Mark Montgomery, NJ
Nick Moore, OH - State Runner-Up
Val Park, OK - FloNationals 8th
Gianno Petrucelli, CA - State 6th
Marcos Polanco, CA - State 4th
Ryder Ramsey, OK - ARMY - Fargo 8th
Chris Rivera, FL - State 3rd
Julian Sanchez, OH - ARMY - Returning 8th
Logan Sciotto, NY - State 3rd
Ryan Sokol, MN - 2017 Fargo Champ
Nick Vafiadis, VA - S32 Middle School Runner-Up
When taking a look at this there are obviously guys here that we all want to see. But I'm going to be selfish and talk about two guys that I'm champing at the bit to see compete again and that's Julian Chlebove and Ryan Sokol.
Both these guys spent the entire last year off the mat. Sokol made his return to action at Journeyman Fall Classic earlier this month and placed 5th at 135. But we've seen what he's capable of. The 2017 Fargo Champ and recent Iowa commit is tough and can battle.
On the other side of things is Chlebove. He is yet to see any action since being cleared to compete again, but I had the chance to see him practice at a camp a few weeks ago and he looks like he's ready to get back to action. Unlike Sokol, who is currently unranked, Chlebove sits in the #5 spot in this weight class as he looks to start another state championship campaign.
Ok now all selfishness aside, this weight class is going to be a fun one. Beau Bartlett, who was a runner-up at 126 last year, will be looking to impress upon that finish. Last year he took out Sammy Hillegas in the semis, who is also back and in this weight class as well. Along with Hillegas and and Bartlett, the other two that I like here to finish high are Frankie Tal-Shahar and Dylan D'Emilio. Tal-Shahar was a runner-up in Akron to Josh Saunders, who unfortunately will be sitting this one out, and D'Emilio,well let's face it, he's always a contender to take home a title.
As you can see this list of contenders is huge. Any of these guys can make the finals and once things start to heat up you'll want to stay glued to everything that's happening in this weight class.