Robert Howard & Emily Shilson Win Youth Olympic Gold Medals
Robert Howard & Emily Shilson Win Youth Olympic Gold Medals
Robert Howard and Emily Shilson became the first American wrestlers to win gold medals at the Youth Olympic Games.
Oct 14, 2018
by Wrestling Nomad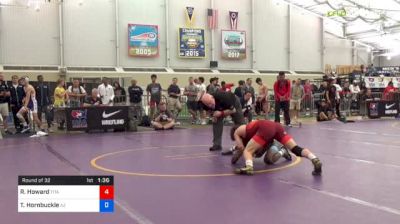 A day after Emily Shilson became the first American wrestler to win a gold medal at the Youth Olympic Games, Robert Howard matched her feat. Shilson is a senior at Centennial high school in Minnesota, while Howard is in his junior year at Bergen Catholic in New Jersey.
Shilson won five matches on Saturday in Buenos Aires, Argentina. Her opponents included 2017 Cadet world bronze Simran of India and Shahana Nazarova of Azerbaijan, the opponent Shilson teched back in July to win the Cadet world finals.
On Sunday, Howard teched Cadet world silver medalist Hayato Fujita of Japan, and beat 2018 Cadet Euro champ Vladyslav Ostapenko of Ukraine 10-5. At the 2017 world championships, Ostapenko had teched Howard 11-0.
Also competing at these Youth Olympics were Tiare Ikei of Hawaii and Carson Manville of Minnesota. Manville fell in the bronze medal match at 65kg and Ikei finished sixth at 49kg.
The United States had previously made four finals at the YOG. Jordan Rogers was the first, finishing second at 76kg in 2010 for the men's freestyle team. Both Daton Fix (54kg) and Cade Olivas (46kg) finished with silvers for men's freestyle in 2014. Mason Manville added a Greco-Roman silver at 69kg that same year, meaning Shilson won the first medal in women's freestyle for the USA.
43kg: Emily Shilson, Minnesota
WIN Justine Fanny Vigouroux (France), 5-0
WIN Heloisa Elena Martinez (Brazil), tech. fall 10-0
WIN Shahana Nazarova (Azerbaijan), tech. fall 12-1
WIN Christianah Tolulope Ogansanya (Nigeria) pin
WIN Simran Simran (India), 11-6
55kg: Robert Howard, New Jersey
WIN Hayato Fujita (Japan), tech. fall 13-2
WIN Vladyslav Ostapenko (Ukraine), 10-5
WIN Hernan David Almendra (Argentina), 17-6
65kg: Carson Manville, Minnesota
WIN Fathi Tarek Fathi Attia Ismail (Egypt), 12-3
LOSS Mohammad Baghi Karimiseifabad (Iran), tech. fall 10-0
LOSS Inayat Ullah (Pakistan), 6-2
49kg: Tiare Ikei, Hawaii
WIN Maria Jose Mosquera Rojas (Venezuela), tech. fall 12-2
LOSS Natalia Varakina (Belarus), 6-0
LOSS Shokina Akhmedova (Uzbekistan), pin
WIN Nilufar Raimova (Kazakhstan), 8-0
LOSS Roza Szenttamasi (Hungary), 3-0