More Doors Opening for Jace Luchau
More Doors Opening for Jace Luchau
After another strong summer, Jace Luchau has plenty of college options.
Aug 27, 2018
by Willie Saylor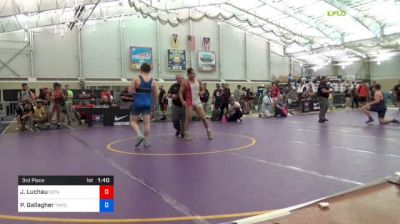 Unlock this article, live events, and more with a subscription!
Get Started
Already a subscriber? Log In
"Work." It's one of the most ubiquitous words in wrestling. But I don't know that I've talked to a recruit who talks about it so much. And it appears Jace Luchau walks that walk.
Last year, after taking 3rd and 6th in Fargo FS and GR, respectively, Luchau says he started getting college letters.
"College recruiting started for me right then. That summer work is what first got me noticed."
The regular folkstyle season saw Jace have good, not great (by his standards) results. DNP's at Super 32 and Folk Nationals bookended a season with placings at Doc B (8th) and the State Tournament (4th). So it was back to the grind for summer.
And it paid off.
Luchau would knock off several high-profile recruits in a 2nd (GR) / 3rd (FS) Akron before an 7th (GR) / 5th (FS) tally in Fargo Juniors. The performances vaulted him to #2 in the country, and has even more college opportunities on his doorstep.
Luchau has four college visits sandwiched around his Oct. 7th Who's #1 appearance. He says he's holding on to the fifth for now.
| | |
| --- | --- |
| Jace Luchau | Visit Dates |
| Fresno St. | 8/31 |
| Maryland | 9/15 |
| N. Carolina | 9/23 |
| OK State | 10/12 |
Luchau says some people look at his results and consider himself a Freestyle specialist, but as he sees it, it's all part of his development and will serve him better in folk.
"I continue to get better in all styles, folk included. And it's directly related to wrestling all styles. I wrestled over 200 matches in 2018. People that focus only on folkstyle are limiting their potential in my mind. My offense and defense is 100 percent cleaner because of the constant work in freestyle. Additionally, my goals are not just to be a high school or NCAA champion. I want to win world titles and you can not do that in Folkstyle."
Indeed, Jace's goals seem long term and his maniacal dedication to improving is apparent in what he says he's looking for in a college program.
"I'm not much interested in conference, facilities, singlets, etc. The main thing that I am looking for in a program is a personal connection with a coach. I've been blessed to have great coaches that will go to war with me. If you can't go to war with your coach and or he won't go to war for you then none of that other stuff matters."