Cam Amine Releases School List
Cam Amine Releases School List
Detroit Catholic Senior Cam Amine (MI) has narrowed down his college choices.
Aug 20, 2018
by Willie Saylor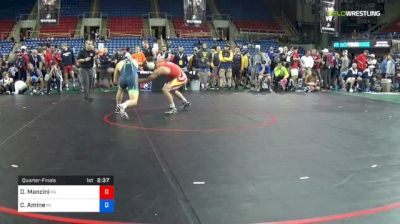 Unlock this article, live events, and more with a subscription!
Get Started
Already a subscriber? Log In
After impressing at 2017 FloNationals where he took 3rd as a Sophomore, I tweeted this about Cam Amine.
Thanks for always supprting us. Kamali and (the best) Amine (yet?). Love DCC! https://t.co/LxXjX9Ll4c

— Willie Saylor (@WillieAtFLO) April 2, 2017
Best Amine yet?
It's a lofty goal to live up to. Cam's grandfather, Nazem, was an Olympian for Lebanon in the 1960 Rome Games and brought his love of wrestling with him to the states. His Uncle Mike was an NCAA Runner-Up. And his father, Sam, placed 4th at Big Ten's and coached several high schools including his Warren Lincoln State Championship squad of 1994.
Cam's brother Jordan, and his cousins Malik and Myles all wrestle/d in college, with Malik qualifying for NCAA's and Myles among the best 174bers in the country as a two-time All American with two years remaining.
Oh. And they all went to Michigan.
So Cam, the 4th-ranked 152lber in the country, is a shoo-in as a Wolverine, right?
Not so fast, says Sam. "Everyone pretty much assumed Cam was going to follow the rest of his family to Michigan. We've talked to college coaches that said they never even thought to call because it was just assumed. But Cam is going to go through the process, he'll take his trips and have and open mind and see what he likes."
A three-time state finalist, Cam has also placed in all the majors he's entered - Fargo, Super 32, FloNationals. And from both analysts like myself and college scouts, the consensus is that Cam's best days are ahead of him. 'Upside,' and 'he has the right style,' are two attributes often applied to his potential.
Yesterday, Cam appeared at #2 in our latest 165lb. prospect list.
After healing up from a ankle injury that forced him to default in a scoreless Fargo semi, Cam will compete at Super 32 on October 27th. But between now and then, he's taking his five official visits.
Pared down from an initial list that included NC State, Nebraska, Arizona State, and Missouri, Amine's Top 5 and visit dates are thus:
| | |
| --- | --- |
| Oklahoma St. | Sept. 7 |
| Wisconsin | Sept. 14 |
| Michigan | Sept. 21 |
| Purdue | Sept. 28 |
| Ohio State | Oct. 5th |
Amine says he's likely to make his decision soon after his visit to Columbus, meaning that by the time we see him at Super 32, he'll be off the market.