School Lists: Brevin Balmeceda
School Lists: Brevin Balmeceda
Defending Super 32 Champ Brevin Balmeceda takes us through his recruiting approach.
Jul 30, 2018
by Willie Saylor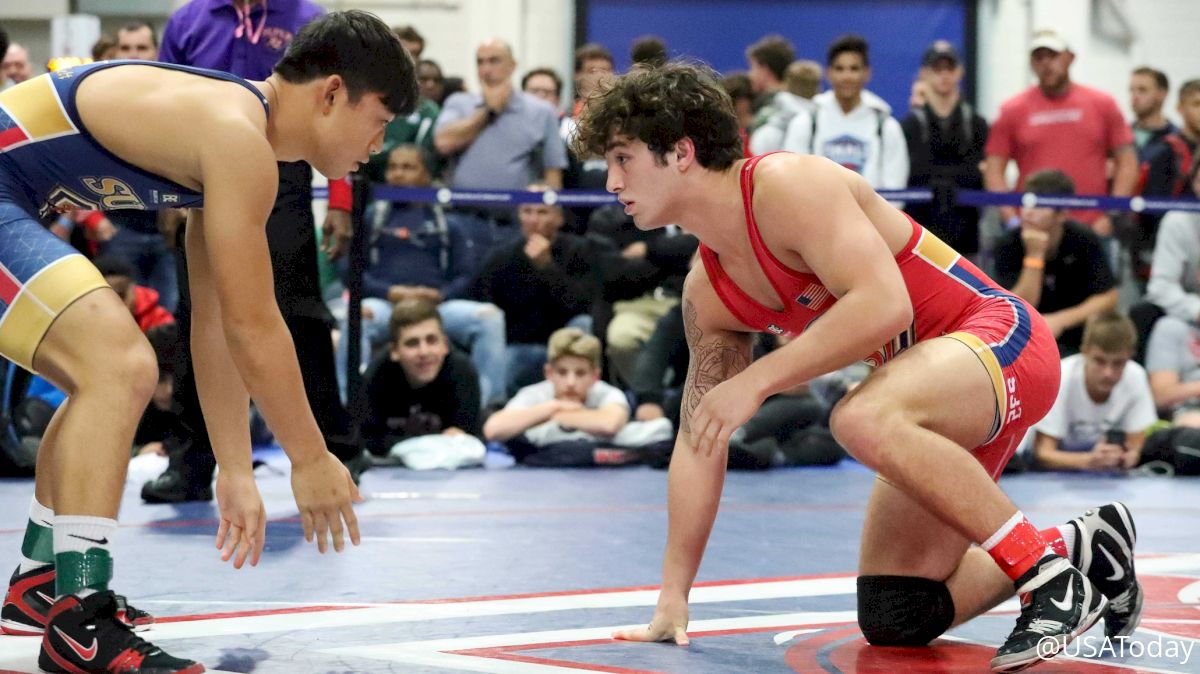 Unlock this article, live events, and more with a subscription!
Get Started
Already a subscriber? Log In
Super 32 Champs are rare.
Rarer yet are senior Super 32 Champs that are still on the market. In fact there are only two such cases this year. Ryan Anderson of Pennsylvania, and Brevin Balmeceda, the nation's #2 152lber, from South Dade, Florida. Balmeceda has honed in on a couple contrasting attributes of programs that has narrowed his list of schools to six. His list is Oklahoma State, Iowa, NC State, Rutgers, Virginia Tech and Ohio State.
His interactions with his programs of choice include an in-home visit for Hawkeyes' lead recruiter Ryan Morningstar last week, and an unofficial visit to Virginia Tech last fall.
Two Distinct Paths
He says while he relishes the opportunity to don classic singlets like the Iowa black, or the Cowboys' orange, a part of him also is intrigued by prospects of being part of ascending programs like Rutgers or NC State.
Ryan Morningstar just came down this weekend to make a home visit with us. It went very well. We don't have any other official visit dates set up with the other schools. We did take an unofficial visit to Virginia Tech last fall and he enjoyed it and loved the coaches.
"I like Iowa, Oklahoma State and Ohio State because they are proven winners. Each year they have a national champion or two and multiple All Americans. I like to have a bullseye on my back and wrestling for those programs does that. I also like the thought of wrestling matches in front of thousands of fans." But, I also like the thought of being part of an up and coming team like Rutgers, Virginia Tech and NC State and knocking off the perennial powers. I feel like all these schools give me the best opportunity to be successful on the mat because they have great head coaches, tough work out partners and awesome assistant coaches to roll around with everyday."


Father Knows Best
Brevin's father Victor is the Head Coach at South Dade, a program that is consistently one of the best in the state and one that produces nationally-ranked wrestlers with regularity. Kids will be kids, but Victor gave him some proper perspective in advising Brevin what to look for.
"This is going to sound silly but, as a freshman I was choosing colleges I might want to go to based on how swagged out their singlets looked. My dad took me to the NCAA last year and he told me to look at how the wrestlers responded to their coaches. He told me to look at the different wrestling styles at each school and to decide on which style fit me best. He also told me to pay attention to their fans and how passionate some school's fans could be. I did all that but I still found myself checking out how swagged out their singlets were too."
Time Line
Brevin has official visits lined up to Rutgers and Iowa. He'll be in New Jersey on September 29th, while he'll visit Iowa on October 20th, the weekend before Super 32.
"I want to take these visits and see which coaches and wrestlers I vibe with the best. I think I have good judgement when it comes to weather a coach is sincere or not. I wrestle better when I know that the coach has my back and truly cares about me and my future. It's a decision that I will have to live with for the next 4 or 5 years so I am going to weigh the pros and cons of each program and not rush into anything. I do plan on making my decision this fall so I can have peace and mind and focus on doing my best during my senior year."