#1 Kerkvliet Re-Opens Commitment, Releases School List
#1 Kerkvliet Re-Opens Commitment, Releases School List
Greg Kerkvliet, the nation's top recruit in the Class of 2019, has re-opened his commitment and is considering four schools for college.
Jul 25, 2018
by Wrestling Nomad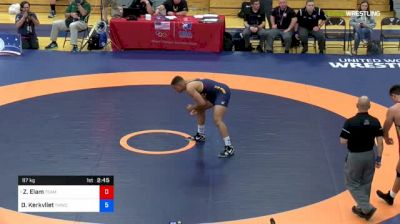 Daniel Gregory Kerkvliet has re-opened his college commitment and is currently looking at four schools. The nation's #1 recruit is back on the market and will begin setting up official visits soon.
In a phone call earlier today with FloWrestling, Kerkvliet had the following to say about the decision to re-open his commitment:
The reasons I opened my commitment back up are because I am looking for the right fit for me, all of them are great schools not just in their wrestling programs, but academically as well. I am looking for the best environment where I can make a long-term commitment, much longer than just the five years I will be wrestling in college.
In November of last year, Kerkvliet decommitted from Minnesota and gave a verbal to Oklahoma State. The Cowboy coaching staff is aware of Kerkvliet's decision to re-open his recruiting process.
It is no surprise that Kerkvliet wants to attend a school that is looking to help him long term, as he has world and Olympic aspirations in freestyle. The 17-year-old won a Cadet world title last year and made the finals once again this year. In two months, he will make his first trip to the Junior world championships and try to win a 97kg world title.
At this time, the Kervkliet family indicated that four schools are in the running for him: Ohio State, Oklahoma State, Nebraska, and Penn State.
Greg Kervkliet's School List
Oklahoma State
Ohio State
Nebraska
Penn State
After making the Junior world team in May (while still Cadet eligible), Kerkvliet ascended to the top of the 2019 Big Board. Currently, the Minnesota native is slated to spend his senior year at the Olympic Training Center and may not wrestle in any high school events this upcoming season. However, he did mention the possibility of wrestling in some college opens, as well as a few international tournaments.
The decision could have a huge impact on the heavyweight landscape. In the last 285lb prospect rankings, Kerkvliet was second behind Gable Steveseon. The #3 HWT Cohlton Schultz just committed to Arizona State yesterday. The #6 big man in Seth Nevills has already graduated and signed his national letter of intent to join his brother Nick at Penn State. Nebraska landed the #16 recruit at the weight in Austin Emerson after Eastern Michigan dropped their program and Emerson needed to choose a new college destination.
Kerkvliet's father stressed that they will be taking their time with this decision. In that vein, a couple dates to consider:
- Aug. 1st: First day 2019 seniors can receive financial offers from schools
- Nov. 14th: First day 2019 seniors can sign a national letter of intent
One last note, the criteria is not yet out for Olympic redshirts during the 2019-20 season. However, Kerkvliet may look into taking one, just as Anthony Valencia did after his senior year of high school.
For another look at Kerkvliet's dominance, check out him teching Fargo champ Zach Elam in just over a minute.
Unlock this video, live events, and more with a subscription!
Get Started
Already a subscriber? Log In