The junior men's freestylers provided plenty of surprises in the Fargodome this year. Huge names went down and dark horses made waves. Check out some of the most eye-popping upsets from the junior men at the 2018 USAW National Championships.
Watch Fargo 2018 LIVE! | More Fargo 2018 Content
145 lbs - Daniel Manibog, TX over Anthony Artalona, FL
UPenn commit Anthony Artalona came to Fargo to make history and win his fourth stop sign. Unranked Manibog had other plans and took out the #26 ranked recruit from the Class of 2018 Big Board in a round of 16 stunner.
Manibog won't be unranked for much longer. He also beat #16 Cade Devos of Iowa and #7 Colton Yaboujian of Colorado on his way to the third-place match.
Watch Manibog upset Artalona:
170 lbs - #6 Carson Kharchla, OH over Travis Wittlake, OR
Kharchla's no slouch, coming into the tournament ranked sixth in the nation. But Wittlake was the heavy favorite, as the high school graduate was all the way up at #6 on the Class of 2018 Big Board. The future Oklahoma State sooner would stumble again in the consolations, losing to Parker Keckeisen of Wisconsin and will wrestle for fifth-place.
Watch Kharchla upset Wittlake: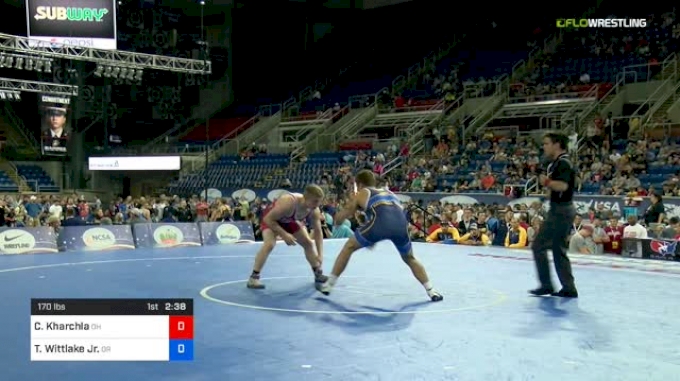 126 lbs - Doug Zapf, PA over Pat McKee, MN
Defending champ and #38 on the Class of 2018 Big Board Pat McKee came into Fargo as one of the biggest favorites to repeat. Unranked Doug Zapf dashed those plans in the round of 64 in one of the biggest shocks of the early rounds.
Watch Zapf upset McKee:
138 lbs - Clay Carlson, MN over #1 Jaden Abas, CA
Abas has been on a tear, moving all the way up to the top of the high school rankings before Fargo. But Clay Carlson was undeterred and scored a massive upset in the round of 64.
Every bracket at Fargo is stacked but few could match 152 in terms of firepower, and Wilcox was a big reason why. Mancini would deny Wilcox in the round of 16, however, eventually finishing seventh in one of the toughest high school tournaments of the year.
120 pounds was an absolute meatgrinder in the junior men's freestyle division at Fargo. Kyle Biscoglia was one of the many landmines in that bracket, and #3 Trevor Mastroviovanni was unable to avoid taking an earlier than expected loss. Both would end up as junior All-Americans in a bracket that will likely include multiple NCAA All-Americans when all is said and done.
Ragusin won a cadet national title in 2017 and was one of the favorites in a loaded 120-pound weight class. It wasn't an upset when #8 Ragusin lost to #2 Julian Tagg of Ohio in the semifinals, however, it was a surprise in the consolation round when unranked Corey Gamet threw Ragusin to his back for five and a first-period pinfall.
Other matches that got the Fargodome spectators stand up and say: "Whoa."
132 lbs - #7 (138) Ridge Lovett, ID over #1 (126) Beau Bartlett, PA
120 lbs - #11 Aden Reeves, IA over #2 Julian Tagg, OH
145 lbs - Logan Meek, OR over Michael Blockhus, IA - Blockhus is #44 on the Class of 2018 Big Board
Did we miss any shockers? Let us know!