Kyle Snyder is an anomaly. The youngest world champ and youngest Olympic gold medalist in USA Wrestling's storied history, he made yet another world team earlier this month.
His goal for this year is to help America defend the team title, and in the process win his fourth straight world or Olympic crown. Only one other wrestler in the history of this country has done so, and that is, of course, the legendary John Smith, who won six in a row from 1987 to 1992.
Focusing in on Snyder's quest to win four in a row, it would put him in rarified air. In the entire history of men's freestyle at the world level, only 16 guys have won four consecutive titles. Below is a complete list of those men. Note, some won more than four straight, this just lists their initial streak.
Aleksandr Ivanitsky (USSR) 62-65
Abdollah Mohaved (IRI) 65-68
Aleksandr Medved (USSR) 66-69
Levan Tediashvili (USSR) 71-74
Yuji Takada (JPN) 74-77
Soslan Andiyev (USSR) 75-78
Pavel Pingin (USSR) 75-78
Vladimir Yumin (USSR) 76-79
Sergei Beloglazov (USSR) 85-88
Arsen Fadzayev (USSR) 85-88
Makharbek Khadartsev (USSR) 86-89
John Smith (USA) 87-90
Leri Khabelov (USSR) 90-93
Valentin Jordanov (BUL) 93-96
Buvaisar Saitiev (RUS) 95-98
Khadjimourat Gatsalov (RUS) 04-07
The first thing that jumps out from this list is how many are from Russia or the former Soviet Union. That shouldn't be terribly surprising considering how dominant they've been on a team level, but the nation's ability to pump out pantheon level stars is staggering.
The next thing that jumps out is that it's been over a decade since someone won four in a row, someone whom Snyder has in fact wrestled twice. If Snyder accomplishes this feat, it would be the first time that two wrestlers matched up against one another that would eventually go on to win four straight. No match has occurred between two wrestlers who have already won four consecutively.
Since Khadjimourat Gatsalov won the 2007 title at 96kg, there have been four men who won three in a row and then failed to finish off the fourth. Besik Kudukhov nearly swept an Olympic quad, winning titles from 2009-2011 but then losing in the Olympic finals in London to Togrul Asgarov. Had Kudukhov won that match, he would've been the first since Valentin Jordanov to sweep a quad.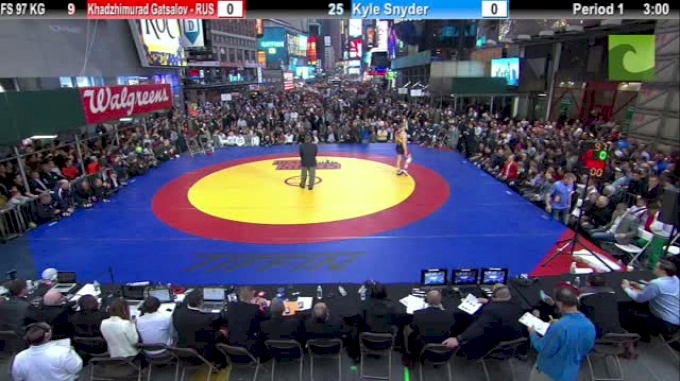 Unlock this video, live events, and more with a subscription!
Get Started
Already a subscriber? Log In
The next was Snyder's teammate, Jordan Burroughs. Heading into the 2014 World Championships, it was being billed as the (potential) third match between Burroughs and Denis Tsargush. Only this time, Burroughs was the favorite and had more titles. However, JB would tear his ACL in the first match and fall 9-2 to Tsargush in the semis.
Then just last year, not one but two big stars were trying to accomplish this difficult feat, but both lost in the finals. Abdulrashid Sadulaev won 86kg titles from 2014-16, then bumped up to 97kg in Paris. As we all know, Sadulaev was bested 6-5 by Snyder in the gold medal match. A day prior, Taha Akgul met longtime rival Geno Petriashvili in the 125kg finals, but it was Petriashvili who earned the 12-10 victory to stymie Akgul's plans at four straight.
Kyle Snyder is already a superstar in his era, but this October in Hungary, he can make the leap into a legend who transcends time.