Create a free account to unlock this article!
Get Started
Already a subscriber? Log In
Sarah Hildebrandt will obviously make adjustments to how she wrestles Haley Augello this time around. Hildebrandt may own a victory over Augello from their 53kg finals bout at the U.S. Open back in April, but winning a match doesn't always equate to a perfect performance.
However, since Augello was on the losing end of their last meeting, let's focus on the things we expect her to change as she gets ready to take on Hildebrandt at Final X Lehigh this Saturday at Grace Hall in Bethlehem, PA.
Geometry
I confess, I'm just trying to make myself look better by saying geometry, but really it's just a fancy way of saying she needs to create angles. Anyway, Augello had trouble getting to legs when she faced Hildebrandt in Las Vegas. Augello really didn't come close to getting a takedown. Each time, she came straight in and all Hildebrandt had to do was get her legs back and give some strong hips, leading to some front headlock troubles that we'll talk about later.
But because Hildebrandt keeps her hands low and comes forward in a square stance, it makes it really hard to get to her legs and feeds right into where she's proved to be strong. By creating angles it'll open up opportunities to score, probably on a low-level attack.
Don't get shucked
I touched on this a bit above, but Hildebrandt's front headlock offense was the difference in their last match. All her takedowns came off a shuck-by. Not once, not twice, but three times she got to a front headlock and scored off it. The reason being is because Augello didn't change how she defended it.
Each time Hildebrandt attacked Augello's wrist and elbow across her neck, Augello just kind of hung out there instead of clearing it, dragging out, or keeping at least one hand down on the mat to keep herself from getting shucked by. Augello has got to be better there because Hildebrandt has no problem exploiting that position.
Watch Hildebrandt and Augello's match from the U.S. Open finals: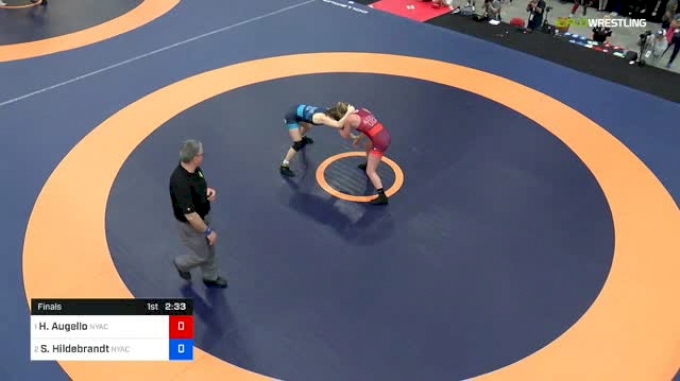 Unlock this video, live events, and more with a subscription!
Get Started
Already a subscriber? Log In