Create a free account to unlock this article!
Get Started
Already a subscriber? Log In
Whitney Conder punched her ticket to Final X Lehigh by taking out Victoria Anthony in the finals of the U.S. Open, and now they will go at it once again in the best-of-three series for the 50kg spot on the world team this Saturday at Grace Hall in Bethlehem, PA.
While we expect Conder to come with the same heat and possibly even open up more this time around, here's a look at how Anthony can turn the tides on Saturday.
Get creative
By now, we've seen Anthony's inside trip and how effective it is for her. But if that trip isn't hitting, it's tough for Anthony to get into a rhythm. Conder did a good job of stopping it for the most part, but Anthony did get one off for a takedown. However, she didn't get to it the way we've seen in the past where she goes feet-to-back with it.
Clip 1 shows her normal overhook tie that she usually uses to get to her inside trip. Conder's underhook and pressure back toward her stop it from happening.
Clip 2 shows her adjustment. She goes with a left-hand collar tie and underhook on her right side which opened up the trip to the opposite side.
If she's going to use her trip effectively, she's going to need to get creative in order to open up the opportunity for it to happen.
Footwork
Conder has the strength advantage and it shows as she stands steadfast in her stance holding position. To break her stance, it's going to take more movement from Anthony. She has a level-changing fake that gets a little reaction when used effectively, but again, with Conder's stance, it's not enough. Her feet need to be in overdrive with not just forward pressure, which she's great at, but with lateral movement as well.
Use low stature to advantage
Honestly, Anthony really just needs to use the fact that she's shorter to her advantage. Conder was able to blow through a double because Anthony matched Conder's level with her elbow on her knee, allowing for the double to come. When Conder fires off shots when Anthony's hand(s) are low Anthony is able to catch her coming in with an underhook. That could also help her reattack with her trip à la Daton Fix.
But being the shorter one in the matchup won't just help her with defending. It can also give her the opportunity to hit a low-level shot, only this time when she gets there she should get it to her feet immediately. That closed whizzer from Conder is a momentum killer.
Watch the full match from the Open between Conder and Anthony: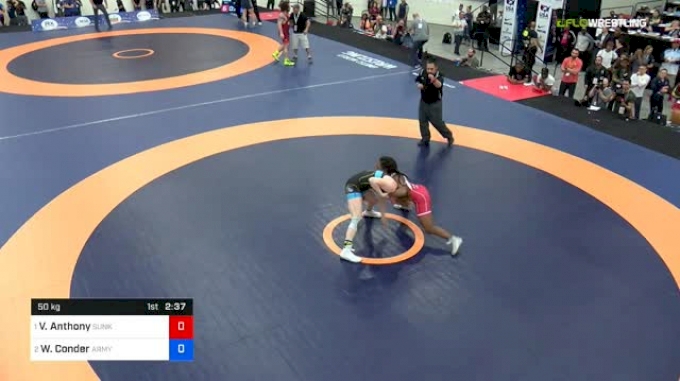 Unlock this video, live events, and more with a subscription!
Get Started
Already a subscriber? Log In