Armchair casting superhero movies with your favorite actors is a fun way to pass the time, but since we already have a bunch of real-life superheroes competing for world team spots, we thought it would be a pleasant lark to cast those characters as Final X competitors.
Since Lincoln, NE, is up first this Saturday, we'll start there. And remember, this is all just for fun. It's a whim! If for any reason you don't like the characters we've picked to play our wrestlers in our made-up joke of a game, just ignore them and choose whoever else you prefer.
After all, we're just some dudes in a van passing the time as we drive around the country. Don't take it too seriously, my friends!
70kg
James Green
War Machine




VS.

Jason Chamberlain
Iron Fist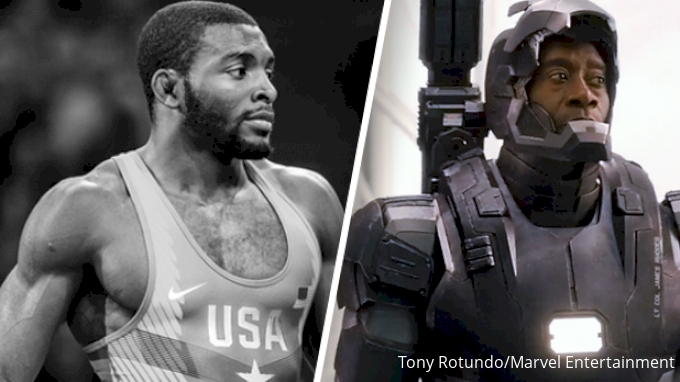 James Green is stepping out from the tutelage of fellow Nebraska Cornhusker Jordan Burroughs to accomplish some seriously cool things himself, not unlike what War Machine does with Iron Man (see below for the Iron Man/Jordan Burroughs connection).
Jason Chamberlain, meanwhile, was taught by the master Lei Kung to harness his chi and wield it with magical power and deadly force, just like Iron Fist. Or maybe not, but to stop Olympian Frank Molinaro like Chambo did at this year's team trials, you have to be pretty powerful, to say the least.
59kg
Allie Ragan
Rogue




VS.

Jenna Burket
Captain Marvel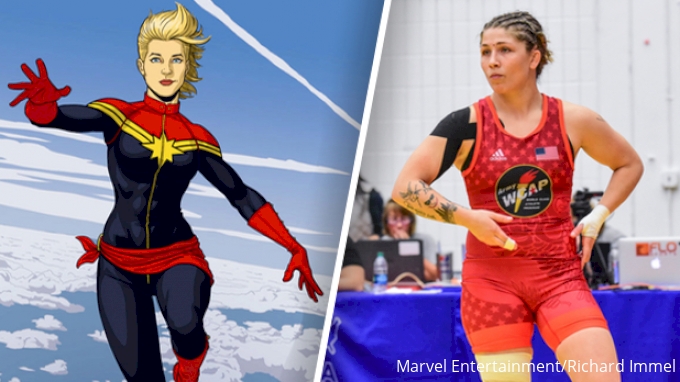 Like the character Captain Marvel, Jenna Burket is a member of the United States Armed Forces—Burkert is a part of the Army's World Class Athlete Program.
Alli Ragan may not be a Southern belle or have a shock of white hair in her 'do like Rogue, but she does perform with a style and panache similar to Rogue that few can match.
97kg
Kyle Snyder
Captain America




VS.

Kyven Gadson
Black Panther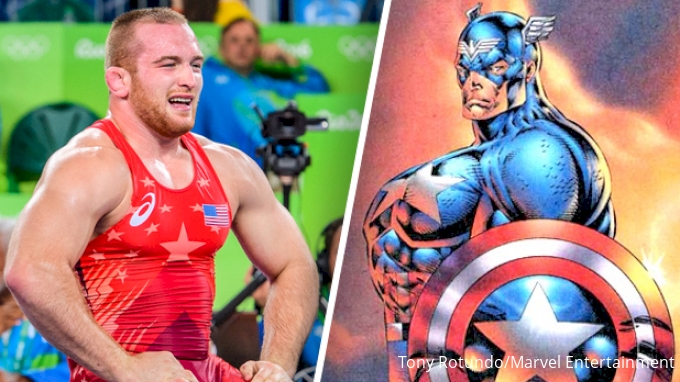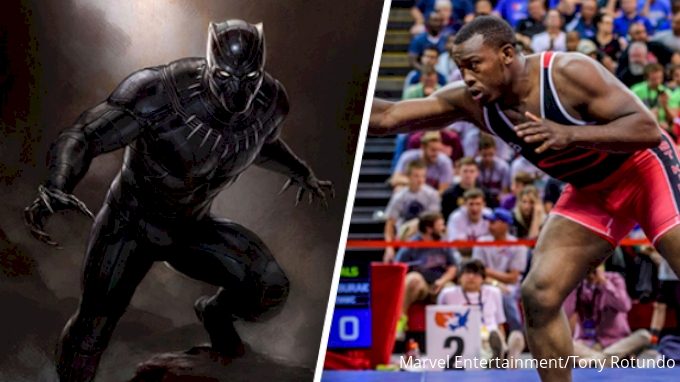 Two-time world champ and Olympic gold medalist Kyle Snyder has been Captain America since well before he got his own singlet reaffirming his moniker. Also like Captain America, Snyder possesses such strength and abilities because he is actually an alien from the planet Krypton that now fights for truth and justice in the United States!
Kyven Gadson has meanwhile assumed the Black Panther mantle because Kyven Gadson and the Black Panther are both incredibly boss.
55kg
Becka Leathers
Elektra




VS.

Jacarra Winchester
Gamora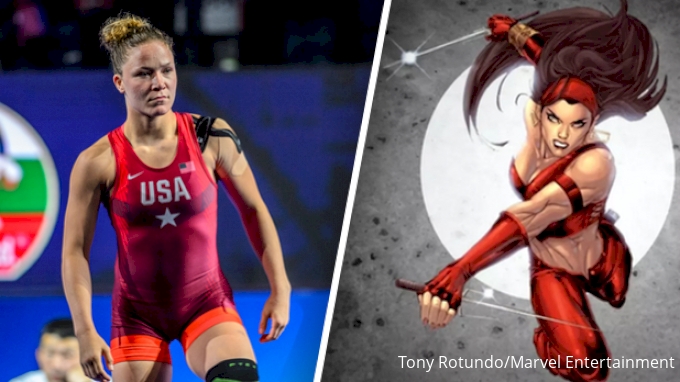 Becka Leathers and Elektra are both deadly, captivating and a bit mysterious.
Jacarra Winchester has yet to make a world team but will be attempting to make as big a splash on the scene as Gamora did in "Guardians of the Galaxy."
57kg
Thomas Gilman
Ant-Man




VS.

Daton Fix
Spider-Man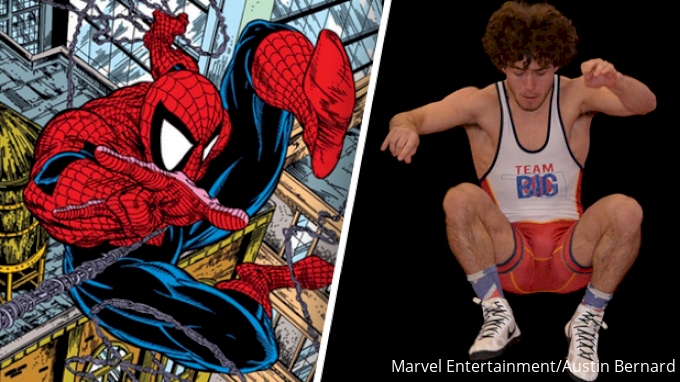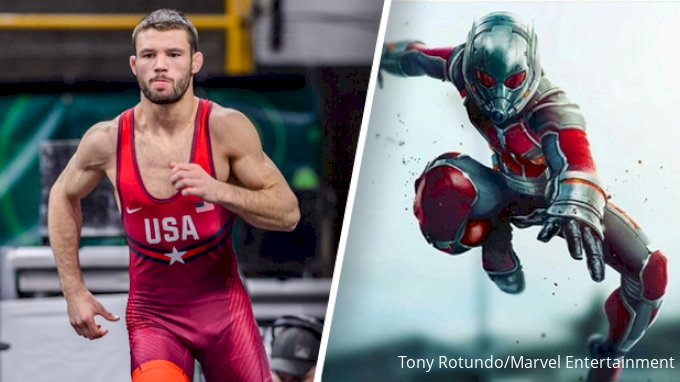 Like Ant-Man, Thomas Gilman is small but has the strength proportional to a man many times his size.
Daton Fix has the speed and agility of a superpowered being with spider-like powers. A veritable Man-Spider!
68kg
Tamyra Stock
Dazzler




VS.

Randi Beltz
Nakia
Dazzler has the ability to convert sound into light and energy, helplessly mesmerizing her intended targets. Tamyra Stock's slick offense and effervescent personality have a similar effect on wrestling fans.
Randi Beltz just barely finished U.S. Army basic training and is already trying to make a U.S. world team. Nakia is a solider for the forces of Wakanda, a country just now making their presence known to the world.
74kg
Jordan Burroughs
Iron Man




VS.

Isaiah Martinez
Daredevil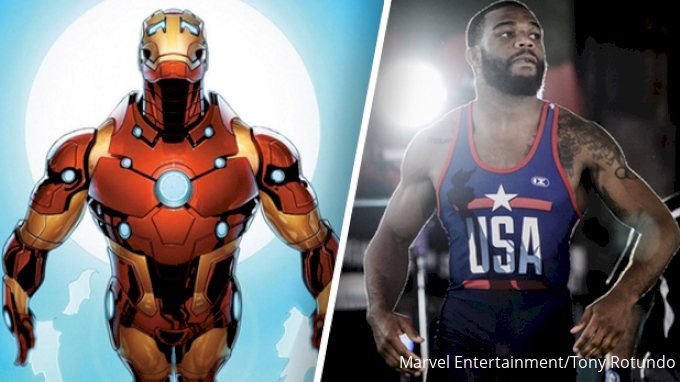 Iron Man was the first character to really kick off the current era of superhero cinema. Jordan Burroughs' gold at the 2011 World Championship was a big catalyst in Team USA's recent spate of freestyle success. Burroughs is the only member of that men's freestyle team competing in this year's Final X.
Isaiah Martinez has a death-defying style, not unlike that of Daredevil, the man without fear. IMar also has the equanimity to match the cerebral superhero.
By the way, as an Easter egg to all the superhero super fans out there, I've deliberately included a mistake in this article's description. Kudos if you caught it. And if you see any other mistakes, those are on purpose too!
Finally, apologies for anyone we didn't have time to make graphics for. We had only so much time and are now cramped into a passenger van, hurtling down the highway to Lincoln. See you there, wrestling friends!