Final X is bringing 40 of America's best athletes from across the country to three sites over the next three weeks to choose the men's and women's freestyle Senior world teams. But where do they all train? Let's find out!
We plotted the training location for each Final X participant on the map, indicated by the black pinpoints. We also made a heat map of the states containing the most wrestlers currently preparing for a wrestle-off to earn a trip to the 2018 World Championships in Budapest, Hungary, in October.
Final X kicks off this Saturday in Lincoln, Nebraska, before heading to State College, Pennsylvania, on June 16 and wrapping up in Bethlehem, PA, on June 23.
WATCH FINAL X LIVE
6/9: Lincoln | 6/16: State College | 6/23: Bethlehem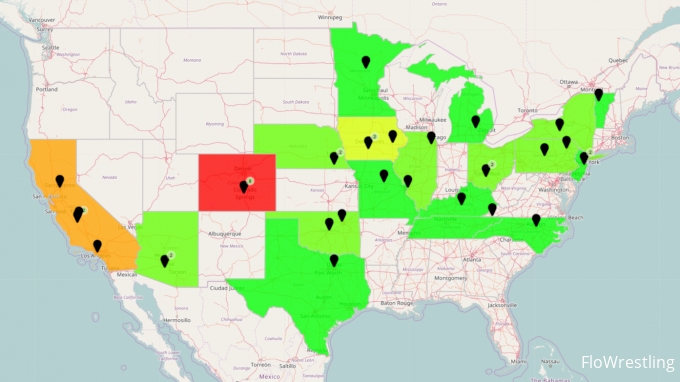 Many of the current college athletes, such as Joey McKenna and Zahid Valencia, list their hometowns as their locations—Towaco, New Jersey, and Bellflower, California, respectively, in their cases. Most of the post-collegiate athletes list either the location of their Regional Training Center, such as Lincoln, Nebraska, for Jordan Burroughs, or Colorado Springs, CO, where the Olympic Training Center is located, for eight different competitors.
For a complete list of competitors and their training locations, please see the chart below.
| | | | | |
| --- | --- | --- | --- | --- |
| NAME | CITY | STATE | CLUB | FINAL X |
| Adam Coon | Fowlerville | MI | New York AC/Michigan RTC | Bethlehem |
| Alex Hedrick | Fair Oaks | CA | Titan Mercury WC | Bethlehem |
| Forrest Molinari | Colorado Springs | CO | Titan Mercury WC/OTC | Bethlehem |
| Haley Augello | Lockport | IL | New York AC | Bethlehem |
| Hayden Zillmer | Crosby | MN | Minnesota Storm | Bethlehem |
| Helen Maroulis | New York | NY | Sunkist Kids/NYCRTC | Bethlehem |
| J'den Cox | Columbia | MO | Titan Mercury WC | Bethlehem |
| Joe Colon | Fresno | CA | Titan Mercury WC/Valley RTC | Bethlehem |
| Julia Salata | Bristol | TN | New York AC | Bethlehem |
| Nahshon Garrett | Tempe | AZ | Sunkist Kids | Bethlehem |
| Nick Gwiazdowski | Raleigh | NC | Titan Mercury WC/Wolfpack RTC | Bethlehem |
| Sarah Hildebrandt | Colorado Springs | CO | New York AC | Bethlehem |
| Victoria Anthony | Tempe | AZ | Sunkist Kids | Bethlehem |
| Whitney Conder | Colorado Springs | CO | Army WCAP | Bethlehem |
| Alli Ragan | Colorado Springs | CO | Sunkist Kids/Hawkeye WC/OTC | Lincoln |
| Becka Leathers | Choctaw | OK | Titan Mercury WC | Lincoln |
| Daton Fix | Sand Springs | OK | Titan Mercury WC/Cowboy WC | Lincoln |
| Isaiah Martinez | Leemore | CA | Titan Mercury WC/Illini RTC | Lincoln |
| Jacarra Winchester | Colorado Springs | CO | Titan Mercury WC/OTC | Lincoln |
| James Green | Lincoln | NE | Titan Mercury WC/Nebraska WTC | Lincoln |
| Jason Chamberlain | Fresno | CA | Titan Mercury WC/Valley RTC | Lincoln |
| Jenna Burkert | Colorado Springs | CO | U.S. Army WCAP | Lincoln |
| Jordan Burroughs | Lincoln | NE | Sunkist Kids/Nebraska WTC | Lincoln |
| Kyle Snyder | Columbus | OH | Titan Mercury WC/Ohio RTC | Lincoln |
| Kyven Gadson | Ames | IA | Sunkist Kids/Cyclone RTC | Lincoln |
| Randyll Beltz | Colorado Springs | CO | U.S. Army WCAP | Lincoln |
| Tamyra Stock | Colorado Springs | CO | Titan Mercury WC/OTC | Lincoln |
| Thomas Gilman | Iowa City | IA | Titan Mercury WC/Hawkeye WC | Lincoln |
| Adeline Gray | Kingston | PA | New York AC | State College |
| David Taylor | State College | PA | Nittany Lion WC | State College |
| Erin Clodgo | Richmond | VT | Sunkist Kids | State College |
| Joseph McKenna | Towaco | NJ | Titan Mercury WC/Ohio RTC | State College |
| Kayla Miracle | Campbellsville | KY | Sunkist Kids | State College |
| Korinahe Bullock | Cahokia | IL | McKendree Bearcat WC | State College |
| Kyle Dake | Ithaca | NY | Titan Mercury WC | State College |
| Logan Stieber | Columbus | OH | Titan Mercury WC/Ohio RTC | State College |
| Mallory Velte | Sacramento | CA | Titan Mercury WC | State College |
| Nick Reenan | Dallas | TX | Titan Mercury WC/Wolfpack RTC | State College |
| Rachel Watters | Ankeny | IA | New York AC/Aires WC | State College |
| Zahid Valencia | Bellflower | CA | Sunkist Kids | State College |