2018 Final X - Lincoln
Tech Notes: Kyle Snyder vs. Kyven Gadson
Tech Notes: Kyle Snyder vs. Kyven Gadson
Final X kicks off this Saturday. Kyle Snyder will take the first steps towards defending his world title against Kyven Gadson.
Jun 6, 2018
by Mike Mal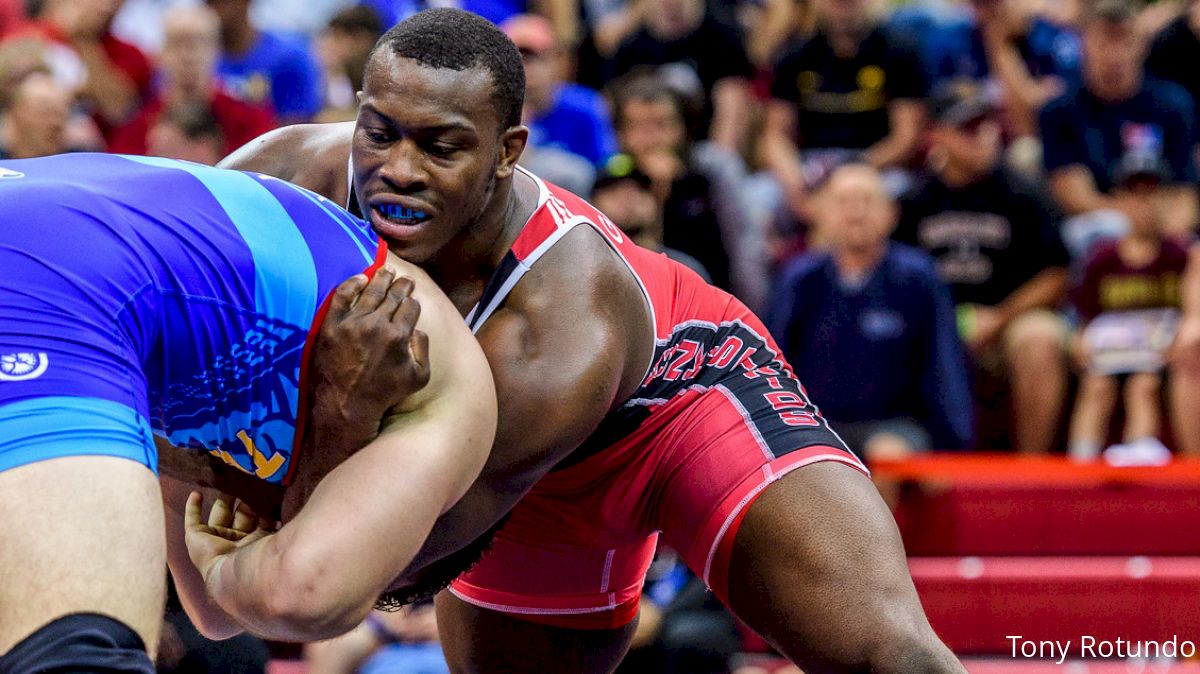 Anyone remember what they were doing March 21, 2015? I'll bet Kyle Snyder does.
That was the day that Kyven Gadson used a weird side-Polish throw to pin Snyder in the NCAA finals. Since then, Snyder has gone on to win every major event that our sport has to offer: two world titles and the 2016 Olympic gold medal at 97kg. That run includes a win over Gadson in the 2017 World Team Trials.
Sprinkle in two Yarygin titles for good measure and you have a resume that has Jordan Burroughs looking over his shoulder as this country's historical best.
But before Snyder can add to his already stellar legacy on another world team, he will have to face off with Gadson for a third time this Saturday at Final X in Lincoln, NE.
Here are three factors that will decide the outcome of their rubber match.
Join PRO to watch Final X - Lincoln live and on demand.
The Official May Get Involved
You never want to leave a wrestling match in the hands of the officials, but some people's wrestling style garners more attention from referees than others. Gadson will definitely be concerned with who has the whistle in their mouth when he takes the mat in Lincoln this Saturday night.
Gadson is not a "volume shooter." While Snyder doesn't take a ton of shots either, he controls the center of the mat better than most people in the world. One of the worst things that can happen for Gadson is a scoreless first minute. If he gets put on the shot clock and doesn't score, he'll put himself in a hole that very few have been able to dig themselves out of against Snyder.
An official might also intervene when Gadson attempts a stiff arm pop. Every time he thumb blocks with a straight arm from the outside, his opponent's shoulder goes back like he just fired a 12 gauge. Some refs don't like that—it's too violent for them. Others let it go. Either way, it's a big part of Gadson's offense.
Snyder Can Get Thrown
We all like to think of Snyder as bulletproof, but there is one hole in his game. Snyder has a propensity for giving up four-pointers.
Just last month, Cuba's Salas Perez popped his hips in on a monster double on Snyder and nearly sent him into the East River. In February, Michigan's Adam Coon sagged on a chest-to-chest throw and actually got the "W" against Captain America in the UM vs. Ohio State dual. Lest we forget that Elizbar Odikadze jumped out to a 4-0 lead against Snyder in the opening minute of the Olympic semifinals. And as I mentioned before, there was that time in St. Louis back in 2015 when Gadson himself scored the biggest throw of his life against Snyder to win an NCAA title.
Before you start dreaming big and drilling arm throws, I will have to mention that one throw won't always do it. Snyder did go on to win 50 percent of the aforementioned matches; however, it does give you your best shot.
The Perfect Storm
Forget about Kyven Gadson for just a second. Kyle Snyder is difficult for anyone in the world to beat. One of the biggest reasons is because Snyder is the perfect storm of ferocious pace, freakish strength, solid position, and perfect technique on leg attacks.
See, when most guys hand fight at Snyder's pace, one of a few things tends to happen. Either they start to get tired, which Snyder never seems to do. Or they get overaggressive on the hand fights, come out of their stances, and wind up giving up their legs too easily—good luck getting to Snyder's legs… ever. Or they get so excited that they have their opponent on the ropes that they dive in, chest in front of knees, on a poor leg attack. Snyder has better technique on his head-outside single than I've seen in a long time.
Even the hand fighting itself has a ton of technique behind it. This last weekend at U23s, I got to pick Tervel Dlagnev's brain a little bit while he was coaching Kollin Moore.
Moore was doing something to the effect of snapping his opponent's head down and releasing it. When his opponent recovered, Moore was right there in his face ready to hand fight again but he was not recreating an angle. One thing that Tervel tried to convey to Moore mid-match was to keep the guy's head pulled down for a few seconds longer—to use your legs to drive forward and get the guy on to his heels.
This is obviously something that Snyder and Dlagnev spend some time on. Snyder can march forward on you in a way that is absolutely suffocating. Then, before you know it, your weight is on your heels and you're looking at the underside of your singlet. It's not too hard for him to score on a leg attack when he starts the attack when your head's between your legs. Take into account that Snyder pushes a 1,400lb sled for fun and you start thinking that there's no one in the world who can hand fight with this guy.
---
Final X Lincoln
Saturday, June 9 | Bob Devaney Center

BOUT ORDER: Starting at 6 PM CT
Bout 1 - Men's freestyle 70kg: James Green vs. Jason Chamberlain
Bout 2 - Women's freestyle 59kg: Alli Ragan vs. Jenna Burkert
Bout 3 - Men's freestyle 97kg: Kyle Snyder vs. Kyven Gadson
Bout 4 - Women's freestyle 55kg: Becka Leathers vs. Jacarra Winchester
Bout 5 - Men's freestyle 57kg: Thomas Gilman vs. Daton Fix
Bout 6 - Women's freestyle 68kg: Tamyra Stock vs. Randi Beltz
Bout 7 - Men's freestyle 74kg: Jordan Burroughs vs. Isaiah Martinez