With the World Team Trials challenge tournament finally upon us, all eyes are on 125kg. The deepest and most interesting weight at the U.S. Open in Las Vegas carries over to Rochester, Minnesota this weekend.
The world finally got the senior level debut of Gable Steveson, and he ended up fourth, losing to Adam Coon and Dom Bradley. The Coon match wasn't close, but Steveson was leading with fewer than 10 seconds remaining.
WHEN: May 19-20 | WHERE: Rochester, MN
Coon would go on to beat Jake Varner in the Open finals, granting him a bye to the best-of-three finals on Saturday, May 20th. Whether it's Coon, or someone who comes out of the challenge tournament, they'll have Nick Gwiazdowski in Final X Lehigh on June 23rd.
In Final X: Nick Gwiazdowski
In Trials Finals: Adam Coon
WTT Qualifiers
| | | | | |
| --- | --- | --- | --- | --- |
| Weight | Name | RTC | Club | Qualifier |
| 125kg | Jake Varner | Nittany Lion WC | | US Open runner-up |
| 125kg | Dom Bradley | NWTC | Sunkist Kids | US Open 3rd place |
| 125kg | Gable Steveson | | Minnesota Storm | US Open 4th place |
| 125kg | Tony Nelson | | Minnesota Storm | US Open 5th place |
| 125kg | Tanner Hall | | Sunkist Kids | US Open 6th place |
| 125kg | Mike Kosoy | Wolfpack WC | Titan Mercury | US Open 7th place |
Commentary: What a year it's been for Adam Coon. He takes out Kyle Snyder in the dual meet, makes his second NCAA final, and wins the U.S. Open. He seems vastly improved since the last time he wrestled freestyle, which already may have been his best style. If he makes it to Final X, it will be on the strength of his knee pull single and body lock.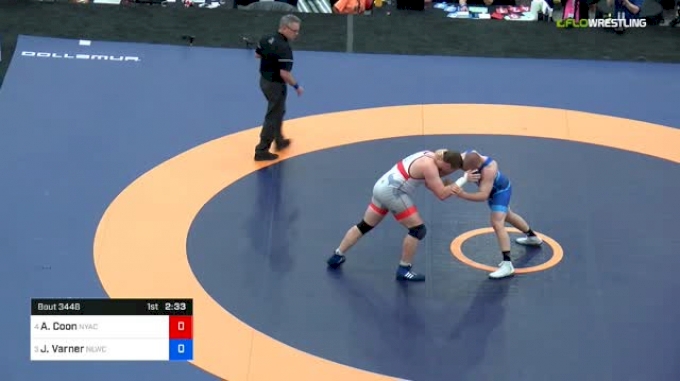 Varner is a long way from his 2012 Olympic gold medal. But his most recent competition prior to the Open was in the 2016 World Cup as the heavyweight for Team USA. Varner went through the guys who finished fifth and sixth in Vegas, meaning he did not wrestle Bradley or Steveson. The offense he did display is even more mitigated by the big bodies at heavyweight.
Bradley dominated his opponents early on at the Open, but then totaled just six points from the semis on. He is more active than Zach Rey, who frequently won matches 1-1, and has a solid gut wrench, but may need to up his pace to topple Coon or Varner.
The difficult thing for Gable may be that he has to compete three days in a row after deciding to do both juniors and seniors. However, he very much proved he can still hit his snaps on seniors, as well as fire off shots and even launch a couple guys for 4s and 5s. His semis rematch with Dom Bradley will say a lot about the kinds of adjustments he can make.
Last year in Linclon, Tony Nelson knocked off Zach Rey. He will have a similarly difficult task in Jake Varner in the semis, assuming he gets by Mike Kosoy in the quarters. Tanner Hall will get a crack at avenging his 11-0 tech to Steveson in the quarters.
I think Gable Steveson is the greatest high school wrestler of all-time, and has a great shot to be a four-time NCAA champ. I also think he will have a Tervel-like run on the senior level of making world teams and winning medals. Getting teched by Coon may wind up being the worst senior level loss of his career. But I think between also wrestling juniors and the size of Bradley and Varner, Steveson is just a hair short right now of being able to knock them off.
WTT Previews: 57kg | 61kg | 65kg | 70kg | 74kg | 79kg | 86kg | 92kg | 97kg
As I mentioned at the top, Varner did not have to wrestle either Bradley or Steveson in Vegas, so the winner of that one may just vanquish Varner quickly. But that semi might take too much out of the victor, leaving Varner a little fresher. If he faces Bradley, the over/under on that one is about four points. With Gable, he'll need to score more.
Either way, Adam Coon is a mountain, moves people around like a tractor, and clearly seems to be in the best shape of his life. It's his time to make Final X and get himself another rematch with Nick Gwiazdowski. I'm not sure when it's coming, but he'll get his body lock a couple times on Sunday.
Nomad's Picks
Trials Finals: Coon over Varner two matches to none
Challenge Finals: Varner over Bradley