2018 US Open Wrestling Championships
The Senior Men's Freestyle Matches We're Hoping To See At The Open
The Senior Men's Freestyle Matches We're Hoping To See At The Open
What are the most anticipated senior men's freestyle matches at the 2018 US Open? We count down what we're looking forward to most.
Apr 26, 2018
by Andrew Spey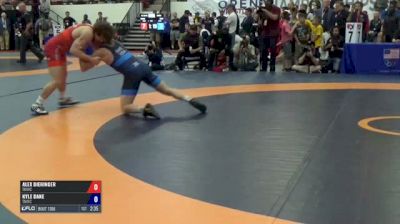 The U.S. Open is right around the corner and the meanest, baddest, and raddest dudes in America are descending on Las Vegas to battle it out in freestyle at the U.S. Open. There will be more awesome matches than is humanly possible to keep track of, so we've highlighted a few of our most highly anticipated bouts.
When: April 25-28 | Where: Las Vegas, NV
If you want to follow along at home, FloArena has you covered with brackets, live dashboard, results and more, FloArena has you covered. And if you're looking for previews, the gnomic Wresting Nomad has lightweight and middleweight previews (upperweights coming soon!) for you.
1. Kyle Dake vs. Alex Dieringer
Kyle Dake is the favorite, at least according to Vegas, but their last match was a close one. And with a Final X spot on the line, this one counts for a lot. Expect both these superstars to bring it.
2. Tony Ramos vs. Daton Fix
Ramos is the veteran, a two-time world team member. Fix is the up-and-comer with a junior world gold medal to his name. Will we witness a changing of the guard or the affirmation of the status quo? It is our great privilege to discover the answer.
3a. Cory Clark vs. Nico Megaludis
The 61kg weight class is just too loaded so we're cheating and taking a few matches from that division. How about a 125-pound NCAA champ from Penn State and a 133-pound NCAA champ from Iowa to get us started?
3b. Seth Gross vs. Nahshon Garrett
The last four 133-pound NCAA champs are all registered for the Open at 61kg. Gross was this year's champ. Nahshon was the champ two years before that. Can Gross counter Garrett's leg attacks? We shall find out!
3c. Tyler Graff vs. Jon Morrison
A rematch of the Bill Farrell Memorial Open that Morrison won in the closing seconds. How will the second go-round go? Another conclusion we shall watch unfold before our very eyes!
4. Gable Steveson vs. Jake Varner
Jake Varner has an Olympic gold medal. Very few people have one! Gable Steveson has a junior world gold, but is he ready for this stacked heavyweight bracket? Varner and his devastating ankle picks will test Steveson's footwork, and we'll be there to see if Gable is ready for the senior circuit.
5. Logan Stieber vs. Anthony Ashnault
Stieber is the heavy favorite—once again, according to Vegas—but their history of Twitter beefing alone makes this one worth the price of admission.
6. Frank Molinaro vs. Hayden Hidlay
The Olympian versus the upstart freshman NCAA finalist. Also, did you know that they're both lefties? I didn't, not until CP just told me that. Neat!
7. J'den Cox vs. Deron Winn
Perhaps you scoff but Deron has beaten J'den before. It was a few years ago at the 2014 World Team Trials and at 97kg, but still, Cox will be wise not to snooze on this potential rematch.
8. Pat Downey vs. David Taylor
Taylor has tech smashed Downey every time they've wrestled, but come on, you know you are still at least a little curious to see if this time is going to be different.
9. Jaydin Eierman vs. Jayson Ness
Ness is the powerful veteran with scads of tournaments under his belt. Eierman is a practitioner of a funky style of total wrestling. How will their match go? We will all be witnesses to the outcome.
10. Nazar Kulchytskyy vs. Isaiah Martinez
These two have literally never wrestled each other before. The result will go a long a way to sorting out the 74kg ladder below Jordan Burroughs.
11. Gable Steveson vs. Adam Coon
You can substitute this one for #4 on the list depending on the variance of your mileage on the topic. According to the pre-seeds, this also has a greater chance of happening, as Coon is the #4 and Steveson is the #5.