2018 US Open Wrestling Championships
2018 U.S. Open: UWW Junior Freestyle Preview
2018 U.S. Open: UWW Junior Freestyle Preview
Nomad and Willie preview all 10 weights and make their predictions for men's freestyle at UWW Juniors for this weekend's 2018 U.S. Open.
Apr 26, 2018
by Wrestling Nomad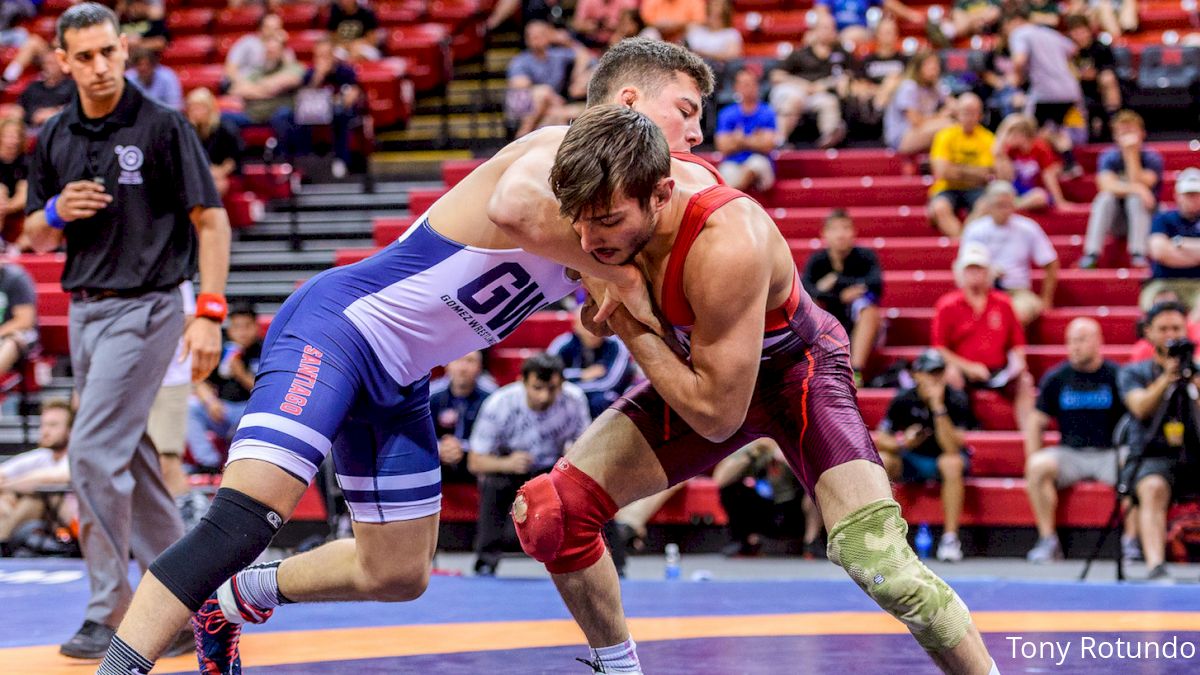 The 2018 U.S. Open is not only a showcase for our finest Senior-level talent but also a grand stage for the best young wrestlers in the country. For UWW Juniors, those aged 17-20, it's an opportunity to get a bye to the World Team Trials finals, one step closer to wrestling for the stars and stripes in Slovakia this September.
As the reigning world champions, there is quite a bit of pressure on the Junior team to repeat last year's success. The brunt of that pressure falls on new faces, wrestlers who have never wrestled at the Junior world championships before.
Below are previews and predictions for all 10 weights at this week's Open in Las Vegas from the high school rankings guru, Willie Saylor.
When: April 25-28 | Where: Las Vegas, NV
57kg
One of the issues that arose when UWW changed the weight classes is that 57kg is now the lightest Junior freestyle weight. This is problematic for two reasons: 1) It combines 50kg and 55kg from the old Junior weights and 2) the old Cadet weights had four weights lower than this in 42kg, 46kg, 50kg, and 54kg.
That probably won't be as big an issue in a few years, but it certainly creates a seeding nightmare this year. There are no wrestlers with Cadet or Junior medals in the field, which would seemingly make them a good bet to be the top seed. You do have the returning 55kg Junior Trials runner-up in Brandon Courtney, as well as last year's 50kg world team member in Malik Heinselman.
Further complicating matters is that Heinselman lost to Michael Colaiocco in folkstyle at the Walsh Ironman, and Courtney has played a game of rock-paper-scissors with Paul Bianchi and Alex Thomsen.
Then there is the matter of Gavin Teasdale, who wrestled exactly zero freestyle matches in 2017 but might be the best guy in the weight. And how do you seed Jordan Decatur and Julian Tagg, Cadet world team members last year?
Juniors is a great time to see who's made jumps, and having Patrick McKee and Alex Thomsen in the same bracket is an example of that. Thomsen beat McKee 10-0 at the Trials last year, so it will be easy to tell if McKee has jumped levels or not.
The Picks
Willie: 1. Gavin Teasdale 2. Jordan Decatur 3. Alex Thomsen 4. Patrick McKee
Nomad: 1. Gavin Teasdale 2. Jordan Decatur 3. Patrick McKee 4. Brandon Courtney
61kg
Two former Cadet world teamers are now full-fledged Juniors with a year of college wrestling under their belts. Vitali Arujau and Austin Gomez are poised to clash in the 61kg finals in a rematch of last year's World Team Trials challenge tourney finals.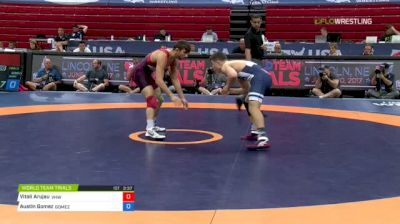 Gomez made the Cadet world team all the way back in 2013 when he was just 42kg and then won a Fargo title in 2016 at 126lb. That same year, Arujau was in the Cadet world finals at 58kg.
The rest of this weight is more substance than flash. It's full guys who have been in college rooms for a couple years and high schoolers hungry to make a name for themselves. A guy like Nick Farro, who is behind two-time All-American Scotty Parker on Lehigh's roster, was fifth at last year's Open with several solid wins. He's not as big a name as Josh Saunders or Gabriel Tagg, two bona fide high school stars, but are you going to pick a high school sophomore over a college sophomore?
One guy I'm very curious to see in action is Justin Mejia. A four-time California state champ who had a long-winding recruiting saga last year is going back home. In the last two major matches we saw from Mejia, he got beat, badly, and he hasn't done much freestyle.
Paul Konrath has a stellar Fargo resume, having won a Cadet title and making two Junior finals.
The Picks
Willie: 1. Austin Gomez 2. Vito Arujau 3. Colin Valdiviez 4. Nick Farro
Nomad: 1. Austin Gomez 2. Vito Arujau 3. Nick Farro 4. Paul Konrath
65kg
As far as Junior weights go, based on the recent history of our world teams, this one is a little light on experience. Kanen Storr is the only one with Senior-level experience, having competed at both the Bill Farrell and Dave Schultz, as well as each of the last two Cerro Pelado's in Cuba. A finalist here last year, Storr walks in as the favorite and certainly has the meanest short offense.
Two Cali high schoolers certainly make this bracket interesting. Jaden Abas is a cradle machine and a folkstyle scrambling maestro but did take an odd 12-4 loss to Jack Davis last year in Fargo. The other is Jesse Vasquez; you would be hard-pressed to find a high schooler who I think has more potential than Vasquez.
Then there is Southern Scuffle champ Kaden Gfeller, a Fargo runner-up after the end of his senior year in high school. Arujau and Gfeller are often underappreciated, but both have legit freestyle credentials and are very real threats to be NCAA All-Americans next year.
Willie Saylor feels very strongly about Quincy Monday after what he saw at Super 32 and Ironman this season and expects him to back it up in Vegas. He has also been very high on the state of Colorado for years now and stakes his claim to it by picking Grant Willitts to finish high. Alex Lloyd was fourth in Fargo last July, and I think he finishes the same here. No one shoots with their whole body quite like Lloyd.
The Picks
Willie: 1. Kaden Gfeller 2. Kanen Storr 3. Quincy Monday 4. Grant Willitts
Nomad: 1. Jesse Vasquez 2. Kaden Gfeller 3. Kanen Storr 4. Alex Lloyd
70kg
Of any Junior weight this weekend, I think we learn the most about the guys in this field. For example, Austin O'Connor beat Troy Heilmann in a wrestle-off and has multiple wins over Cadet world champ Jarod Verkleeren. After a year in the UNC room, is he ready to take out the likes of Brady Berge and David Carr this weekend?
Speaking of Carr, he's unquestionably one of the best prospects in the class of 2018. He lost in the quarterfinals to Joe Lee in last year's Open at 70kg, then went 66kg at Junior Trials and tore through it, teching Verkleeren and Storr and pinning Brayton Lee.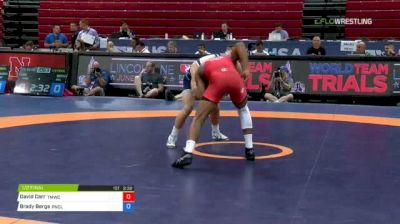 Unlock this video, live events, and more with a subscription!
Get Started
Already a subscriber? Log In
Carr's one loss at those Trials? To Brady Berge, the redshirt freshman at Penn State. That match could go either way if it plays out this weekend and may be more suited to Carr this time around.
Brayton Lee was third in Fargo last year and beat Austin O'Connor at the Junior Trials. Jacori Teemer made the Cadet world team, going on to win bronze at the world championships. It was several years ago, but Jarod Verkleeren was a Cadet world champ and is probably even better at freestyle than he is at folk.
The Picks
Willie: 1. David Carr 2. Brady Berge 3. Austin O'Connor 4. Jarod Verkleeren
Nomad: 1. Brady Berge 2. David Carr 3. Brayton Lee 4. Austin O'Connor
74kg
Be prepared for a whole bunch of studs who have never wrestled at the UWW Junior level before. Matter of fact, Mekhi Lewis, and Kaleb Romero have probably never wrestled a freestyle match in their lives. Expect both of them to be in a redshirt report written by Andrew Spey in the not-too-distant future.
Cornell commit Andrew Merola was fifth in Fargo last year but has always been more folkstyle centric due to his mat acumen. Jarrett Jacques is a fascinating proposition at this weight and once beat Alex Lloyd and Ryan Deakin back-to-back in Fargo.
There are several states, such as Illinois, Minnesota, and Wisconsin, that seem to have better national results once freestyle and Greco season roll around. Tyler Dow is an example of that, and probably the most dangerous in upper-body positions in the bracket.
Layne Van Anrooy recently went 2-2 at the Bill Farrell, but also never placed in three tries at Fargo. Dustin Plott won Super 32 at the beginning of his sophomore year and has plenty of room left to grow. He could make an impact on the Junior level, but this weekend may still be a little early.
The Picks
Willie: 1.Kaleb Romero 2. Mekhi Lewis 3. Layne Van Anrooy 4. Dustin Plott
Nomad: 1. Mekhi Lewis 2. Kaleb Romero 3. Tyler Dow 4. Andrew Merola
79kg
It's already been speculated that 79kg will be the best weight at this year's Open. The headliners are 2017 Cadet world champ Aaron Brooks and 2016 Cadet world bronze medalist Travis Wittlake. Those two met in the Akron finals last year, with Wittlake downing Brooks in two matches. However, a foot injury prevented Wittlake from being able to wrestle at the world championships, and Brooks made the most of his opportunity.
Both Wittlake and Brooks will be graduating high school in a couple months, with Wittlake heading to Oklahoma State and Brooks spending a year at the OTC before joining Penn State. The last American to beat Wittlake in freestyle was Victor Marcelli in the 2015 Fargo Cadet quarterfinals at 160. However, the last person to beat Wittlake at all will be in this field.
Making his freestyle debut is Mikey Labriola, a graduate of Bethlehem Catholic in Pennsylvania. Labriola beat Wittlake 3-1 at Who's #1 in October 2016, though that was of course in folkstyle. Though he has wrestled exclusively folkstyle thus far, he does have a style that would seem to transition well. The redshirt freshman for Nebraska overwhelms opponents with his pace from neutral, frequently playing catch and release to pile up double-digit points in high-profile tournaments like the Walsh Ironman.
There are three FloNationals champs in the field: Hayden Hidlay, Anthony Mantanona, and Ethan Smith. Mantanona beat Hidlay in the 2016 finals, with Hidlay coming back and winning next year. Hidlay has battled with this field before, losing to Wittlake in the 2016 Akron semis and Brooks in the Fargo finals a year ago.
However, this field is not just top heavy. Labriola's teammate Beau Breske, a former Fargo double champ, is also competing. New Jersey state champ and Drexel commit Michael O'Malley is registered as well. Former Cadet world team member Joe Grello has signed up.
Then there is a group of solid college guys throwing their hats in the ring. Jacob Covaciu won the Open a year ago at 79kg when it was a non-Worlds weight. Marcus Coleman is one of Iowa State's most intriguing prospects and Hunter Bolen was an NCAA qualifier as a true freshman for Virginia Tech.
The Picks
Willie: 1. Travis Wittlake 2. Mikey Labriola 3. Aaron Brooks 4. Beau Breske
Nomad: 1. Travis Wittlake 2. Aaron Brooks 3. Trent Hidlay 4. Mikey Labriola
86kg
Everyone saw it. Beard vs. Hoffman at Who's #1 for the bragging rights not only in Pennsylvania but also nationally. Hoffman came out firing early and held off a late push from Beard. When both registered for Vegas Juniors, everyone circled it.
Hoffman won world bronze last year at Cadets. Beard was a runner-up at Cadet Trials in 2016 to Jacob Warner, who would also go on to world bronze.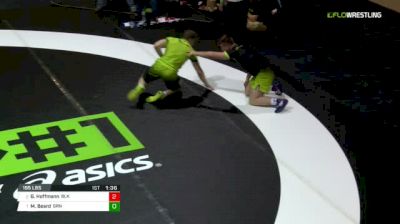 Unlock this video, live events, and more with a subscription!
Get Started
Already a subscriber? Log In
But with the depth of this weight, assuming a Hoffman-Beard final is putting the cart way before the horse.
Fargo champ Max Lyon looms. His closest match in that tournament was 10-3 in the finals. Lyon is one of several guys who had very solid redshirt years including Louie Deprez, who ended his high school season at #1 in the nation by beating Nino Bonaccorsi (also in the field here) at Dapper Dan.
Kendall Norfleet was an NCAA qualifier for ASU as a true freshman. And Jelani Embree won Akron Cadets a couple years ago.
The Picks
Willie: 1. Michael Beard 2. Gavin Hoffman 3. Louie Deprez 4. Nino Bonaccorsi
Nomad: 1. Gavin Hoffman 2. Michael Beard 3. Louie Deprez 4. Jelani Embree
92kg
We start with Jacob Warner, the 2016 Cadet bronze medalist who also reached the JR World Team Trials finals last year against Kollin Moore at 96kg. He's clearly the man to beat.
The most interesting potential matchup would be vs. Jake Woodley, a redshirt at Oklahoma who knocked Warner off in an open folk tournament last season.
Other contenders include Noah Adams, who was the Cadet Trials runner-up at 100kg to Gable Steveson in 2016; Christian Brunner, a two-time NCAA for Purdue (who also beat Warner this season); and John Borst, a 2016 Fargo runner-up to Ben Darmstadt.
Also, keep an eye on Fargo AAs Ashton Seeley (UVU) and Jacob Raschka (MIZZ).
The Picks
Willie: 1. Jacob Warner 2. John Borst 3. Christian Brunner 4. Jake Woodley
Nomad: 1. Jacob Warner 2. Jake Woodley 3. John Borst 4. Christian Brunner
97kg
Although he has one year of Cadet eligibility remaining, world champ Daniel Gregory Kerkvliet is doing what many of his fellow Cadet stars have done, which is get a waiver and compete up with the Juniors once they turn 17. It is somewhat surprising to see Kerkvliet down at this weight, as he will be going 110kg in Akron and will be a heavyweight for Oklahoma State in college.
Zach Elam was the 220 Fargo Junior champ last summer and just recently completed his high school career as a three-time Missouri state champ. Like Kerkvliet, the Mizzou commit is slated to be a heavyweight in college but has not bulked up just yet.
Another Missouri native in Jake Boyd will be competing in this bracket. A 2015 Fargo Cadet champ at 195, Boyd was 12-1 during his redshirt season for Oklahoma. He also has a sixth-place finish from Akron 2016 to his name and could be the Sooners' starter at 197 next year.
The Picks
Willie: 1. Daniel Gregory Kerkvliet 2. Zach Elam 3. Jake Boyd 4. Matt Correnti
Nomad: 1. Daniel Gregory Kerkvliet 2. Zach Elam 3. Jake Boyd 4. Matt Correnti
125kg
There is only one athlete who wrestled heavyweight in last year's Junior Trials that is back again this year, and that is Brandon Metz. The North Dakota State 285-pounder went 16-4 during his redshirt season for the Bison. After going 47-0 in his junior year of high school, he finished third in Fargo Juniors. As a senior, Metz went 48-0, then went undefeated at Junior Duals and finished second in Fargo.
In the year he got third in Fargo, Metz lost to Gannon Gremmel, the eventual champ. Gremmel was only a round of 12 finisher last year, losing to Metz 12-0 in the blood round.
Seth Nevills is probably the most intriguing entry. The four-time undefeated California state champ has wrestled little to no freestyle in his life but is one of the top recruits in the country. For a guy who wins a lot of matches on the mat, it will be interesting to see what he can do from mostly neutral.
Paul Robinson, an Army West Point commit from Georgia, placed at both Super 32 and Fargo last year. There are a couple Super 32 runners-up in the field in Max Darrah and Sammy De Seriere.
The Picks
Willie: 1. Brandon Metz 2. Paul Robinson 3. Seth Nevills 4. Max Darrah
Nomad: 1. Seth Nevills 2. Brandon Metz 3. Brady Daniel 4. Sammy De Seriere