Where All The 2018 NCAA Placement Points Came From
Where All The 2018 NCAA Placement Points Came From
Where did all the 2018 NCAA placement points come from? We made a heat map of the wrestlers' hometowns to find out!
Apr 13, 2018
by Andrew Spey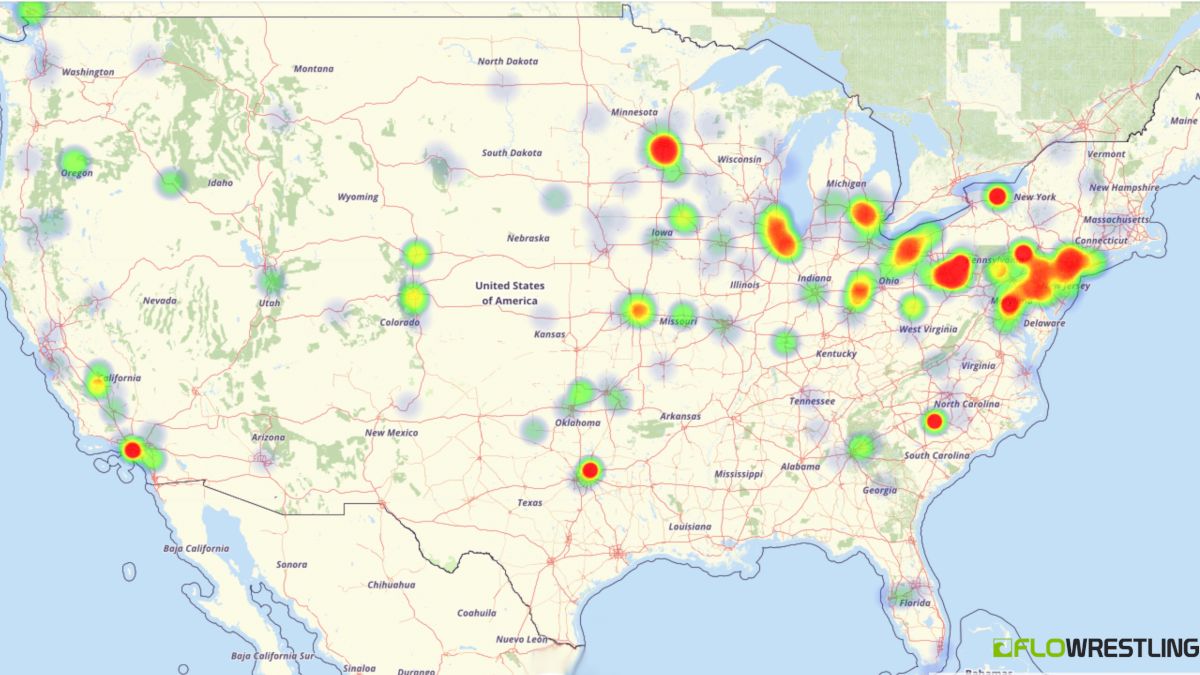 Where are the wrestling hotbeds in America? Most wrestling fans will rattle off a familiar set of states: Pennsylvania, Iowa, Ohio, New Jersey, Illinois, etc. Folks may quibble with the order of those states and who should and should not be included in the top tier, but they all come to some sort of general consensus (generally).
But where exactly in those states do the big recruits and top collegiate performers come from? Thanks to the busy scientists down at the FloLaboratory, we've now got a heat map that tracks total 2018 NCAA placement points by wrestlers hometowns.
And how did we decide on the hometowns of the NCAA qualifiers? We strictly adhered to whatever was in the wrestlers' school bios. So there were no judgment calls being made on our part, at least for this exercise.
And for the placement points, we used a standard rubric which accounted for advancement and placement points but no bonus points.
Here's what our talented scientists produced in the lab.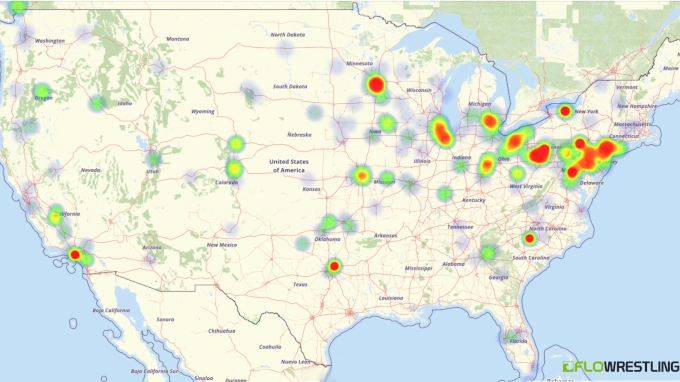 Breathtaking.
A quick perusal should make it obvious that red means more points, then less for yellow and green, and the fewest for blue (and no color means no points).
Hometowns for several of the national champs are easy enough to identify: Zahid Valencia in Southern California; Bo Nickal near Dallas; Michael Macchiavello near Charlotte, NC; and Yianni Diakomihalis in Rochester in Upstate New York. And yes, that's Mark Hall (and company) in the Minneapolis region, as that is what is listed on his Penn State bio page.
So no surprise that NCAA finalists well help a region stand out. But quantity also matters, and from the map, it's obvious that the highest concentration of NCAA wrestling talent (at least when considering the 2018 NCAA tournament) comes from a continuous band stretching from New York City to Detroit, encompassing all of Pennsylvania and Northeast Ohio with it. Central Ohio (thanks St. Paris-Graham) and Maryland (much obliged Captain America) are also on the periphery of that mix.
Other hotspots include the Chicagoland (duh), Colorado (and Cheyenne, Wyoming, due to Bryce Meredith), California's Central Valley, and some heat in British Columbia thanks to Amar Dhesi. Iowa still has plenty of talent to be considered in the top tier, but it is more spread out, as the state is far more rural than it's eastern counterparts.
But as far as density, it's tough to beat the Detroit to NYC belt. With a few adjustments to the dials in our laboratory, we can enhance the first heat map and take a closer look at the Northeast.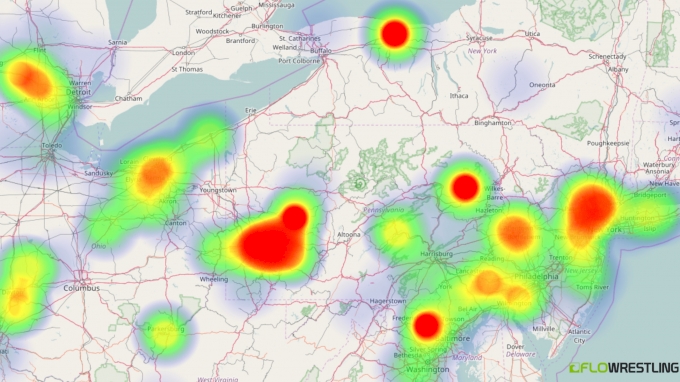 As you can see, Pittsburgh balled out in Cleveland. Next year's NCAA tournament should be fun.