Way-Too-Early Lineup Look: Penn State
Way-Too-Early Lineup Look: Penn State
A way-too-early look at Penn State's lineup for the 2018-19 season.
Mar 26, 2018
by Wrestling Nomad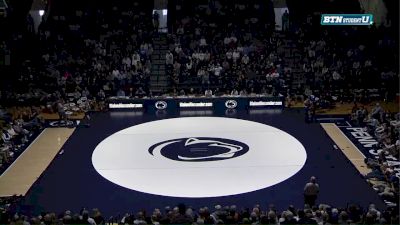 As Bo Nickal clinched Penn State's seventh national title in eight years, it became abundantly clear that this dynasty isn't going anywhere. The Nittany Lions will be the overwhelming favorites heading into next season as they try to win their fourth championship in a row.
But what will their team look like in the 2018-19 season? What makes them the runaway favorites? We're going to give you an idea of how the 10 weights will shake up, as of now. As we saw last summer, offseasons can change a lot of things.
PSU's 2018-19 Projected Lineup
125: Gavin Teasdale, FR
133: Roman Bravo-Young, FR
141: Nick Lee, SO
149: Jarod Verkleeren, RSFR
157: Jason Nolf, RSSR
165: Vincenzo Joseph, RSJR
174: Mark Hall, JR
184: Bo Nickal, RSSR
197: Shakur Rasheed, RSSR
285: Nick Nevills, RSSR
Barring injuries, the 157-285lb weight classes are set. Graduating Zain Retherford and his 93.5 career points at the NCAA tournament will of course be difficult, but PSU is set up very well for the future.
125 Pounds
The plan as of now is to start Gavin Teasdale right away and redshirt Brody Teske. I still think Teasdale is going to be too big for 125 in college, but that's Penn State's plan for now, with both Teske and Teasdale still having a few months left of high school. It's hard to imagine a scenario, though, in which one of the two of them does not start because that would mean another year of Devin Schnupp, who is undersized and won just one match last season.
133 Pounds
The obvious answer at this time seems to be Roman Bravo-Young. Corey Keener is gone and RBY seems like a safer option than George Carpenter, Mason Lindenmuth, or Dom Giannangeli. The lightweights are also where Penn State could get creative with redshirts, going Teasdale/RBY in 2019, then Teske/Teasdale in 2020, then Teske/RBY in 2021 and not lose a single year of eligibility from the three of them.
141 Pounds
There's no reason not to run Nick Lee back at 141 after he placed fifth as a true freshman and two other All-Americans graduate. Just like the group of freshmen coming in, Cael Sanderson and his staff can get creative with Lee's redshirt if need be. For example, say Bravo-Young grows and can't 133 in the 2019-20 season. Theoretically, they could bump him to 141, redshirt Lee, then redshirt RBY, or try to grow Lee into a 149-pounder. They've got options looking forward, but next year this weight belongs to Lee.
149 Pounds
There's really only two options to replace Retherford, and both redshirted this season. The first is Jarod Verkleeren, a more natural 149-pounder, and the other is Brady Berge. When Berge committed, he was wrestling 160 during his Minnesota high school season but said he would be a 149 in college. This past season, he wrestled just one tournament, and that was up at 157, so color me skeptical that he can make 149 over the course of a 17 weigh-in season.
157 Pounds
Jason Nolf takes 72 career points at the NCAA tournament into his senior year. Hopefully, his knee heals fully in the offseason and his final collegiate season is a healthy one. As for the future, Brady Berge could take Nolf's spot in the 2019-20 season when he's a redshirt sophomore, or Joe Lee could stay down and become the man in his redshirt freshman campaign.
165 Pounds
Vincenzo Joseph is halfway to being the fifth wrestler ever to win four Division I national titles. Once Joseph exhausts his eligibility, Joe Lee or Mason Manville will be ready to take over. But with Isaiah Martinez gone, can Joseph win four titles? It very well could happen.
174 Pounds
Mark Hall, Mark Hall, Mark Hall. The only thing that's changing this for the next two years is the possibility of an Olympic redshirt in 2019-20.
184 Pounds
The two-time defending champ and Hodge finalist Nickal is one of the most reliable point scorers in the country in both dual meets and tournaments.
197 Pounds
There could be another roster battle between Shakur Rasheed and Anthony Cassar, but with Rasheed being a senior and coming off an All-American season, it seems likely he will be the guy once again.
285 Pounds
The final year of Nick Nevills might just end with him in the finals.