We are just weeks away from the conference tournaments, and seeds are starting to fall into place. As such, many prognosticators are beginning to look ahead to potential NCAA quarterfinal and semifinal matchups.
We've been through five weight classes now, and we are coming up on some tricky possibilities in the next few divisions. There are still four undefeated wrestlers at 165 pounds, two of whom will meet this weekend.
Remember that, while conference tournament predictions are used to determine these projected seeds, I do not include those in ranked opponents remaining.
Projected Seeds: 125 | 133 | 141 | 149 | 157
1) Vincenzo Joseph, Penn State
We still have no idea how the match at Big Tens could go between Joseph and Isaiah Martinez. Last year, Martinez beat Joseph by three points in the dual and at the conference tournament. Honestly, no one would be surprised if either guy won. That person will get the one seed.
Ranked Opponents Remaining
Saturday, Feb. 10: #4 Alex Marinelli, Iowa
2) David McFadden, Virginia Tech
The order of the two and three seeds between McFadden and the Joseph/Martinez loser is kind of negligible. It's very possible the committee puts McFadden at the three seed even if he goes undefeated, but he won't fall below that.
3) Isaiah Martinez, Illinois
IMar is a two-time champ and three-time finalist. He's lost two matches in his career. I basically flipped a coin to determine he and Joseph's seed.
Ranked Opponents Remaining
Sunday, Feb. 11: #5 Evan Wick, Wisconsin
4) Alex Marinelli, Iowa
When a wrestler only has 12 matches, it seems like he probably hasn't hit many high-level opponents. But Marinelli has beaten #6 Chandler Rogers, #7 Nick Wanzek, #8 Logan Massa, #11 Richie Lewis (twice), #14 Te'Shan Campbell, and #19 Jonathan Schleifer. He has more than enough quality wins and should have a solid RPI as well.
Ranked Opponents Remaining
Saturday, Feb. 10: #1 Vincenzo Joseph, Penn State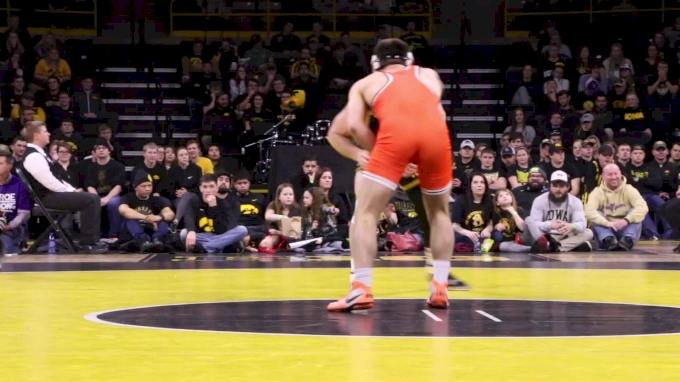 5) Chance Marsteller, Lock Haven
At some point, winning percentage has to come into play, particularly as the Big Ten gets guys who will place fourth and fifth in the conference. The question is, how hard will the coaches penalize Marsteller for only having one ranked win?
6) Logan Massa, Michigan
I'm still not sold that Massa is fully healthy, but his track record from last season is enough to make me think he'll finish fourth at Big Tens. The issue then becomes, will a superior conference finish and winning percentage push Chandler Rogers over Massa?
Ranked Opponents Remaining
Sunday, Feb. 11: #14 Te'Shan Campbell, Ohio State
7) Chandler Rogers, Oklahoma State
The Branson Ashworth loss could have a large impact on where he lands, even if he avenges it at Big 12s. Rogers would likely prefer the seven seed and a shot at redemption against McFadden, a match he was leading late in November at the Journeymen Classic.
8) Evan Wick, Wisconsin
This final "All-American seed" could come down to Nick Wanzek of Minnesota and Wick, which could ultimately be a wash, as they would meet in the round of 16. But for now, I like Wick to finish higher at Big Tens. Check out his brutal remaining schedule before Big Tens.
Ranked Opponents Remaining
Friday, Feb. 9: #12 Isaiah White, Nebraska
Sunday, Feb. 11: #2 Isaiah Martinez, Illinois
Friday, Feb. 16: #11 Richie Lewis, Rutgers
Sunday, Feb. 18: #18 Jacob Morrissey, Purdue