The 14th weekend of Division I wrestling this season was a remarkable one. The superdual lived up to the hype, but it was far from the only notable event of the weekend. We've got you covered though in case you missed any of the big stories from Super Bowl weekend.
Penn State Beat Ohio State
One of the best duals we've ever seen. From the raucous crowd to the upsets to the intrigue of missing Jason Nolf and still getting the win, there's no question now that PSU is the #1 team in the land and the favorite to win NCAAs.
Speaking Of Penn State…
The Nittany Lions picked up a verbal commitment from Cadet world champ Aaron Brooks. Meanwhile, another PSU signee, Gavin Teasdale, lost his second-ever high school match.
Dean Heil Gets Back On Track
Following his losses last weekend to Jaydin Eierman and Ian Parker, Dean Heil had fallen to 3-4 in his last seven matches. But on Saturday in Stillwater, OK, he used a second-period takedown, third-period escape, and riding time to beat #8 Josh Alber of Northern Iowa.
Sebastian Rivera's Big Weekend
We knew the Northwestern redshirt freshman had two daunting tasks facing him on Friday and Sunday. He wound up losing 4-1 to #1 Nick Suriano and 7-4 to #3 Spencer Lee, showing that he is just outside of that top group in the Big Ten and also the guy you really don't want to draw in the quarterfinals.
Michigan Wins 24-10 Over Nebraska
Outside of Kevin Beazley's loss to Eric Schultz, the Wolverines took care of business in Ann Arbor, MI. Michigan started its four-match home stand by winning four ranked matchups and positioning itself well for Big Ten seeding.
Bono's 100th Win
This season, we've seen John Smith get his 400th career dual meet win, Tom Brands win his 200th, and now joining the century club is South Dakota State head coach Chris Bono. In just his ninth season heading a Division I program, Bono picked up 100th victory at home against his alma mater, Iowa State, with a 30-15 win in Frost Arena.
Rutgers Was Shorthanded Against Illinois
It's getting to that time of year. The second semester is in full swing, the flu is going around, and the bumps and bruises are accumulating from the season. We saw Minnesota miss several starters last weekend, and the Scarlet Knights were without the services of Nick Suriano, Eleazar DeLuca, Richie Lewis, and Nick Gravina on Sunday. Hopefully all were just precautionary measures and nothing that will keep guys out of the conference tournament.
Hokies Upend UNC On Senior Night
In the season's final dual at Cassell Coliseum, Virginia Tech won a toss-up at 133 and then proceeded to get upsets at 141, 149, and 174. The 21-9 win pushed the Hokies to 3-0 in the ACC and closed out the home career for senior Jared Haught, currently #2 at 197.
App State Wins 3rd Straight SoCon Title
Trailing by four with two matches to go, the Mountaineers got an upset from Randall Diabe over #9 Scottie Boykin at 197 and then Cary Miller won at heavyweight, meaning coach John Mark Bentley's team will get its third consecutive Southern Conference dual title.
Wartburg Won Battle Of The Burgs
Division III's biggest rivalry played out once again on Thursday night, with the home Knights winning 21-13, avenging a loss to Augsburg earlier this season.
Two World Champs Collide
They're not in DI yet, but Cadet world champ Greg Kerkvliet bumped up to wrestle three-time world champ Gable Steveson on Friday evening at Simley High School in Minnesota. Watch the future Gopher Steveson face off with the Oklahoma State commit Kerkvliet.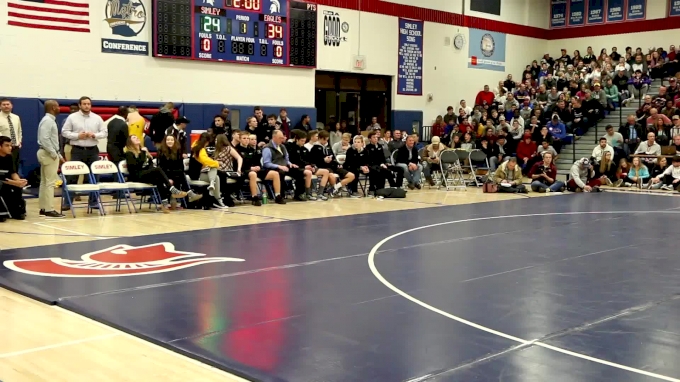 Unlock this video, live events, and more with a subscription!
Get Started
Already a subscriber? Log In