Create a free account to unlock this article!
Get Started
Already a subscriber? Log In
There are duals, and then there are superduals. With seven NCAA champs, and the potential for several more (even excluding Jason Nolf), we could look back on this year's Ohio State at Penn State dual for years to come.
We've already broken this one down via Whiteboard War, and extensively on FRL 264. Before we get started, please remember that our rankings project tournament points based on the individual rankings, and do not factor in bonus points.
The Buckeyes and Nittany Lions both project to 120.5 points, so there is really no #2 at this time. On to the Superdual, of of the Century, of the Week.
125: #4 Nathan Tomasello (Ohio St) vs Devin Schnupp/Carson Kuhn (Penn St)
Gone are the days of Nico Megaludis and Nick Suriano for the Nittany Lions. Given that Tomasello teched NCAA finalist Ethan Lizak, a tech seems not just possible but likely. Whether he wrestles 1-win Schnupp or Kuhn, who hasn't wrestled in years, bonus points seem imminent for the Buckeyes.
133: #2 Luke Pletcher (Ohio St) vs Corey Keener (Penn St)
Though Pletcher has unquestionably earned himself the #2 ranking, Pletcher has just four bonus point wins on his 21-0 ledger. Against a veteran like Keener wrestling at home, bonus could be out of reach for Pletcher.
141: #11 Joey McKenna (Ohio St) vs #6 Nick Lee (Penn St)
The common opponents for these two leave some interesting results. McKenna did better against Mike Van Brill, their matches against Ryan Diehl were similar, and Lee major Limmex to McKenna's 6-0 win.
| | | | |
| --- | --- | --- | --- |
| Opponent | Nick Lee | | Joey McKenna |
| Mike Van Brill | W 5-2 | | W 13-3 |
| Tommy Thorn | W 13-3 | | L 3-13 |
| Ryan Diehl | W 22-10 | | W 23-5 |
| Nate Limmex | W 14-4 | | W 6-0 |
The obvious one you circle is Tommy Thorn. McKenna's been exposed in neutral scrambles before as well as in that Granby to half position in the Thorn match. However, his legs back stance and size/strength advantage could leave him in place for counter doubles when Lee eventually has to take a break from shooting. The most intriguing and important match of the dual for Penn State.
149: #6 Ke-Shawn Hayes (Ohio St) vs #1 Zain Retherford (Penn St)
Retherford has bonused everyone he's wrestled this year: 15 pins, 2 techs and 2 majors. He twice teched Hayes' teammate Micah Jordan last year, and has a first period pin over Brandon Sorensen. All of this is to say, it is very possible Hayes gets pinned, which becomes even more important with Jason Nolf out.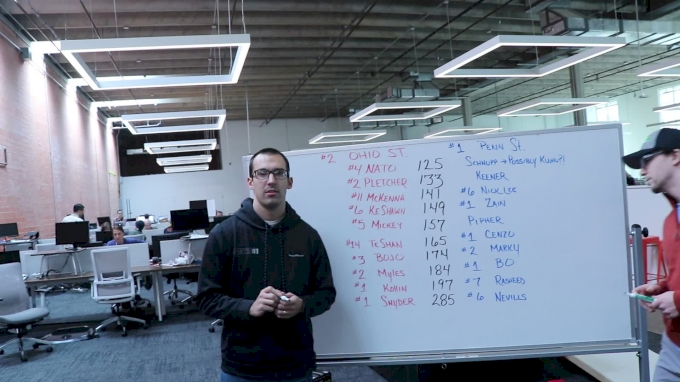 Create a free account to unlock this video!
Get Started
Already a subscriber? Log In
157: #5 Micah Jordan (Ohio St) vs Bo Pipher/Luke Gardner (Penn St)
The best word to describe Jason Nolf's injury is bummer, for both the sake of this dual and the interest in the team title race at NCAAs. Penn State's notes for this match, as well as all of the media reports coming out of Happy Valley indicate Pipher or Gardnder will replace Nolf. Pipher had the edge earlier in the year, as he got to go to the Southern Scuffle. Either way, the redshirt freshmen are very likely to give up bonus to Jordan, with a fall being very much in play.
165: #14 Te'Shan Campbell (Ohio St) vs #1 Vincenzo Joseph (Penn St)
These two met at last season's Keystone Classic when Campbell was still at Pittsburgh, with Joseph taking a 9-5 decision. Most recently, Campbell was stalled out by Austin Hiles of Michigan State. So that sticks out in your mind when thinking about possible bonus for Cenzo, but he also beat Nick Wanzek and Richie Lewis by a combined three points.
174: #3 Bo Jordan (Ohio St) vs #2 Mark Hall (Penn St)
Now we get to the two most important matches of the dual. Jordan did not wrestle in last year's match in Columbus, and then went on to beat Hall at Big Tens. Hall would of course take the NCAA final. It won't be high scoring, someone is going to score off a counter or an extended scramble, and there will be at least one controversial call.
184: #2 Myles Martin (Ohio St) vs #1 Bo Nickal (Penn St)
Mike Mal did a good short breakdown on the seventh installment of the Nickal/Martin series. I can't even begin to predict how this will go, which techniques will be used, or even who will win; there's too much variance in their repertoires. What I can say is that this might be college wrestling's best rivalry since Mark Perry and Johny Hendricks. Very rarely do we get multiple seasons of back and forth matches from NCAA champs. Watch their most recent match below.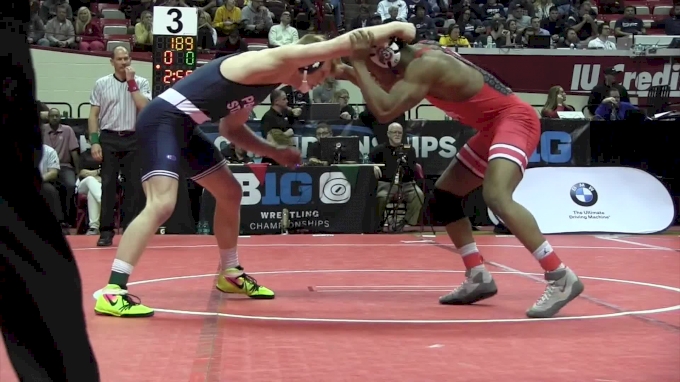 Create a free account to unlock this video!
Get Started
Already a subscriber? Log In
197: #1 Kollin Moore (Ohio St) vs #7 Shakur Rasheed (Penn St)
We discussed this on FRL, but Kollin Moore has been the only consistent 197 this season, and even he's had six decisions. Rasheed is riding a six match winning streak and has nearly four times as many pins as Moore does this year. The Buckeye sophomore will certainly have a size advantage, but could Rasheed's lack of weight cut mean he can match Moore's pace for seven minutes?
285: #1 Kyle Snyder (Ohio St) vs #6 Nick Nevills (Penn St)
Snyder majored Nevills last year, but it appears he's going for the jugular this time around.
Now that I am back in the US of A, all my time and energy will be focused on PSU. There is no team I'd like to destroy more. pic.twitter.com/W9MHMtaQpu

— Kyle Snyder (@Snyder_man45) January 31, 2018