2018 Missouri at Oklahoma State
15 Ranked Wrestlers In #7 Missouri At #5 Oklahoma State Dual
15 Ranked Wrestlers In #7 Missouri At #5 Oklahoma State Dual
There will be five ranked matchups, and 15 ranked wrestlers in total, when #5 Oklahoma State hosts #7 Missouri on Saturday night.
Jan 25, 2018
by Wrestling Nomad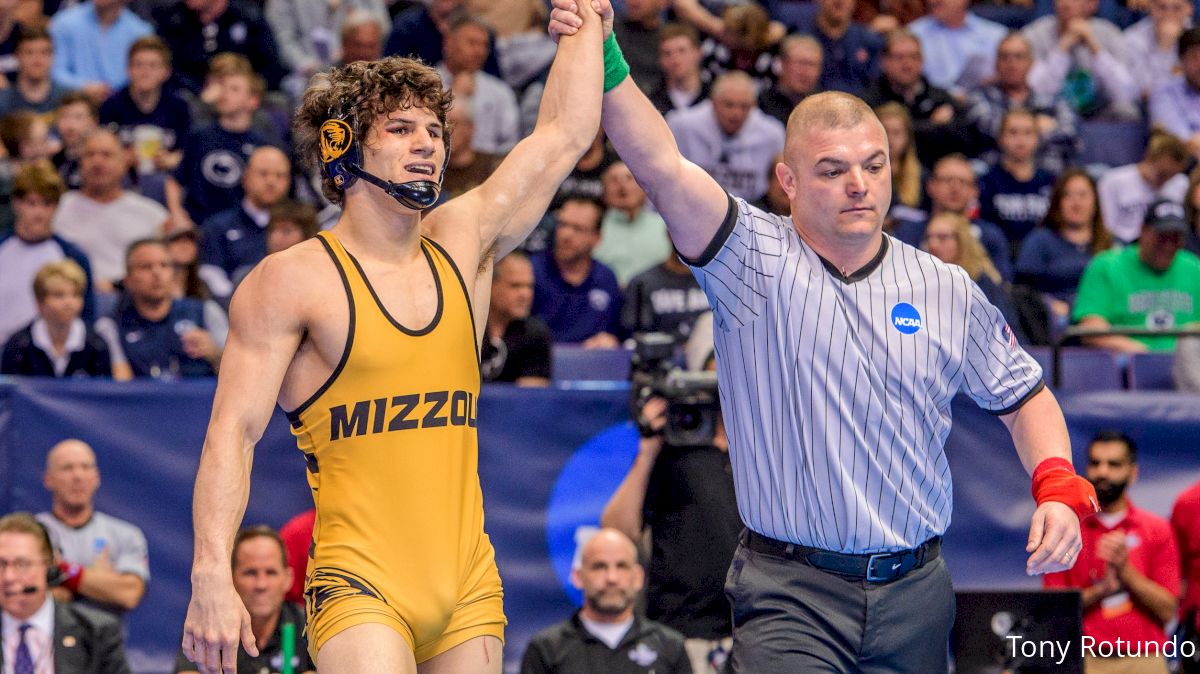 The biggest dual of the weekend gets underway at 7 PM Central on Saturday as fifth-ranked Oklahoma State hosts #7 Missouri in Stillwater, OK, streaming live on FloWrestling.
WATCH MISSOURI AT OKLAHOMA STATE
Of the 20 wrestlers projected to wrestle in this dual, 15 are ranked and there are five head-to-head matchups of ranked wrestlers. In particular, the 133, 141, and 197 weight classes should be massively important for NCAA seeding purposes.
Let's dive into some of the storylines heading into this dual, aside from 141, which we let our own Mike Mal handle with some great tech notes for Jaydin Eierman vs Dean Heil.
Projected Lineups
125: Barlow McGhee (Missouri) vs. #6 Nick Piccininni (Oklahoma State)
133: #11 John Erneste (Missouri) vs. #3 Kaid Brock (Oklahoma State)
141: #5 Jaydin Eierman (Missouri) vs. #4 Dean Heil (Oklahoma State)
149: #3 Grant Leeth (Missouri) vs. #15 Boo Lewallen (Oklahoma State)
157: #4 Joey Lavallee (Missouri) vs. Jonce Blaylock (Oklahoma State)
165: Conner Flynn (Missouri) vs. #7 Chandler Rogers (Oklahoma State)
174: #5 Daniel Lewis (Missouri) vs. #12 Jacobe Smith (Oklahoma State)
184: #15 Canton Marriott (Missouri) vs. Keegan Moore (Oklahoma State)
197: #8 Willie Miklus (Missouri) vs. #3 Preston Weigel (Oklahoma State)
285: Jake Bohlken (Missouri) vs. #11 Derek White (Oklahoma State)
How Good Is Missouri?
Don't misinterpret that to mean Missouri is bad. We just haven't seen the Tigers yet against a solid, top-to-bottom team. Jaydin Eierman has been tested, with a 4-1 record against ranked opponents, as well as two wins over Cowboys freshman Kaden Gfeller, who would certainly be ranked if Dean Heil wasn't in the lineup. Outside of Willie Miklus' improbable pin over Jared Haught, he has otherwise been majored by Ben Darmstadt and lost to Iowa true freshman Jacob Warner.
Oklahoma State's Homestand Opportunities
John Smith has not minced words about his team's performance thus far: He has not been happy with this season. But Smith seemed pleased with OSU's 42-3 win over Kent State on Sunday and hopes to build upon that Saturday night. The Cowboys have won eight of the last nine against Mizzou, and the last Tigers' win in Stillwater was on Feb. 7, 2009.
Whiteboard Wars! Missouri at Oklahoma State: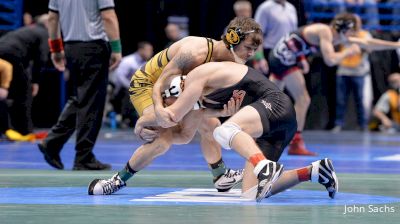 Star Power At 197
Although we mentioned a couple of Miklus' losses, he's still ranked eighth and is a two-time All-American. Preston Weigel is 6-0 since his return, including wins over #4 Michael Macchiavello and #5 Cash Wilcke. Most recently, Weigel got a first-period tech over Kyle Conel, and Miklus won 7-2 over Jordan Atienza.
Brock And Erneste Rivalry Continues
One of the matches that's crucial to NCAA seeds is OK State's Kaid Brock vs. Missouri's John Erneste. The Tigers redshirt junior won a 12-6 battle in the 2013 KC Stampede finals when they were still in high school, but Brock won a 20-9 match in freestyle at UWW Junior Trials in 2015. Last January, Brock won twice, first by a 14-5 major at the Scuffle and then 15-8 three weeks later in their dual.
Injuries And Replacements
We're not talking about Grant Leeth's neck brace here. Cowboys redshirt junior Chandler Rogers missed both duals last weekend and was leaning on one crutch after the match. John Smith and his coaching staff continue to have Andrew Marsden weighing in at 184, and we could certainly see him in place of Keegan Moore. Meanwhile, Mizzou's Jake Bohlken or Dante Giovanetta has replaced Austin Myers, who is out for the season.