Create a free account to unlock this article!
Get Started
Already a subscriber? Log In
Right now it's all talk on social media, but could we see #1 Seth Gross take on #1 Bryce Meredith this week?
Wyoming is making a trip to Brookings, SD, on Thursday to face South Dakota State in a huge Big 12 dual meet live on FloWrestling at 7 PM CT. And in the midst of the dual is the potential for a matchup of two #1-ranked wrestlers in the 133-pound Gross, an SDSU junior, and the 141-pound Meredith, a UW senior.
Meredith was the first to broach the subject of matching up with Gross in a Twitter post on Monday.
Me vs. @GodsWrestler133

— Bryce Meredith (@bmeredith001) January 15, 2018
Gotta finish our best of 3 series ???? https://t.co/PFbY1WPuxO

— Seth Gross (@GodsWrestler133) January 15, 2018
Before Gross made the move down to 133 pounds, he and Meredith split matches at 141 in 2016. First, Meredith edged Gross 5-4 in his home gym [watch Meredith defeat Gross here]. Then Gross claimed some revenge with an 8-3 win in the semifinals of the Big 12 tournament.
Watch Gross defeat Meredith at 2016 Big 12s.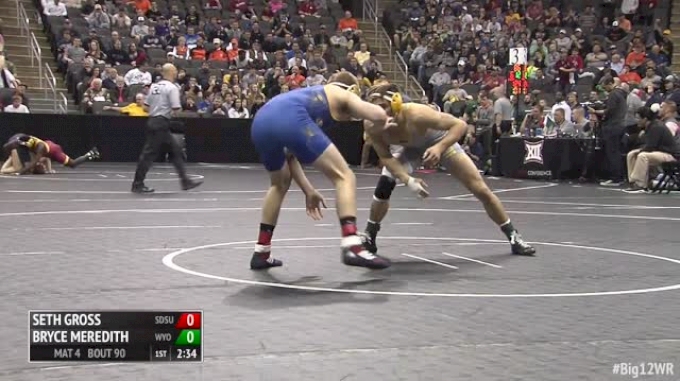 Unlock this video, live events, and more with a subscription!
Get Started
Already a subscriber? Log In
It's been a while since they met, and they both have showed incredible improvement. Should it happen, expect this one to have great scrambling and a great deal of action from both guys. If Jackrabbits coach Chris Bono decides not to move Gross up to 141 to face Meredith, Gross would take on #5 Montorie Bridges at 133.
Could happen Thursday night. Lets see if the fans want it... who wants to see @GodsWrestler133 vs @bmeredith001 go at it Thursday night when @GoJacksWrestle wrestles @WyoWrestle Two #1's two different weight classes...#getjacked #11thman @CPyles8 @WillieAtFLO @FloWrestling https://t.co/NxHpxrSHRS

— Chris Bono (@ChrisBono) January 16, 2018
Also, another big matchup could go down at 157 between #10 Luke Zilverberg and #12 Archie Colgan. You can catch all this Big 12 dual meet action live on FloWrestling at 7 PM CT.
Wyoming vs. SDSU Projected Lineups
125: Drake Foster (Wyoming) vs. Connor Brown (South Dakota St.)
133: #5 Montorie Bridges (Wyoming) vs. #1 Seth Gross (South Dakota St.)
141: #1 Bryce Meredith (Wyoming) vs. Henry Pohlmeyer (South Dakota St.)
149: #19 Sam Turner (Wyoming) vs. Colten Carlson (South Dakota St.)
157: #12 Archie Colgan (Wyoming) vs. #10 Luke Zilverberg (South Dakota St.)
165: Branson Ashworth (Wyoming) vs. Logan Peterson (South Dakota St.)
174: Kyle Pope (Wyoming) vs. #9 David Kocer (South Dakota St.)
184: Chaz Polson (Wyoming) vs. Martin Mueller (South Dakota St.)
197: Cody Vigoren (Wyoming) vs. #11 Nate Rotert (South Dakota St.)
285: Sam Eagan (Wyoming) vs. Alex Macki (South Dakota St.)