The time of year before and after January 1 is a busy one in the college wrestling world. The Midlands and the Southern Scuffle, two of the biggest tournaments of the collegiate season, occur before and after the New Year.
A dozen Division I teams also converged on Deerfield Beach, Florida, for a slew of matchups at the South Beach Duals. Those competitions produced some wild, eye-opening results, which we run down below.
---
SOUTH BEACH DUALS (DEC. 29-30)
141lbs, #3 Yianni Diakomihalis, Cornell defeats #10 Tommy Thorn, Minnesota 18-4
When's the last time All-American Tommy Thorn gave up 18 points in a collegiate match? As far as we can tell, never! Cornell's true freshman Yianni Diakomihalis made a statement in South Florida on Dec. 29 with an absolute shellacking of the #10-ranked 141-pounder in the nation.
141lbs, #5 Jaydin Eierman, Missouri defeats #3 Yianni Diakomihalis, Cornell 9-6
Spoiling Diakomihalis' claims to a #1 ranking and potential top seed at the NCAAs was Missouri's Jaydin Eierman. Down in the final 30 seconds of the match, Eierman clawed a victory from the jaws of defeat by locking up a cradle and scoring six huge points before time expired.
197lbs, Ben Darmstadt, Cornell defeats #2 Willie Miklus, Missouri 9-0
Also turning heads in Florida over the holidays was fellow Cornell freshman Ben Darmstadt. Damrstadt blanked the #2-ranked wrestler at 197 pounds, Willie Miklus. Besides getting revenge for Yianni, Darmstadt was also staking a claim to the starting spot at 197 for Cornell, as teammate Ben Honis wrestled up at 285 in Florida. A dominant win over a two-time All-American will go a long way in reassuring Cornell head coach Rob Koll that he has the right guy at light heavyweight.
149lbs, #12 Grant Leeth, Missouri defeats #4 Troy Heilmann, UNC 6-3
Eierman wasn't the only Missourian flaunting in Florida. Grant Leeth, neck brace and all, took out a red-hot Troy Heilmann, sowing more rankings chaos in the Sunshine State.
---
SOUTHERN SCUFFLE (JAN. 1-2)
285 lbs, Mike Boykin, NC St. defeats #3 Nick Nevills, Penn St. 4-3
Meanwhile, in Chattanooga, TN, Mike Boykin, the Wolfpack's ostensible backup, was upending the 285 division by upsetting the consensus #3 heavyweight in the nation, Nick Nevills. Boykin would finish second at the Scuffle, and rumor has it that he nearly earned himself a last minute trans-Atlantic plane ride to join his teammates in Naples, Italy, for their dual meet against Oklahoma State on Friday.
Watch Boykin and Nevills' quarterfinal match:
133 lbs, Issac Jimenez, Air Force defeats #2 Scott Parker, Lehigh 8-6
At a tournament full of upsets, Issac Jimenez had perhaps the most astonishing one of them all. Scott Parker entered McKenzie Arena in Chattanooga as the #1 seed and second-ranked 133-pounder in the nation. However, Jimenez did not care for credentials and fearlessly hit a match-winning lateral drop for two just before time expired, scoring the biggest upset of the 2018 Southern Scuffle.
197 lbs, Shakur Rasheed pins #14 Scottie Boykin, #11 Matt Williams & #17 Jacob Holschlag in under 2 minutes combined
The Scuffle featured six returning NCAA individual champions; however, it was Penn State's third-string (at least at the time) 197-pounder who was named Outstanding Wrestler of the tournament. Shakur Rasheed pinned three top 20 wrestlers in the first period and also majored #18 Jacob Seely for good measure. Rasheed was deadly with his cross-face cradle, using it to pinfall his way through the quarters, semis, and finals.
Watch Rasheed's final three matches of the Scuffle: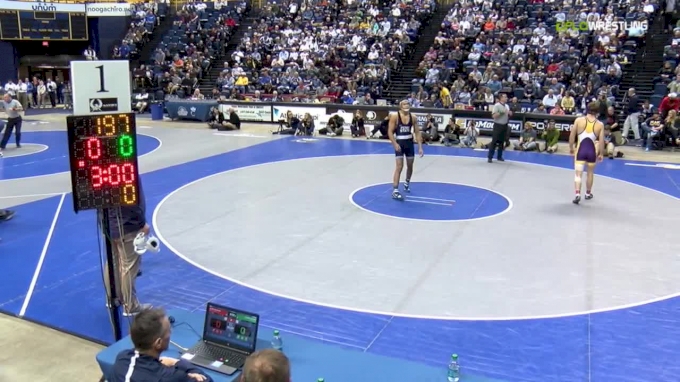 ---
MIDLANDS (DEC. 29-30)
125lbs, Spencer Lee, Iowa techs #14 Sean Russell, Edinboro 15-0
Over in greater Chicagoland, it was all about the 125-pound weight class at Midlands. Spencer Lee got things started with a thorough dismantling of returning All-American Sean Russell of Edinboro.
125 lbs, #11 Ronnie Bresser, Oregon St. defeats Spencer Lee, Iowa 3-1
Then it was Ronnie Bresser, flipping the script and beating the true freshman and cadet and junior freestyle world champ in a controversial match. Should Lee have gotten a reversal in the final seconds? You be the judge!
Watch Lee and Bresser in the Midlands semifinal:
125 lbs, #2 Nick Suriano, Rutgers defeats #13 Sebastian Rivera, Northwestern 7-6
The other 2017 Midlands 125-pound semifinal came to the expected conclusion, though it was closer than most people might have thought. C-Bass Rivera showed why he should be part of the title contender conversation when he gave #2 Nick Suriano all he wanted.
Watch Rivera and Suriano: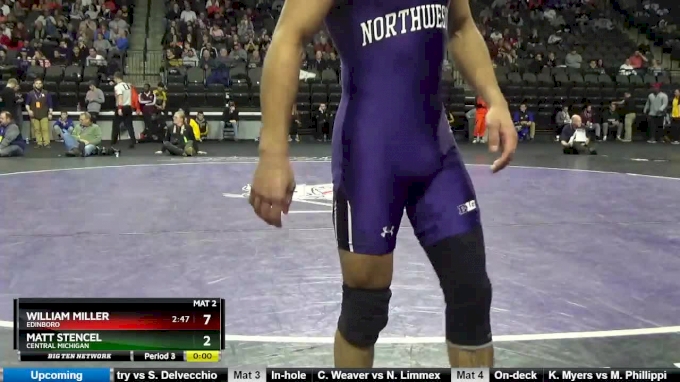 125 lbs, #2 Nick Suriano, Rutgers defeats #11 Ronnie Bresser, Oregon St. 2-1
Fans didn't get the Suriano/Lee matchup at the Midlands 125-pound final, but Ronnie Bresser filled in for the vanquished Lee admirably. Though Rivera pushed Suriano to the brink in a battle of New Jersey natives, it was Suriano who prevailed, nabbing the first-ever Midlands title for the Scarlet Knights.
Watch the Suriano/Bresser final:
But these matches were just the tip of the iceberg. Dive into the brackets and archives of the Midlands and Scuffle and find more gems that we've yet to highlight.
Suffice it to say, if the rest of the season is anything like this past holiday week, wrestling fans are in for a tremendous spring semester.