It's now 2018, and we've seen all four major tournaments. The Hodge race is much more clear than it was last time we did an update.
While there were plenty of upsets at both the Midlands and the Southern Scuffle, none of the sport's biggest guns misfired. We've come up with a top eight, and no weight classes have multiple entries.
Before we go any further, here once again are the criteria for wrestling's version of the Heisman Trophy:
Record
Number of pins
Dominance
Past credentials
Quality of competition
Sportsmanship/citizenship
Heart
A couple notes. Penn State's Mark Hall (15-0 with seven pins and five majors) and Lehigh's Darian Cruz (13-0 with two pins, two techs, and five majors) are not included, because of their All-Star Classic results. Whether it was an exhibition match or not, they were in singlets with refs and trying to win the match. Both are defending NCAA champions who have dominated this season and have plenty of time to work their way into the Hodge conversation.
There is no one on this list from the 141-pound weight class, where no one is left undefeated, and 165, though PSU's Vincenzo Joseph (8-0 with one pin, three techs, and three majors) has a much better case now that he just won the Scuffle. Let's take a look at the stats for the eight guys, in weight class order.
| | | | | | | |
| --- | --- | --- | --- | --- | --- | --- |
| Name | Weight | School | Record | Pins | Techs | Majors |
| Nick Suriano | 125 | Rutgers | 14-0 | 1 | 5 | 3 |
| Seth Gross | 133 | South Dakota St. | 12-0 | 5 | 5 | 1 |
| Zain Retherford | 149 | Penn State | 14-0 | 11 | 2 | 1 |
| Jason Nolf | 157 | Penn State | 13-0 | 12 | 1 | 0 |
| Zahid Valencia | 174 | Arizona State | 15-0 | 3 | 3 | 5 |
| Bo Nickal | 184 | Penn State | 14-0 | 8 | 1 | 4 |
| Kollin Moore | 197 | Ohio State | 11-0 | 2 | 1 | 4 |
| Kyle Snyder | 285 | Ohio State | 3-0 | 3 | 0 | 0 |
On to the list, we're going in reverse order here.
8) Nick Suriano, 125 (Rutgers): 14-0, 1 pin, 5 techs, 3 majors
Suriano survived his first major test of the year by winning Midlands and did so without having to wrestle Spencer Lee. At this point, the only way they could hit is potentially at Big Tens or NCAAs now that Lee's redshirt has been pulled.
We put Suriano in because Ohio State's Nathan Tomasello has yet to wrestle this year, and the two will not meet on Jan. 7 in their teams' dual meet. Suriano is a long shot to be a finalist, as he doesn't pin much and still also has to get through Minnesota's Ethan Lizak and Northwestern's Sebastian Rivera again. But Suriano is dominant enough right now to be on this list.
7) Kollin Moore, 197 (Ohio St.): 11-0, 2 pins, 1 tech, 4 majors
Although Suriano has a better bonus rate than Moore and a higher dominance score, Moore's pin over No. 3 Jared Haught of Virginia Tech is better than anything Suriano has done this year. Additionally, Moore has a third-place finish from last year's NCAAs that give him better past credentials, and he has fewer tests ahead of him on the schedule. Yes, we understand these things are outside of Suriano's control. Neither will likely be a finalist based on how things are right now.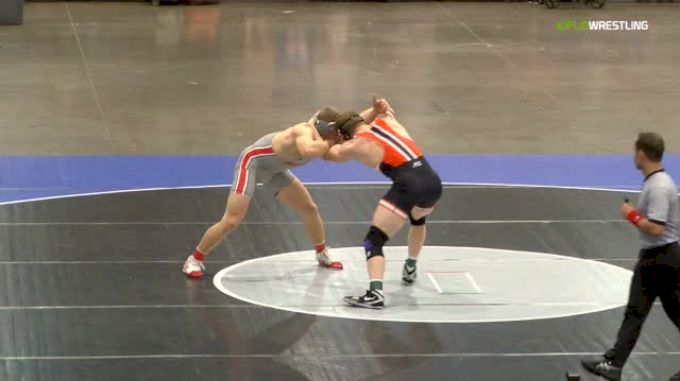 6) Zahid Valencia, 174 (Arizona St.): 15-0, 3 pins, 3 techs, 5 majors
You might be wondering how Zahid has fallen since the last time, when all he did was major his way through Midlands. Well, he has fewer pins than South Dakota State's Seth Gross, as well as a lower bonus rate and dominance score. Gross also has a higher finish from last year's NCAAs. I still think Valencia's quality wins are and will be tremendously valuable, but the voters tend to turn a blind eye to such things. He has wins over the guys ranked Nos. 2, 3, 5, 7, 9, and 13.
5) Seth Gross, 133 (SDSU): 12-0, 5 pins, 5 techs, 1 major
The Midlands OW has not been seriously challenged all year, though Minnesota's Mitch McKee did make it a match there at the end. Gross has an easier road than Zahid to a title, and there is some folksy small-school charm that could influence the voting panel. Wrestling folks love the redemption story, the small-school kid, the Midwesterner who's tough on top.
4) Kyle Snyder, 285 (Ohio St.): 3-0, 3 pins
OK, this is where it gets hard. If you put Zahid and/or Gross ahead of Snyder, I'm OK with it, as well as OK with either way you'd order Zahid and Gross. But Snyder is the best (freestyle) wrestler in the world and will be a finalist. So he goes fourth right now.
3) Bo Nickal, 184 (Penn St.): 14-0, 8 pins, 1 tech, 4 majors
Pretty much the same story as last time. Nickal is third on his team behind Jason Nolf and Zain Retherford in terms of pins. But he might just be the guy who gets the last match at NCAAs. It should be noted that Nickal's anticipated finals opponent, Myles Martin, is 16-0 with two pins, eight techs, and four majors. Nickal's fastest pin on the year is 26 seconds, which is the best so far on the Nittany Lions.
2) Zain Retherford, 149 (Penn St.): 14-0, 11 pins, 2 techs, 1 major
Time for the fun part! Let's calculate how much time Zain Retherford and Jason Nolf have spent on the mat so far this season. The reigning Hodge Trophy winner has had just one match go the distance, his Keystone Classic final against Ryan Deakin. In total, Retherford has spent 49 minutes and 44 seconds on the mat, which averages out to 3:33 per match.
As of now, he'll have four more matches in which he could hit ranked opponents, which is obviously subject to change.
1) Jason Nolf, 157 (Penn St.): 13-0, 12 pins, 1 tech
The Matrix continues to mow down all comers. His longest match this season is also his only non-pin, a 6:40 tech over Ian Brown of Lehigh in a dual meet on Dec. 3. All in all, he has been on the mat for just 40 minutes and 24 seconds, meaning his matches last just over a period — 3:06.
Also, Iowa's second ranked sophomore Michael Kemerer has a fair argument to be on this list. He is 13-0 with 6 pins, 4 techs and a major. Those are certainly dominant numbers, and he has more pins than Gross or Valencia in a similar number of matches. But for the time being, this list will only include one guy per weight until there are more losses from top ranked guys. If you are not considered the best in your own weight, you cannot be considered for the Hodge. Spoiler alert: if Kemerer continues this pace and takes out Nolf on February 10th, he'll jump to 1 or 2 on this list.