2017 Midlands
2017 Midlands Bracket Reactions
2017 Midlands Bracket Reactions
Take a look at the 2017 Midlands bracket reactions.
Dec 29, 2017
by Christian Pyles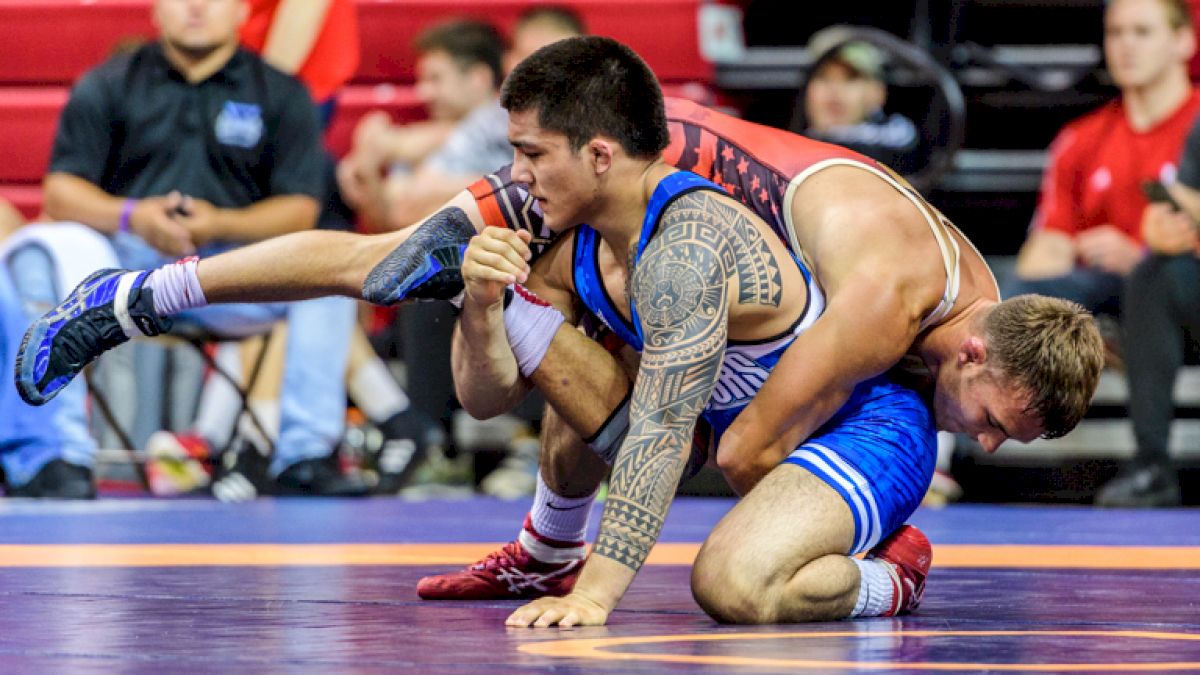 The brackets have been released for the 2017 Midlands championships! Take a look at the brackets and our reactions to the potential matchups and bracket busters in the field.
125
Nick Suriano didn't get any favors with Zeke Moisey in his quarter potentially. The question, as always is which Zeke Moisey will we see this weekend? Suriano will have Minnesota's Polakowski, then likely SDSU's scrapper Connor Brown. The Moisey/Gromacki winner will take on Suriano in the quarter, and we'll see Suriano face the Millhof/Rivera winner in that semi.
The Midlands gods heard our collective prayers and separated Spencer Lee from Nick Suriano. Lee's path to that match is tough. He'll have a solid Travis Piotrowski from Illinois , then likely Sean Russell, barring an upset from Kyle Akins. So it's Lee vs an AA in Russell, then likely Bresser or Luke Welch. If it's Bresser, it'll be fun to compare notes as Daton Fix edged the Oregon State Beaver by a 2-1 score.
Very possible we see a Nick Suriano vs Spencer Lee final. GET HYPE!
133
Seth Gross looks well positioned to blaze to the finals through the Naser/Simmons winner, If seeds held on the top side, it'd be a Dylan Duncan vs Ben Thornton quarter, but don't sleep on Caleb Richardson from ODU to make a run if he's in solid form. Richardson is interesting in that he beat AJ Schopp (someone many have compared Seth Gross to) at NCAA's Schopp's senior year.
For Rutgers, Delvecchio gets the two seed and will have a pretty clean run to the quarter where he'll see the Micky Phillippi/Phil Laux winner. Assuming it's Phillippi expect the points to be at a premium. Both are very tough to score on. Korbin Myers and Bryan Lantry look to be the top challenger for Delvecchio on the bottom side.
141
Brock Zacherl sits on top as the 1 seed but I see more than a few landmines on this side. Keegan Moore or Nate Hagan will likely be Zacherls opponent in the pre-quarter. Unseeded Ben Freeman for Michigan is outstanding and has the goods to make a deep run. He'll face Max Murin right off the bat. The winner could upset (seed-wise) Colton Schilling and make the quarter against Zacherl. Ryan Diehl and Cole Weaver will duke it out to make it to Zacherl in the semi.
Bottom side will feature Mason Smith and Eli Stickley as the 2 and 3 seeds. Keep an eye on UNC's Jaime Hernandez and Bucknell's Tyler Smith. Both are unseeded, yet in a field this even, could certainly make a deep run to the finals. Iowa's Vince Turk will have Cole Martin of Wisconsin right away. Carter Happel has a navigable draw of his own up top.
149
Wowza, c-razy talent here. Sorensen up top, but he'll get the DeLuca/Bleise winnner in the quarter. If it's Bleise that will be no picnic for Sorensen. Jason Tsirtsis will face Brandon Wright, a post grad who shocked us at the US Open down at 61kg. He's got the goods to go with any of these guys on their feet. So we could potentially see a Tsirtsis/Sorensen semi! Austin O'Connor got on everyone's radar early when he thumped #4 Troy Heilmann in the teams wrestle off! He is on the top side and could potentially face Brandon Wright in the pre-quarter, then Tsirtsis should he get by Wright! O'Connor is the real deal.
Down below a very saucy 10 seed in Pat Lugo lurks. Brutal luck for Oliver. Lugo has some amazing wins in his career and his making his debut since transferring to Iowa. Oliver will have Dante Rodriguez in round 2. Rodriguez has been solid previously, but an upset here seems mostly out of the question. Northwestern's Ryan Deakin looks to be on a collision course with Princeton's Matt Kolodzik. Both sides of this bracket or nails. Deakin, Kolodzik, Lugo or Oliver could all make the finals and I wouldn't be shocked!
157
Well of all the top side intrigue, I'm most excited to see what PSU's Brady Berge is able to do. Michael Kemerer doesn't look to have a peer on this side of the bracket, if Berge goes on a run, he could see Kemerer in the semi's, but at this point we don't really know what to expect from Berge.
Kemerer's high school teammate Josh Shields earned the two seed and has a solid draw to the semi's where he will likely see the Luke Zilverberg/Larry Earlly III winner. I'd expect Zilverberg.
I don't see anything getting between a Kemerer/Shields match, personally.
165
Anthony Valencia earns the 1 seed in light of IMAR's withdrawal (sad face). He will see Kaleb Young in the quarter and the May Bethea/Jon Schleifer winner in the semi's.
On the bottom half, I don't see how Richie Lewis and Alex Marinelli don't compete once again! The high end talent here is the story. I don't see many candidates for potential sleeper runs. Valencia vs the Bull/Savage winner is the final I'd expect.
174
While everyone will have eyes on #1 Zahid Valencia, the bottom half will have a huge story of interest with true freshman Mike Labriola of Nebraska earning the two seed. He dominated David Kocer at Daktronics earlier this year. Labriola isn't likely ready to unseat a guy like Zahid, but athletically and pace-wise, he's a superstar in the making.
On the bottom side Joey Gunther (Iowa) and Jordan Pagano (Rutgers) hit in round one. That could have team race implications down the line. There are a few other unseeded guys of note including Jacob Covaciu of Wisconsin, Khamari Whimper of Penn and Joe Grello of Rutgers.
184
Ok, deep breaths, they seeded Nate Jackson 1st after initially not seeding him. He's the top seed and he's got a fine draw, though Dakota Geer of Edinboro could prove somewhat problematic out of the 9 spot. I'm excited to watch Pitt's Nino Bonaccorsi, the 8 seed as well. Jackson will likely see Jordan Ellingwood in the semi. I don't see anyone on Jackson's level here.
Down below Gravy train aka Nick Gravina (Rutgers earns the two seed. He'll see Mitch Sliga in his quarter then likely Emery Parker of Illinois. Keep an eye on 11 seed Kordell Norfleet of ASU.
This feels like Gravina vs Jackson for the final to me.
197
SDSU's Nate Rotert is the top dog here in a skilled field. Frank Mattiace could prove a bad draw here at 197 out of the 5 spot. Kevin Mulligan of Rutgers is unseeded but could be quality.
Iowa's stud true freshman Jacob Warner is set up out of the 7 seed. He'll hit Michigans Jackson Striggow in round two then Jacob Smith of WVU in the quarter. That will be a very difficult match for Warner as Smith is extremely difficult to score on. The winner there will probably face Cash Wilcke in the other semi.
285
Tanner Hall will have no issue reaching the quarter where he'll face the Gunning/Streck quarter. Winner there will get the Hemida/Billy Miller winner. I'm not sensing much upset potential with Hall. Dude just wins.
Dhesi out of the three is a really tough potential match up for Stoll. Dhesi has the size to not get moved around and dominated in the ties, but the speed/leg attacks to do real damage. If Stoll beats him, it will say a lot about Stoll's progression (and dare I say, rehab?).
This looks like an all Pac 12 final to me with Hall and Dhesi, but Sam Stoll is a monster and has been in the groove, whereas we haven't seen much of Dhesi.
So that's a wrap! Action starts tomorrow LIVE on Flo at 9:30 AM! Check out every mat live + FloZone.