For the past 14 seasons, the Southern Scuffle has been assembling one of the best college tournaments outside of the NCAA championship. Following the migratory paths laid out by the unladen swallow (not the African or European but the North American variety, naturally) as well as those of many sets of grandparents, college wrestling heads toward warmer climates every new year to battle it out at this annual classic at McKenzie Arena in downtown Chattanooga, TN.
We will ring in 2018 with a cavalcade of combatants, including six reigning NCAA champions. The action begins at 10 AM ET on Jan. 1, so shake off the champagne hangovers and join us online as we bring you all the action.
But first, prepare for the event with our previews, continuing with the middleweights.
149 Pounds
Contenders
No. 1 Zain Retherford, Penn State
No. 6 Max Thomsen, Northern Iowa
No. 15 Ronnie Perry, Lock Haven
Matt Zovistoski, App State
Cortlandt Schuyler, Lehigh
Jamal Morris, North Carolina State
Jarod Verkleeren, Penn State
Tristan Moran, Oklahoma State
Requir Van der Merwe, Stanford
Sam Krivus, Virginia
Our second NCAA champion has entered the fray! The Zain Train of Pain and Migraines rolls into Chattanooga on a 72-match win stretch. Retherford's last loss was nearly four years ago.
Looking to at least slow down the Penn State juggernaut are a pair of top 20 contenders. Alex Thomsen is an All-American who is most qualified for the task, followed by a 13-1 Ronnie Perry, who is in the midst of an excellent senior season.
Making things interesting for the rest of the competitors are two unattached wrestlers who could make deep runs. Oklahoma State's Tristan Moran is stuck contending with an unbelievably deep middleweight bench in Stillwater, OK, but he's shown himself capable of competing with the best of the division. Meanwhile, Jarod Verkleeren has a freestyle cadet world championship to his name. If either of these wrestlers gets on a roll it could be trouble for the rest of the 149-pound entries.
The rest of the bracket has a good mix of past NCAA qualifiers (Matt Zovistoski, Jamal Morris, Sam Krivus) and hungry wrestlers still looking to make their postseason mark (Cortlandt Schuyler, Requir Van der Merwe)
Predictions
Spey's Picks: 1) Zain Retherford 2) Max Thomsen 3) Tristan Moran 4) Ronnie Perry
Willie's Picks: 1) Zain Retherford 2) Max Thomsen 3) Ronnie Perry 4) Tristan Moran
All picks are purely for motivational purposes only. There is no disrespect intended to anyone not picked, only inspiration to prove the pickers wrong.
Check out this instant Scuffle classic as Lavion Mayes and Anthony Collica battle in last season's 149-pound final: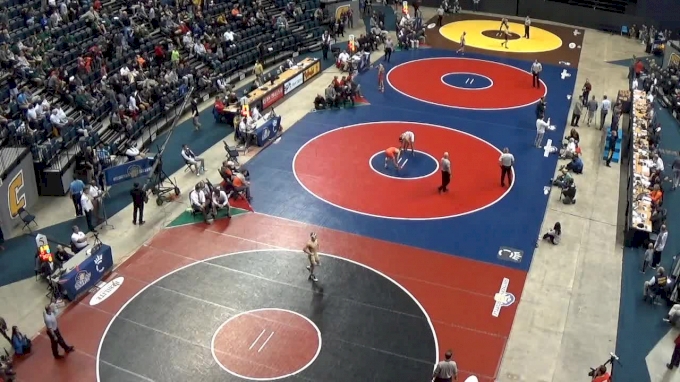 Unlock this video, live events, and more with a subscription

! Get Started

Already a subscriber? Log In
157 Pounds
Contenders
No. 1 Jason Nolf, Penn State
No. 10 Mitch Finesilver, Duke
No. 14 Coleman Hammond, CSU-Bakersfield
No. 18 Ian Brown, Lehigh
Paul Fox, Stanford
Alexander Mossing, Air Force
Austin Kraisser, Campbell
Tyler Marinelli, Gardner-Webb
The second of five Nittany Lions NCAA champions headlines this bracket. Jason Nolf shows off both an indefatigable motor and an artist's creativity every time he steps on the mat. He also very politely and precisely returns his ankle bands to the center of the mat after every match.
A trio of ranked wrestlers will stand in his way, plus an All-American who is right on the top 20 bubble. Mitch Finesilver has been steadily moving up in weight classes and up in the rankings over his career. This will be as good a time as any for the undefeated Duke junior to put his stamp on the 157-pound weight class.
Coleman Hammond has qualified for two NCAA tournaments and is due for a signature tournament performance. Ian Brown is also looking for his breakout tournament, though he does have a signature win this season with a decision over No. 5 Alec Pantaleo. And Paul Fox has stumbled a bit since his surprise seventh-place finish at last year's NCAAs, but a high placement in this Scuffle field will put him right back in the mix and into the top 20.
Alexander Mossing, Austin Kraisser, and Tyker Marinelli are potential dark horses, but their competitors discount them at their peril.
Predictions
Spey's Picks: 1) Jason Nolf 2) Ian Brown 3) Mitch Finesilver 4) Paul Fox
Willie's Picks: 1) Jason Nolf 2) Mitch Finesilver 3) Coleman Hammond 4) Quentin Hovis
Although they're both up at different weights, last season's 157 finalists, Joe Smith and Jordan Kutler, are both back this year. Check out their 2017 finals match: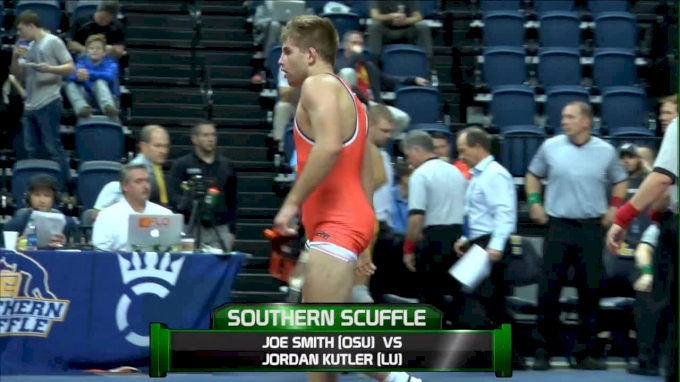 Unlock this video, live events, and more with a subscription

! Get Started

Already a subscriber? Log In
165 Pounds
Contenders
No. 1 Vincenzo Joseph, Penn State
No. 11 Chance Marsteller, Lock Haven
No. 18 Lorenzo De La Riva, CSU-Bakersfield
Joe Smith, Oklahoma State
Bryce Steiert, Northern Iowa
Cole Walter, Lehigh
Drew Longo, Lehigh
Gordon Wolf, Lehigh
Keilan Torres, Northern Colorado
Mekhi Lewis, Virginia Tech
Andrew Atkinson, Virginia
Perhaps the most intriguing of all the Scuffle weights, 165 has a little something for everyone. We've got the top-ranked returning NCAA champ back in action for the first time since mid-November; we've got Chance Marsteller eligible and looking as good as ever; and we've got some of the toughest unattached wrestlers as you've find in any weight class in any tournament this season.
Joseph hasn't wrestled since PSU's Binghamton dual in mid-November, although he did weigh in and was ready to compete a couple weeks ago against Indiana before receiving a forfeit. Meanwhile, Chance Marsteller has racked up 19 wins so far against zero losses. Those two should get the top two seeds and be set on a collision course with each other for the finals.
There will be plenty of landmines, however, for both Joseph and Marsteller to negotiate., chief among them being two-time Oklahoma State All-American, Joe Smith, who is wrestling unattached and is moving up from 157 to 165 while taking a redshirt. Another unattached redshirt who could cause problems is Northern Iowa bloodrounder Bryce Steiert.
Not to be overlooked is Virginia Tech's true freshman Mekhi Lewis as well as Bakersfield's No. 18 Lorenzo De La Riva.
And then there's Lehigh's troika of troublemakers. Cole Walter is last year's NCAA qualifier, but he's been off to a slow start this season. Gordon Wolf qualified for the 2016 NCAAs up at 174. He's trying to scramble is way into the lineup down a weight class and has looked solid so far. Then there is Drew Longo, a redshirt senior who started his career at 141. He is another dangerous scrambler, and any one of these Mountain Hawks could make a deep run at this year's Scuffle.
Predictions
Spey's Picks: 1) Chance Marsteller 2) Vincenzo Joseph 3) Joe Smith 4) Gordon Wolf
Willie's Picks: 1) Vincenzo Joseph 2) Chance Marsteller 3) Joe Smith 4) Mekhi Lewis
Don't blink or you'll miss last year's shocking 165 final between Daniel Lewis and Chandler Rogers: