We had a relatively quiet week in between the Cliff Keen chaos and whatever insanity awaits the wrestling world at the Reno Tournament of Champions this weekend.
We still saw some movement in the top 20 rankings. Read on to see whose stock is up and whose is down in our Division I report for week six.
The latest and greatest NCAA rankings with explanations can be found here.
Stock Going Up - Eli Stickley, Wisconsin, 141 Pounds
Wisconsin's sophomore 141-pounder pulled one off the biggest upset of the weekend. The then-No. 18 Stickley dominated then-No. 11 Ryan Diehl in a 14-1 major decision as the Badgers steamrolled the Terrapins 32-6 in a Thursday evening dual.
Stock Going Down - Ryan Diehl, Maryland, 141 Pounds
The Terps' 141-pound junior had a rough week six. The previously undefeated Diehl lost twice, once to the aforementioned Stickley on Thursday and then again on Sunday to Iowa's Carter Happel in a close 8-7 match. Diehl found his groove last season at the Big Ten tournament where he beat two All-Americans in Jimmy Gulibon and Tommy Thorn on his way to placing fifth in the conference, so he has plenty of time to find his groove again.
Watch Ryan Diehl vs. Carter Happel from this weekend:
Stock Going Up - Jake Jakobsen, Lehigh, 197 Pounds
The Mountain Hawks are still finalizing their lineup, and one weight where they are spoiled for choice is 197. Either freshman Chris Weiler or sophomore Jake Jakobsen would likely be an NCAA qualifier and potential All-American candidate. Jakobsen helped his case for the starting spot when he upset the former 10th-ranked 197-pounder Frank Mattiace during Lehigh's 41-6 drubbing of UPenn on Sunday afternoon.
Stock Going Down - Frank Mattiace, Penn, 197 Pounds
Mattiace falls from No. 10 to No. 15 in a wide-open 197-pound weight class after his previously mentioned loss to Jakobsen. It's too early to count Mattiace out, however, as the Quakers senior knows how to turn things on in the postseason. Last season at the 113th EIWA Championship, Mattiace beat All-American Brett Harner and No. 1 seed Tom Sleigh on his way to winning the 197-pound title.
Watch Frank Mattiace vs. Brett Harner from the 2017 EIWAs: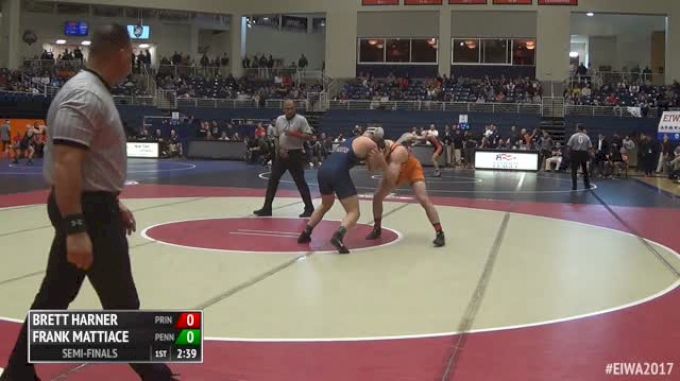 Stock Going Up - Montorie Bridges, Wyoming, 133 Pounds
Wyoming beat Iowa State in a spirited 24-14 dual meet Saturday evening. One of the highlights for the Cowboys was freshman Montorie Bridges' 4-3 victory over Ian Parker. Parker has a win over Austin DeSanto and entered the dual as the No. 19 133-pounder.
Stock Going Down - Archie Colgan, Wyoming, 157 Pounds
A not-so-highlight for Wyoming in its dual with Iowa State came at 157 pounds. Archie Colgan suffered a 4-3 upset at the hands of Chase Straw.
Buy Or Sell - YOU MAKE THE CALL - Richie Lewis, Rutgers, 165 Pounds
R.L. Savage is one of the more difficult wrestlers to figure out. At 157 he is a threat to place high on the podium. Things will be trickier at 165, however, as there is more competition and it's no sure thing that Lewis fights his way into the top eight. Lewis lost in overtime to Iowa's Alex Marinelli, which puts the Scarlet Knights senior at No. 13, six spots lower than his ranking at 157 pounds.
Lewis is a U23 world champ, so there is no question the talent is there. If you think he can make a deep run in March, either at 157 or 165, now is the time to invest.
Listen to Richie Lewis' post-Iowa match interview in which he hints at staying up at 165 for the season: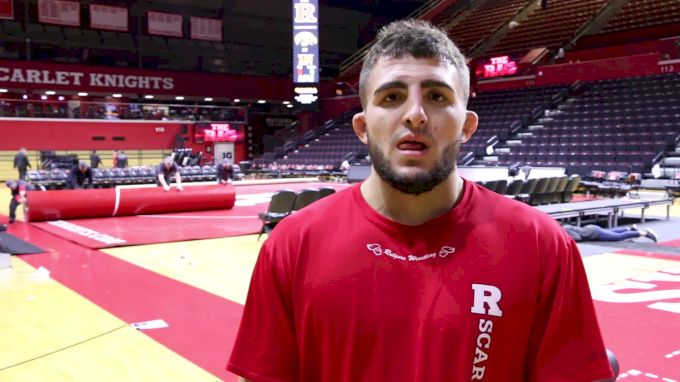 Buy Or Sell - YOU MAKE THE CALL - 157-Pounders
Our current rankings have the second half of 157 pounds listed as No. 10 Luke Zilverberg, No. 11 Hayden Hidlay, No. 12 Jake Short, No. 13 Clay Ream, No. 14 Cole Hammond, and No. 15 Colin Heffernan. But is that right? Are we too kind to Zilverberg and too harsh with Ream? Zilverberg has a win over Short, who has a win over Ream, who has a win over Zilverberg, who has a win over Archie Colgan, who has a win over Hammond, who has a win over Ream, et cetera, et cetera.
While they are all very close, perhaps the exact order needs to be changed upon further review, and now would be the time to make a bet an any of them being either under- or overvalued.