Upsets are a huge part of our sport, and the biggest tournaments are recognized as such because huge stars go down. The 2017 Walsh Jesuit Ironman was a great example of that, and here are the dozen that stood out to us this past weekend in Cuyahoga Falls, Ohio.
12) 182: Darrien Roberts 3-1 over #3 Ryan Karoly
Karoly's frustrations started on the front side as you'll see below, and the backside loss in the consi semis really hurts his seeding for National Preps. WATCH MATCH HERE
11) 145: Jake Stiles 4-2SV over #3 Mitch Moore
We'll get to the "big" Moore upset later, but we also had to include this one. Stiles nearly beat Moore the first time around in the round of 16 and then got him in the seventh-place match. Going from Who's #1 to eighth at Ironman has been a very strange two months for Moore.
10) 138: Luke Baughman 3-1 over #10 Jack Davis
A couple members of the local Ohio media on-site said this was the single most shocking result to them. Davis is a stud and will do good things at Pitt, but this may have opened the eyes of the country to Baughman as a legit Division I prospect like his siblings.
9) 106: Jacob Moon 13-1 over #10 at 113 Isaac Salas
Most upsets have a flukey nature to them. They're in the consolation bracket, or the wrestler is injured, or there's a controversial big move, or even they're "caught" in a pin. But this was a good old-fashioned beatdown in the quarterfinals. The Ohio junior high state champ was 0-2 up at 113 at Super 32 but looked great en route to the semis. It must also be mentioned that Salas came back and pinned Moon in the fifth-place match.
8) 138: #19 JD Stickley 5-2 over #5 Malcolm Robinson
The Stickley matches had to be back to back, and both are exemplary of why he should have been the OW. This semis win avenged not one but two losses by Stickley last year at Ironman. WATCH MATCH HERE
7) 138: #19 JD Stickley 11-7 over #4 Jaden Abas
Abas was on a reign of terror coming off his Super 32 finals appearance, with two pins, a major, and a seven-point win. Until he ran into the Graham senior, Abas was on fire.
6) 138: E'lan Heard 7-3 over #6 Marshall Keller
Talk about a kid who looked phenomenal this weekend. Cincinnati La Salle assistant Jeff Byrd said Heard is finally at the right weight and 100 percent healthy, and the results showed, kicked off by this round of 16 win over Keller.
5) 106: Logan Agin 7-3 TB-1 over #3 Richard Figueroa
This one had all the makings of an upset: Agin was coming down in weight, Figueroa gave up two points for full Nelsons, and the match featured no takedowns until time expired. WATCH MATCH HERE
4) 182: Leo Tarantino 3-1SV over #3 Ryan Karoly
Karoly has shown he can have difficulty scoring when he gets into the late rounds of these tournaments, and the Blair senior Tarantino took advantage of that to wait until the moment was right in sudden victory to finish it off. WATCH MATCH HERE
3) 145: Kai Bele F5:58 over #3 Mitch Moore
This match was scoreless when the non-controlled fall was called. The main takeaway from this match was Bele finally showing the potential many knew he always had.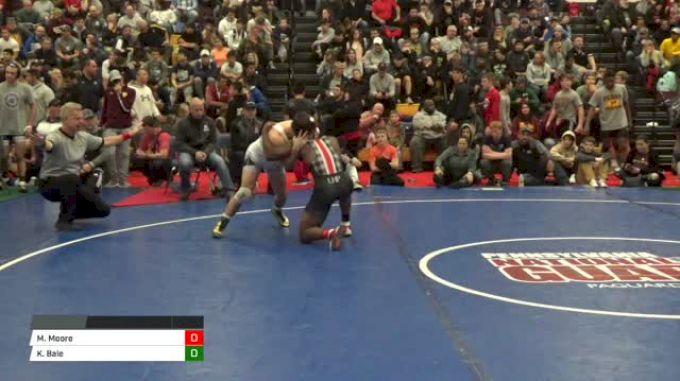 2) 145: JT Stinson 6-4 over Cole Matthews
This one was a head-scratcher, even given the fact that Matthews should probably be at 138. Matthews, a returning finalist, ultimately did not place. WATCH MATCH HERE
1) #12 (at 132) Jordan Crace 2-1TB-1 over #2 Jordan Decatur
The single biggest upset of the tournament. Yes, nothing happened, and there is certainly an argument to be made that the refs could have done more in overtime when Crace went to the side headlock. But he didn't give up a takedown against Decatur and rode him out to win.
Other Notables
113: Giano Petrucelli F5:59 over Matt Ramos
113: Trevor Mastrogiovanni 8-0 over #16 Dylan Ragusin
120: Molton 10-1 over #15 Brendon Fenton
126: Logan Brown 4-3 over #14 Ryan Franco
126: Logan Brown 5-4 over #13 at 120 Nate Keaton
120: Lackman 2-0 over #16 Christian Nunez
132: Matt Kazimir 10-2 over #16 Gabriel Tagg
170: Jacob Lagoa 9-2 over #11 Nate Jimenez