Are you here for Nomad's Nibblers? Alas, we have no nibbles from Nomad. He is still recuperating from crushing coverage in Cuyahoga Falls, Ohio. For everything Ironman, click here.
For a full set of Division I boxscores, click here.
For news and notes from week six of the NCAA wrestling season by yours truly, read on!
Marinelli Tames Lewis As Iowa Checks Upstart Rutgers
Nearly 7,000 rabid Rutgers wrestling fans packed the RAC in Piscataway, NJ, on Friday night. Unfortunately for the 12th-ranked Scarlet Knights, the No. 8 Hawkeyes came to town with no intention of submitting to one of the youngest but also most deadly teams in the Big Ten Conference.
Rutgers raced out to a 12-0 lead, but the tide turned when Iowa's big guns came out. The Hawkeyes peeled off four wins in a row, including pivotal matches at 165 and 174.
Watch Marinelli take out Lewis in OT:
Nick Gravina stopped the bleeding for the Scarlet Knights at 184, but Iowa won the final two bouts, including a pinfall from Sam Stoll, sealing the 23-15 victory for Hawkeyes. Rutgers provided Iowa with ample bulletin-board material before the dual, and the Scarlet Knights did not have everything go right that it needed to overtake one of college wrestling's blue bloods.
Watch Joey Gunther get pushed to the brink by Joe Grello:
Kocer Crushes Brucki As The Jackrabbits Rally Passed The Chippewas
In the only top 20 tilt of the evening, ninth-ranked David Kocer of South Dakota State took care of business against No. 15 Christian Brucki of Central Michigan in the 174lb match of their teams' dual in Brookings, SD, on Saturday.
Watch David Kocer vs. Christian Brucki:
The 11th-ranked Jackrabbits won six bouts, including three by bonus, to secure the 23-16 victory over the No. 12 Chippewas in front of a typically electric crowd at Frost Arena.
Mountaineers Defend Their Backyard In Brawl With Panthers
West Virginia defeated its archrival Pittsburgh 24-10 on Saturday in the longest-running series in school history.
ICYMI: Here are some highlights from yesterday's Backyard Brawl! pic.twitter.com/OSZTRvJDGW

— WVU Wrestling (@WVUWrestling) December 10, 2017
Lock Haven Stops Edinboro's Streak And Claims PSAC Crown
Edinboro had won the last six Pennsylvania State Athletic Conference titles, but it was the Lock Haven that claimed the 75th edition of the championship on Saturday. The Bald Eagles crowned five individual champs to earn their 20th team title overall, the most in PSAC history.
.@HavenAthletics Claims League-Best 20th #PSACwrestle Title. RECAP: https://t.co/kacr4ugwf2 pic.twitter.com/Js1ioKu5Qt

— PSAC Sports (@PSACsports) December 10, 2017
Spencer Lee Made His NCAA Debut At The UNI Open
And he thrashed the 125lb bracket in convincing and unsurprising fashion on Saturday in Cedar Falls, Iowa. Lee is next scheduled to wrestle unattached at the Midlands. After that we'll likely know for sure if Hawkeyes coach Tom Brands will #FreeTheLee or if the true freshman from Franklin Regional will remain on redshirt.
Watch Spencer Lee demolish formidable Minnesota backup Skyler Petry:
Lee's teammate and fellow true freshman, Jacob Warner, did not fare as well. Despite a win over No. 2 Willie Miklus, Warner lost to Oklahoma true frosh Jake Woodley, reversing the results from Joe Parasi Open three weeks ago.
Watch the Jacob Warner vs Jake Woodley round two:
Lehigh Barely Escapes Drexel With A Win
Sixth-ranked Lehigh plowed through next-door neighbor Penn 41-6 early on Sunday in Philadelphia, but the Mountain Hawks were pushed to the absolute limit later that day against Drexel. A banged-up Lehigh squad beat the Dragons 20-20, winning on criteria.
Thank you for everyone who came out this evening! The atmosphere was amazing! pic.twitter.com/4WmiOAoMPz

— DrexelWrestling (@DrexelWrestling) December 11, 2017
In related news, Drexel's Austin DeSanto continues to terrorize 133-pounders from neutral, scoring 35 points in two matches this weekend.
Hokies Grapple Tigers In The Garden
In the penultimate dual of the weekend, No. 10 Virginia Tech dispatched Princeton 26-12 at Madison Square Garden in New York on Sunday.
Watch Zachary Zavatsky wrestle Kendall Elfstrum:

And in the ultimate match of the weekend, Hofstra vanquished George Mason 26-9, also at the Garden.
And In Not-Quite-NCAA-DI News
Some young man lost a shoe. Perhaps you heard about it?
Watch the infamous Shoegate match from the Ironman finals: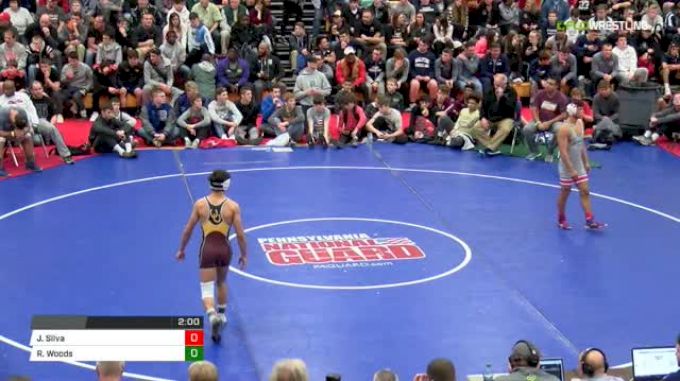 Also don't worry, coaches Izzy and Palazzo bro-hugged it out after the match. Here at FloWrestling we celebrate drama AND the good sportsmanship with equal gusto.