No. 1 Travis Wittlake Decommits From Penn State
No. 1 Travis Wittlake Decommits From Penn State
No. 1 Travis Wittlake has changed his mind about his college commitment.
Nov 8, 2017
by Ryan Holmes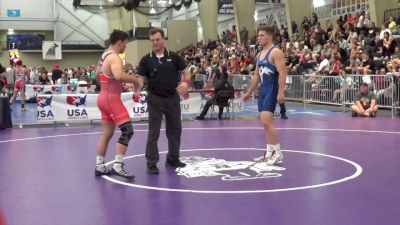 Multiple-time Fargo champion Travis Wittlake has decided that reigning national champion Penn State isn't the best for college destination for him and has instead flipped his commitment to Oklahoma State in an announcement Tuesday on Instagram.
I went on a visit to Oklahoma State, and felt it was the place I should be," Wittlake said. "Aside from all the recruiting, the phone calls, the coaches, I felt Oklahoma State provided my kind of atmosphere, and people. Don't get me wrong, PSU is awesome and I have great respect for the coaching staff there. I felt I could succeed under John Smith or Cael Sanderson, as they're both great coaches, but it came down to a gut feeling and a place where I am going to be happy.
Last year around this time, the Cadet world bronze medalist Wittlake and Roman Bravo-Young made a tandem
verbal commitment to Penn State via Skype
. But now it seems that Wittlake has had a change of heart. As the No. 1-ranked 182-pounder and the second-ranked recruit in the country, the senior out of Oregon projects as a 174/184 on the next level.
[instagram url="https://www.instagram.com/p/BbOJyaaFOnb/?hl=en&taken-by=twj76kg" hide_caption="0"]