The Deepest Weights At 2017 Super 32
The Deepest Weights At 2017 Super 32
Storylines to watch at the most loaded weights at Super 32
Oct 27, 2017
by Wrestling Nomad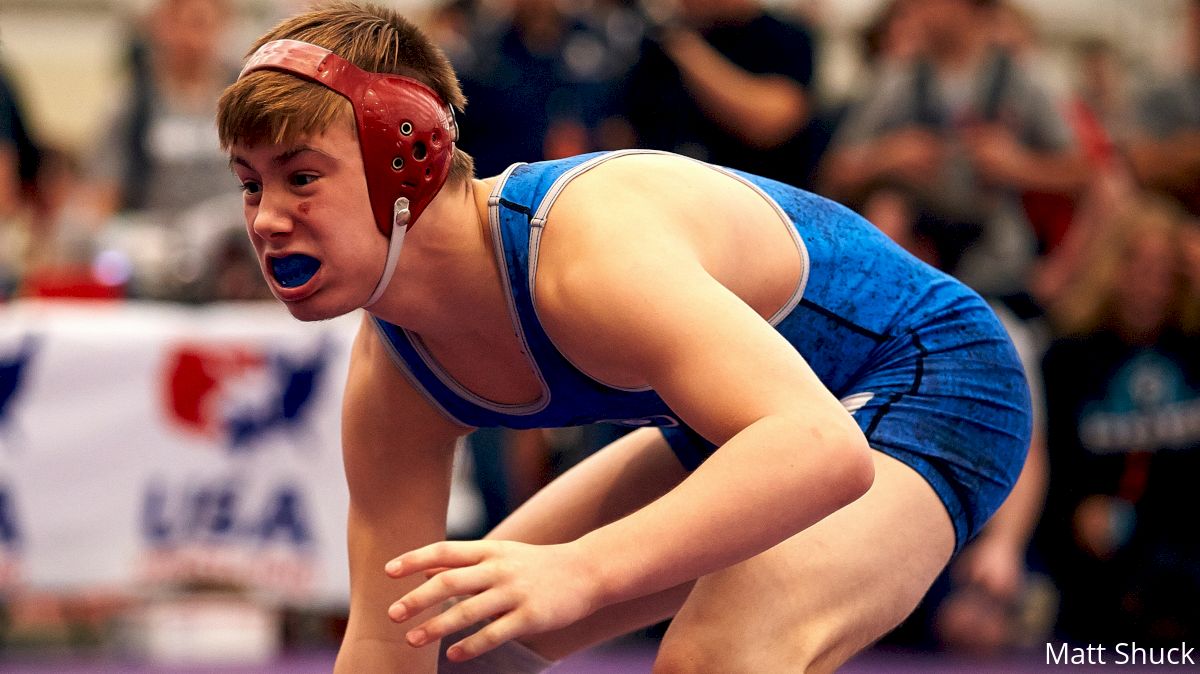 When it comes to tournaments the quality of Super 32, it can become very difficult to pare down to the creme de la creme.
We think we've identified the three toughest weights we'll see this weekend in Greensboro. Every ranked guy at that weight who is wrestling is listed, along with a couple storylines for each weight.
120lbs

No. 1 - Sr. Patrick McKee, MN - Fargo Champ
No. 3 - Jr. Adam Busiello, NY - 2x Returning Champ
No. 6 - Sr. Brody Teske, IA - Akron 3rd
No. 7 - Sr. Tommy Hoskins, OH - Fargo 7th
No. 10 - Jr. Gabe Tagg, OH - Ironman Champ
No. 12 - Sr. Graham Shore, OH - State Champ
No. 14 - Sr. Jaret Lane, PA - 2x FloNationals Finalist
No. 15 - Sr. Ben Kamali, MI - FloNationals Champ
No. 16 - Jr. Travis Ford-Melton, IL - Fargo Runner-Up
No. 18 - Jr. Aden Reeves, IA - Fargo 5th
No. 19 - Sr. Antonio Mininno, NJ - Returning 4th
No. 20 - So. Dominick Serrano, CO - Fargo Runner-Up
Future Nittany Lions, Teske vs Busiello:
All the fans in Happy Valley should immediately go to FloArena on Friday night to see how far Teske and Busiello get separated. With 12 ranked guys competing, it's pretty difficult to project if they will be on the same side or opposite sides.
Can McKee defend his No. 1 seed?:
At the airport after Who's Number One, McKee told he'd be at Super 32 because, "I don't want to sit on my ranking." He pulled off a number of crazy wins in Fargo, so it will certainly be interesting to see how he handles the target on his back.
Antonio Mininno's Redemption:
Similar to Pat Glory last year, Mininno shot up the rankings after he won New Jersey states over Cadet world teamer Robbie Howard and then followed it up with a FloNationals title. He then had a rough Fargo, but has been back in the lab with his Penn RTC coaches shoring up his offensive weaknesses and making them his strengths.
126lbs
No. 8 - Sr. Jakob Camacho, CT - Returning 4th
No. 9 - So. Beau Bartlett, AZ - Ironman Champ
No. 10 - Jr. Jordan Crace, OH - State Champ
No. 11 - Sr. Jarrett Trombley, MI - 3x State Champ
No. 12 - Jr. Cleveland Belton, CA - State Champ
No. 13 - Sr. Chris Wright, PA - State 4th
No. 14 - Jr. Marcus Castillo, AZ - Akron 3rd
No. 16 - Jr. Dylan D'Emilio, OH - Akron Champ
No. 19 - Sr. Ryan Moore, KY - FloNationals 3rd
No. 20 - Sr. Aaron Schulist, WI - Fargo 6th
Jakob Camacho is in great position to win:
​With Saunders and Chlebove bumping up, the weight starts to thin out a bit. I love the way Camacho competes, he fits in very well at his "Iowa Style" club. NC State fans in Raleigh should make the drive over to Greensboro to watch their future lightweight.
West Coast well represented:
Marcus Castillo and Cleveland Belton represent two of the most intriguing wrestlers in this tournament. California did very well last year at Super 32, Antonio Lorenzo comes to mind. Castillo is looking to add to his low key impressive list of wins over the past 18 months.
132lbs
No. 1 - Sr. Joey Silva, FL - 2x Returning Champ
No. 4 - Fr. Carson Manville, VA - Fargo Champ
No. 4 (at 126) - Jr. Julian Chlebove - FloNats Champ
No. 5 - Jr. Nick Raimo, NJ - Fargo Champ
No. 6 - Jr. Ryan Anderson, PA - Ironman and Beast Runner-Up
No. 6 (at 126) - So. Josh Saunders, MO - Returning 5th
No. 7 - So. Jesse Vasquez, CA - Ironman Runner-Up
No. 9 - Jr. Andrew Alirez, CO - Returning Runner-Up
No. 11 - Sr. Alex Cruz, WA - Fargo Runner-Up
No. 12 - Sr. Quinn Kinner, NJ - FloNationals Runner-Up
No. 13 - Jr. Connor McGonagle, NH - Returning 8th
No. 14 - Jr. JoJo Aragona, PA - 2015 S32 Runner-up
No. 15 - Jr. Colton Yapoujian, CO - Ironman 7th
No. 16 - Sr. Chase Zollman, CA - Fargo 5th
No. 17 - Sr. Sam Stuhl, WI - 3x State Champ
No. 18 - So. Aidan Medora, WI - Fargo Runner-Up
No. 20 - Sr. Andrew Wert, PA - Beast of the East 3rd
Chlebove bumps up:
One of the biggest stories from weigh-ins is that Julian Chlebove decided to
bump up
to try to knock off Joey Silva.
Manville-Raimo redux:
We saw this twice in freestyle, with Manville coming out on top both times. If they meet again, it will likely be another low scoring match, topping out at around eight points max. Raimo will need to get to his short offense early to put Manville away.
Ryan Anderson and Jesse Vasquez got big:
These two finished last season much lower, with Vasquez winning Cali states at 113 and Anderson being a 120 the whole year. I don't think the weight change will affect them too much in general, but in a bracket with 17 (SEVENTEEN!) ranked guys, they won't have much time to adjust.
Get all of the hottest FloWrestling content!
Sign up for the FloWrestling newsletter for instant access to: breaking news, live events, results, rankings, archived matches and more!