No, this article was not written to provoke or enrage Penn State fans. I am not a masochist who enjoys having virtual vitriol hurled at me from affronted Nittany Lions faithful. Nor was it produced to curry favor from Ohio State fans.

It was written because the Buckeyes absolutely can win the national championship this year, and because now, five months before the championship trophy will be awarded, is just the perfect time to try to make a convincing argument for why they will.

​Lineup Looks: ​Penn State | Ohio State

The argument admittedly becomes slightly shakier with the news of Nathan Tomasello's recent injury. However, assuming NaTo can recover by March and still make 125, the rationale stands without any major revisions.

To explain the how behind the why, we'll go weight by weight, making placement predictions -- despite that being an insanely terrible idea as it is still October -- then we will discuss and factor in bonus points, followed by a dive into every pundit's favorite nebulous rationale, the intangibles. We'll then circle back around to calculate the team point scores and reach a conclusion before finally capping things off by discussing how this could all turn out so embarrassingly wrong for me.


125 Pounds
It helps Tomasello that Oklahoma State's Daton Fix will almost certainly redshirt this year. Rutgers' Nick Suriano or Lehigh's Darian Cruz could still throw a monkey wrench in NaTo's championship plans, however, so I will split the difference and say that the fifth-year senior wraps up a sterling career as runner-up.
In contrast, I do not believe we'll see a Penn State wrestler win any matches in Cleveland in the 125-pound bracket.
133 Pounds
While Buckeyes sophomore Luke Pletcher took his fair share of losses last season, I believe a good comparison for this blue-chipper would be Seth Gross of South Dakota State, who, like Pletcher, spent a very good but not All-American freshman year at 141. Gross then dropped down to 133 last year and made the NCAA finals. I believe Pletcher is due for a monster sophomore season after also cutting down a division and will finish on the podium, let's say sixth.
Entering his final season, Penn State transfer Corey Keener, has been consistent, qualifying for the NCAAs three times. Keener has yet to win more than once match in a tournament, however, and I believe he will only win one in his final attempt this year.
141 Pounds
It's difficult to know when a worse-than-expected performance at NCAAs is either a blip or a true representation of a wrestlers' caliber. In Joey McKenna's case, I believe 2017 was the former, and that the Ohio State junior transfer from Stanford will bounce back and match his freshman year's finish of third.
Nick Lee is certainly capable of making the podium, especially after spending his senior year of high school training with the Nittany Lions, but I believe 141 is too crowded for him this year and, with so many other credentialed wrestlers returning, a round of 16 finish is more likely.
149 Pounds
I will not presume such boldness as to pick anything but a championship for the Hodge Trophy-winning Zain Retherford, who is entering his senior year at Penn State.
But I do expect Ohio State's Ke-Shawn Hayes to return from injury and make up for lost time. In a top-heavy weight class, only Retherford and Iowa's Brandon Sorensen have clearly outpaced him, and a fifth-place finish for Hayes is more than doable.
157 Pounds
You will also not find me venturing out onto flimsy limbs and predict anyone but Jason Nolf to finish at the top of the 157-pound podium this season.
And like Hayes, I think only two wrestlers, a Nittany Lion (Nolf) and a Hawkeye (Kemerer) are heavy favorites to finish ahead of the Buckeye at this weight (Micah Jordan), and I think a fourth-place finish is in the cards for Micky.
165 Pounds
The most punishing of all the weight classes, 165 is perhaps also the toughest to predict. While Penn State sophomore Vincenzo Joseph is the returning champ, he is not invulnerable. Ohio State junior Te'Shan Campbell, in contrast, did not make it past the round of 16 in 2017 but also did not lose to anyone last year who doesn't start this season in the top 10.
Cenzo could win it all again, but I think third is more likely. I think Campbell could sneak on to the podium but will more likely be stopped in the bloodround.
174 Pounds
The 174-pound finals could very well feature both PSU's Mark Hall and OSU's Bo Jordan, and it just might be the last match of the season with the fate of the team championship hanging in the balance. Well, one can hope anyway.
Hall and BoJo traded wins in their two meetings last season. While Hall is as electric a wrestler as they come, BoJo is in the best shape of his life and has
fewer distractions this year than any other
, and by the thinnest of whiskers, I give the edge to Mr. Jordan.
184 Pounds
Penn State junior Bo Nickal would be as big a lock to repeat as champion as anyone in the NCAA right now, if it weren't for his alarming habit of losing to Ohio State's Myles Martin. On the other hand, the Buckeyes junior has an even more alarming habit of losing to wrestlers who aren't Bo Nickal.
Martin, now in his third year, may have turned a corner, but I will stop short of predicting a third victory (at least in the NCAAs) for MyMar and say Nickal gets his revenge in the finals.
197 Pounds
With J'Den Cox and Brett Pfarr vacating this weight class, it should be all Kollin Moore's this season for the Buckeyes.
Penn State senior Matt McCutcheon should challenge for a spot on the podium, with a fifth-place finish being right in his wheelhouse, but it will be Moore, a redshirt sophomore, who brings home the 197-pound title.
285 Pounds
No one will challenge Kyle Snyder in Cleveland, and the world champion and Ohio State senior will win his third consecutive collegiate championship.
Penn State junior Nick Nevills is an extremely talented heavyweight who I think will finish fourth.
As we saw when we ran our preseason
NCAA rankings through a computer simulator
, Penn State and Ohio State are the two front-runners. If we run these predicted results through the same simulator (which for the purposes of the simulation assumes they are seeds), we see now that Ohio State becomes the favorite.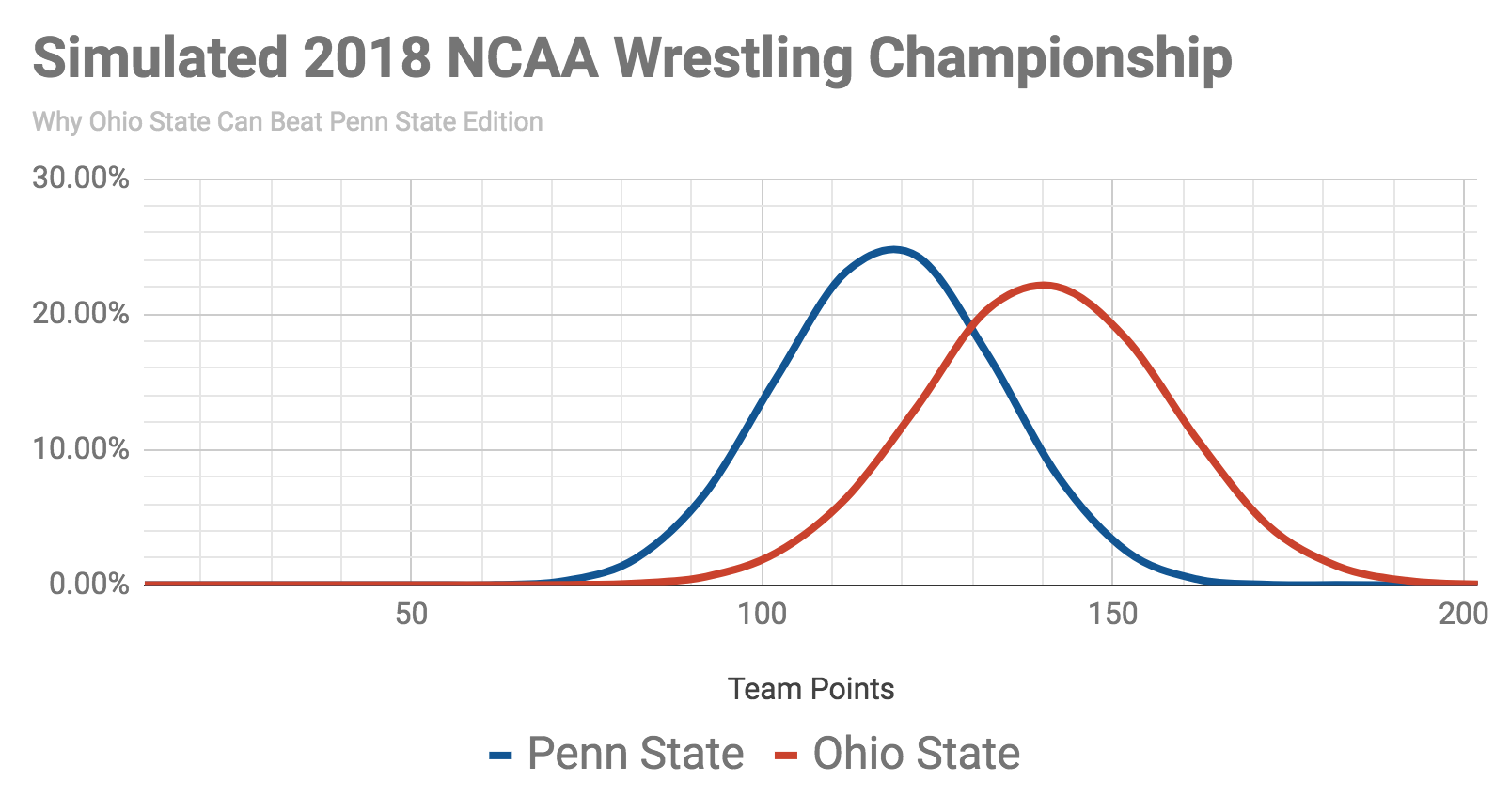 In 10,000 simulated NCAA tournaments using these placement predictions as seeds, Ohio State wins about 80 percent of the time, while Penn State wins about 16 percent of the time.
Bonus Points
As there may be as many as 20 wrestlers between the two schools penciled into one of the brackets in Cleveland, bonus points will undoubtedly be a major factor in the team race.
Conventional wisdom says that Penn State can make up any deficit in placement and advancement points the Nittany Lions might have with Ohio State by racking up prodigious amounts of bonus points. And there is good reason the conventional wisdom says this;
Penn State wrestlers are phenomenally good at scoring bonus points
in the NCAA tournament.
But there is a danger in assuming patterns will continue when basing them off such small sample sizes. When you are gunning for maximum bonus points, it only takes one or two guys to shut down a match and spoil the plan, as Kyle Dake found out when his NCAA bonus-point total dropped from six to two between is
junior
and
senior
years.
We can still assume a hefty amount of bonus points for PSU, but
teching or pinning your way through the NCAAs is incredibly difficult and exceedingly rare
, even with hammers as talented as Penn State has on its roster.
The other fly in the blue and white ointment is the fact that Ohio State's entire lineup is projected to win matches at the NCAAs. Few lineups in history have had as many bonus opportunities as the 2018 Buckeyes might. Even though the Ohio State wrestlers aren't known for being the bonus-point machines like their rivals from Happy Valley are, they will almost certainly wrestle more total matches, and pins, techs and majors are worth the same number of team points in the consolation rounds as they are on the championship side.
Additionally, knowing that every point will count in the team race, the Buckeyes might look for extra team points when they would otherwise have been content to win by less. It can be a risky strategy, but as the tournament progresses, head coach Tom Ryan can adjust how much risk he can tolerate from his wrestlers on the mat.
Intangibles
Difficult to define and by their very nature nearly impossible to measure, intangible skills like grit, determination, and team spirit, just may yet be the difference maker in a tight team race.
Although I am skeptical of
skills that do not show up in the numbers
, there are still potentially intangible reasons to be confident in the aforementioned lofty placement projections for Ohio State.
If you have several hours to kill and want to listen to all the interviews Flo's Mark Bader captured during his visit to Columbus, Ohio, this past September,
I highly recommend you click here and watch them
. However, If you are short on time,
Joey McKenna's in particular
offers a kind of Cliff's Notes version for the entire lot.
To paraphrase, McKenna points out that when he was deciding on where he would transfer to from Stanford, he reckoned that going to Penn State and continuing the dynasty would be cool, but that going to Ohio State and upending the reigning champs would be even cooler. This kind of confidence and bravado is difficult to teach and can be invaluable in a high-pressure match such like those at the NCAA tournament.
Ohio State also has a class of seniors that are partly responsible for the lone interregnum of the Cael Sanderson era. Kyle Snyder, Nathan Tomasello, and Bo Jordan all placed in the top three as freshman when the Buckeyes seized the crown in 2015 after four straight Nittany Lion titles. Now they are seniors and might get a motivational boost from knowing that is their last chance to once again attain championship glory.
This is not to say that Penn State won't be motivated, or that Sanderson won't have his team properly mentally prepared. It is the surest of bets that when they arrive at the Quicken Loans Arena, the fun-loving Nittany Lions will be confident and ready to win, which is, naturally, the most fun thing you can do.
But will Penn State be hungrier? It will be impossible to tell, even after the conclusion of the tournament. PSU could be hungrier, or maybe OSU is, or perhaps Penn State and Ohio State are both equally hungry. All that we know for sure is that this is final curtain call for many of the star Buckeyes, while most of the key players for the Nittany Lions will be back in 2019.
Conclusion
Below are the points scored for Penn State and Ohio State, based on the earlier predicted placements, and what I think are a reasonable amount of bonus points for each wrestler.
Penn State
| Weight | Place | Points | Bonus | TOTAL |
| --- | --- | --- | --- | --- |
| 125 | R32 | 0 | 0 | 0 |
| 133 | R24 | 0.5 | 0 | 0.5 |
| 141 | R16 | 1.5 | 0 | 1.5 |
| 149 | 1st | 20 | 8 | 28 |
| 157 | 1st | 20 | 8 | 28 |
| 165 | 3rd | 13.5 | 3 | 16.5 |
| 174 | 2nd | 16 | 7 | 23 |
| 184 | 1st | 20 | 8 | 28 |
| 197 | 5th | 10 | 3 | 13 |
| 285 | 4th | 12.5 | 4 | 16.5 |
| TOTAL | | 114 | 41 | 155 |
Ohio State
| Weight | Place | Points | Bonus | TOTAL |
| --- | --- | --- | --- | --- |
| 125 | 2nd | 16 | 3 | 19 |
| 133 | 6th | 9 | 2 | 11 |
| 141 | 3rd | 13.5 | 2 | 15.5 |
| 149 | 5th | 10 | 1 | 11 |
| 157 | 4th | 12.5 | 2 | 14.5 |
| 165 | R12 | 2 | 1 | 3 |
| 174 | 1st | 20 | 4 | 24 |
| 184 | 2nd | 16 | 2 | 18 |
| 197 | 1st | 20 | 7 | 27 |
| 285 | 1st | 20 | 7 | 27 |
| TOTAL | | 139 | 31 | 170 |
The first thing you might notice is that Ohio State projects to not only beat Penn State but also to score
a record number of points at the NCAA tournament
in the process. And PSU very nearly reaches the current record as well.
Which means that both teams will be pushing each other to the brink and that there is very little margin for error.
Those scores are far from locks, however, and I would not bet on them to actually happen. With such high expectations, the odds are that both teams will finish with fewer points, as it would be nearly impossible for either to finish with significantly more, yet it is quite possible that they both finish with far less.
What the totals illustrate, I hope, is that Ohio State has enough going for it this season that the Buckeyes can, and, as they headline states, will win the 2018 NCAA title.
Why I Will Be Wrong
Because I will have been too bullish on the Bucks and too negative with the Nits, obviously.
And this would not surprise me to be the case in the slightest. Vegas would not consider Penn State the underdog, and not winning a team title should not be considered an underperformance to Buckeyes fans.
Having made so many specific predictions in this article that can all go wrong in so many different ways, the only thing for certain is that I will definitely be proven wrong in some capacity when the dust settles and the season is over.
I sincerely hope nothing contained herein will be taken as a sign of disrespect, as nothing could be further from my intention. I am but a humble prognosticator, blessed to be in a profession where my opinions are even regarded at all.
Hopefully you've gleaned some insight from this analysis. If you haven't, I unfortunately can not refund any of the money you spent on it nor the time you spent reading it, but I will undoubtedly be there to accept your "I told you so's" and my general comeuppance should the Nittany Lions or any other team show up in March and tear this theory to shreds.
Get all of the hottest FloWrestling content!
Sign up for the FloWrestling newsletter for instant access to: breaking news, live events, results, rankings, archived matches and more!