Full Junior World Finals Results
Full Junior World Finals Results
Live updates of the Junior World finals in Tampere, Finland.
Aug 1, 2017
by Wrestling Nomad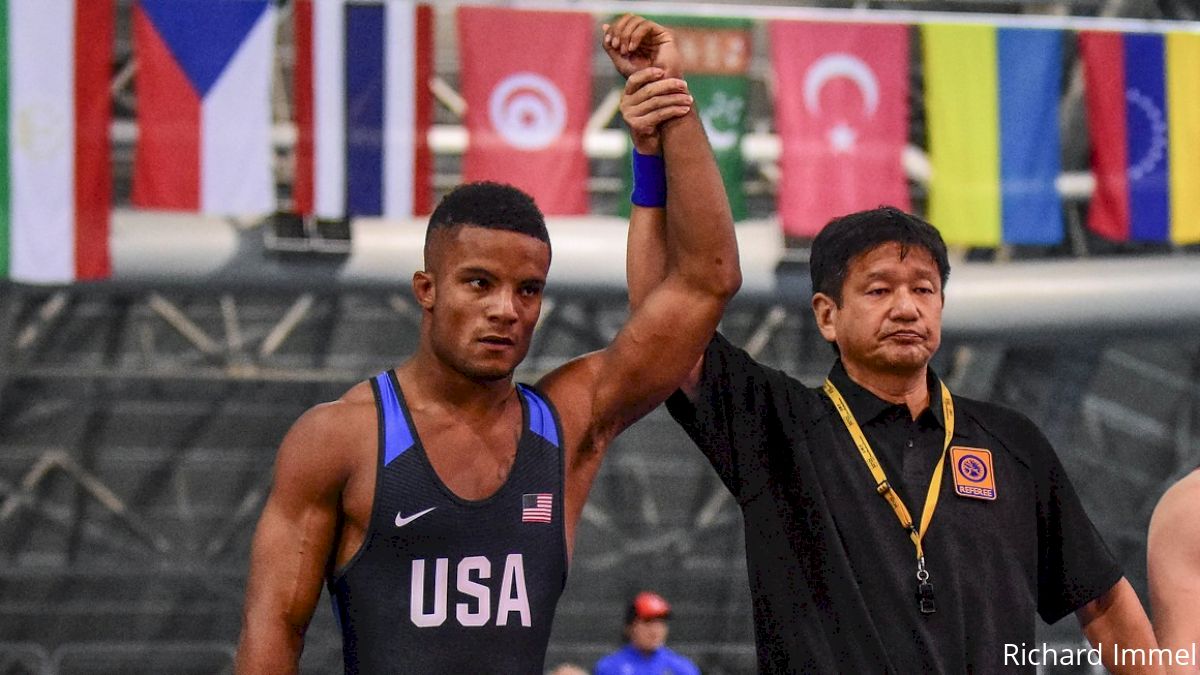 We are going to do live updates of the Junior World finals in Tampere, Finland. Mark Hall will be going for his second straight Junior World title at 74kg, while another former Minnesota prep in Mitch McKee is in the 60kg finals. Kollin Moore is competing for bronze at 96kg.

As always, United World Wrestling started us off with some off the wall opening ceremony. There were dancing ladies and children walking in singlets holding up signs for each country represented at these championships. Pretty standard stuff.

Break for awards before we get into the 74kg medal matches. Mark Hall will be trying to become the third American in men's freestyle to win two junior world titles.

Team score is 29-28 in favor of Russia heading into the last three matches of Day one. If Kollin Moore wins his match, America gets two team points. If the Russian wins his gold medal match, he'll get an additional one. So theoretically, America and Russia could end day one tied at 30.


96kg Gold: Givi Matcharashvili (GEO) vs Shamil Ali Musaev (RUS)
1st period: Final match of the day. American fans should root for Georgia. Musaev is red, Matcharashvili is blue. Both have teched their way to the finals. Passive against GEO. Musaev gets in trouble but just scrambles out in time. Matcharashvili on the clock and Musaev is up 1-0. Passive now against Musaev. He takes the hint and and gets a takedown right near the end of the period.

2nd period: Musaev kicks out and keeps Matcharashvili on his toes. Finally found the angle and takes a 5-0 lead. Musaev is on the clock somehow but gets a takedown right away to make it 7-0. And Matcharashvili makes it 7-2 but there's only nine seconds. Russia wins gold and ties USA for the day one lead at 30.


96kg Bronze: Kollin Moore (USA) vs Ilja Matuhin (GER)
1st period: Last chance for Team USA to earn some hardware and pick up team points. The Buckeye is trying to match his NCAA bronze with a Junior world bronze in his second try on the world stage. Ref pointed at Matuhin, but Moore in on an elbow post, chases the ankle and finishes. Out of bounds and a 2-0 lead. Beautiful low single boot scoot by Moore for a 4-0 lead. Moore's pace is too much and forces a stepout, halfway to a tech. Shot stalemated but Moore staying on the offensive. Still 5-0 at the break.

2nd period: Moore disappeared on him, and goes right into a gut! Great level change and he wants this tech. He won't stop shooting as Matuhin stays on his heels. Cros body outside trip to a takedown on the edge. American takes the lead over Russia.



96kg Bronze: Ibrahim Ciftci (TUR) vs Sargis Hovsepyan (ARM)
1st period: One match before Kollin Moore closes out the day for the Americans. Ciftci drives through a double just over a minute in. Into the last minute of the first and Ciftci still up 2-0. The Armenian is having some trouble hand fighting and clearing Turkey's ties. Ciftci in once again but Hovsepyan is feeding him hips, now tries a chest wrap but no points before the break.

2nd period: Ciftci somehow on the clock, but forces a stepout and makes it 5-0 halfway through this period. Final minute here, Hovsepyan's shot gets stalemated. Turkey trying to close it out with one final takedown, and he does. 7-0 and a bronze.



74kg Gold: Mark Hall (USA) vs Isa Shapiev (UZB)
1st period: Casey Cunningham and Cael Sanderson in his corner. Marky rocking a mohawk and his signature headphones. Mark is not intimidated by the flames on the UZB singlet, fights off a go behind early. Mark Hall GETS THE FALL! Classic Marky Mixer and he is the third men's freestyler, and fifth overall, to win two junior world titles for America. What a day for America. Marky drapes the American flag around and takes the victory lap for the third time in his career now. Time for Mitch McKee to get his silver. Great performance by the Americans so far.



74kg Bronze: Veer Dev Gulia (IND) vs Yajuro Yamasaki (JPN)
1st period: Yamasaki with a takedown but no turn. Yamasaki in on a shot and forces the stepout. Looked down for a sec and Gulia is on top of Yamasaki, 3-2 at the break.

2nd period: Another stepout for Yamasaki in the first minute. In on Gulia's left leg, can't finish for 2 but drives him out for a 5-2 lead. Scramble leads to four for Gulia on a 2+2, but the ref does not like the hard cross face and brings them up to their feet. Final 16 seconds with Gulia leading 6-5. An inside trip and throw attempt is for naught and Gulia completes the comeback to give India a bronze.


74kg Bronze: Muhammet Kucukyildirim (TUR) vs Mohammad Mottaghinia (IRI)
1st period: A battle of two guys Mark Hall beat on his way to the finals. Slow in going in the first minute of this one, but the Turk has a nice set of tape on what may be a broken nose. Kucukyildirim is on the clock. Mottaghinia waits for the clock to end, shoots and gets the takedown. Tries to bring the lace up before going over and he's looking to end it. That'll do it, 11-0 Iran.



60kg Gold: Mitch McKee (USA) vs Abdula Akhmedov (RUS)
1st period: Big one here for the team race. Akhmedov right in, and not a shot McKee can head pinch from. Lace to a gut switch fought off well by the Gopher freshman. McKee's underhook turns into a Russian fireman's and holds him down. Akhmedov gets the pin and Russia picks up a team point.



60kg Bronze: Yones Aliakbar Emamichoghaei (IRI) vs Eriglent Prizreni (ALB)
1st period: The Iranian starts off with a takedown in the first minute after Prizreni tried an extended head pinch. Another takedown for Emami and he looks in control as we head to the last minute of the first period. Typical Iranian underhook stuff, controlling the center of the mat and moving ALB around. One last takedown and Emami is cruising to a tech, 6-0 at the break.

2nd period: Emami chases him down and finishes of the tech with a gut wrench. Another medal for Iran at a weight they have dominated over the past five years.


60kg Bronze: Ravinder Ravinder (IND) vs Hiromu Sakaki (Japan)
1st period: Attention right away on Ravinder for grabbing fingers. Sakaki into a front head position but it is stalemated 47 seconds in. Nice drive through double to the mat for Sakaki and a 2-0 lead. Sakaki again attacking legs but can't finish, until one final effort gives him a 4-0 lead. Blood time for Sakaki. Good shot defense by Ravinder but ends up stepping out as he jumped too high on a sprawl. 5-0 at the break.

2nd period: Raavinder is right in on a shot, but a roll through for Sakaki gives him a 7-0 lead. Reversal for Ravinder and a gut makes it 7-3 now, back in the match. We have a challenge now from Sakaki's corner. 7-4 and Ravinder is back in this thing. Ravinder tries to tight rope walk but is pushed out. Sakaki looks hurt after shooting Ravinder out to make it 9-4. Stalemate with one minute left, still 9-4. Late takedown is not enough and Sakaki wins bronze.



50kg Bronze: Aslan Minkailov (RUS) vs Akbar Kenzhebek Uulu (KGZ)
1st period: We've got a 4-2 match here two minutes in. Nice shuck into a bodylock for KGZ and he takes the lead 4-4 on criteria heading into the break. Some strong towel work from the Kyrgyzstani corner.

2nd period: Kenzhebek taking ground early and an attention on the Russian thirty seconds in. Low single from Minkailov, and he drives KGZ out of bounds as he tries for a crackdown. They trade two and two on a roll through takedown for KGZ, and are back up on their feet. Front head position for KGZ but Minkailov tries to work a go behind. Stalemated in a rubber knee with 1:20 to go. We've got a challenge cube from the red corner, and by cube I mean pool noodle. Score is now 9-6 in favor of Minkailov. Kenzhebek works a Merkel position into a takedown in the final minute and tries a standing leg lace! He finally gets it back down on the ground and takes the lead. Action packed second period continues with a pushout for Minkailov, now leading on criteria in the final 30 seconds. A wild scramble turns into a flurry for Kenzhebek who sticks him! What a wild ending.


50kg Bronze: Rakhat Kalzhan (KAZ) vs Nasanbuyan Narmandakh (MGL)
1st period: Kalzhan is who knocked Malik Heinselman out of the tournament. Passive against blue, which is Kalzhan (KAZ). Two on one for Kalzhan fought off by MGL. Kalzhan is now on the clock. Narmandakh takes a 1-0 lead on the shot clock point. Both are staying cautious here in the late stages of the first period. Narmandakh gets hit for passivity.

2nd period: Looking for Narmandakh to go on the clock early if there's no scoring in about a minute. As I type that he drives through a takedown to go up 3-0. Kalzhan continues to try that Russian 2-on-1 tie but it gets fought off. Righty single for Kalzhan, has it shelfed but Narmandakh fights into a quadpof on the edge. Ref says takedown, and the chair or judge agrees. What a kickout for KAZ! And now fights off a drag go behind. Great defense for about 20 seconds but MGL finally finishes it in the zone to take a 5-2 lead. Narmandakh continues to take ground and keep Kalzhan on his heels to hold onto his lead. Big throw attempt by Kalzhan! Two is thrown up by either judge or chair, but the pool noodle challenge is thrown. Two is the call on the mat right now. The score keeps changing between 4 and 6 for Kalzhan. Ultimately, they give him nothing and Narmandakh wins bronze 6-2.


50kg Gold: Shahin Mukhtarov (AZE) vs Karen Zurabyan (ARM)
1st period: Not a whole lot going on in the first 90 seconds of this one. Mukhtarov is on the clock and Zurabyan is up 1-0. Mukhtarov on the go behind and a late takedown into a gut gives him a 4-1 lead. Extended time here at the break.

2nd period: Zurabyan trying to work a bundle, now an over under. The Armenian continues to push forward, but pays for it on a butt drag that forces him out of bounds. Mukhtarov up 5-1 with two minutes left. Zurabyan with a pushout. Another stepout for Mukhtarov, starting to blow open the match now. These two are battling in the upper body ties and continue trading stepouts, 6-3 now with a minute left. Not a leg attack in sight for these two. Zurabyan tries a late head pinch but Mukhtarov is your junior world champ at 50kg.



Get all of the hottest FloWrestling content!
Sign up for the FloWrestling newsletter for instant access to: breaking news, live events, results, rankings, archived matches and more!