Boise State President Bob Kustra's decision to drop the Broncos wrestling program and pursue a baseball team has saddled the public institution with a ticking financial time bomb.
Annual losses could run as high as $2 million per year, which is about how much is drained from the University of Oregon coffers every year to keep its baseball team running.
After the Ducks dropped their wrestling program in part to facilitate reinstating a baseball team in 2009, Oregon has lost approximately $17.5 million while operating its baseball program over the ensuing nine years, as doggedly
reported by the Daily Emerald
.
Kustra and Boise State Athletic Director Curt Apsey have not made themselves available to comment on the issue; however, in a statement released on April 20, Kustra said, "We did the math, trying to figure ways to be all things to all people, but it was hard to figure out how to build one and maintain the other."
Recent documents attained through FOIA requests have helped shed light on the math to which Kustra was referring. A preliminary baseball budget projects first-year expenses to be $1,472,492 in 2018-19, then increasing every year until they break the $2 million barrier in 2021-22.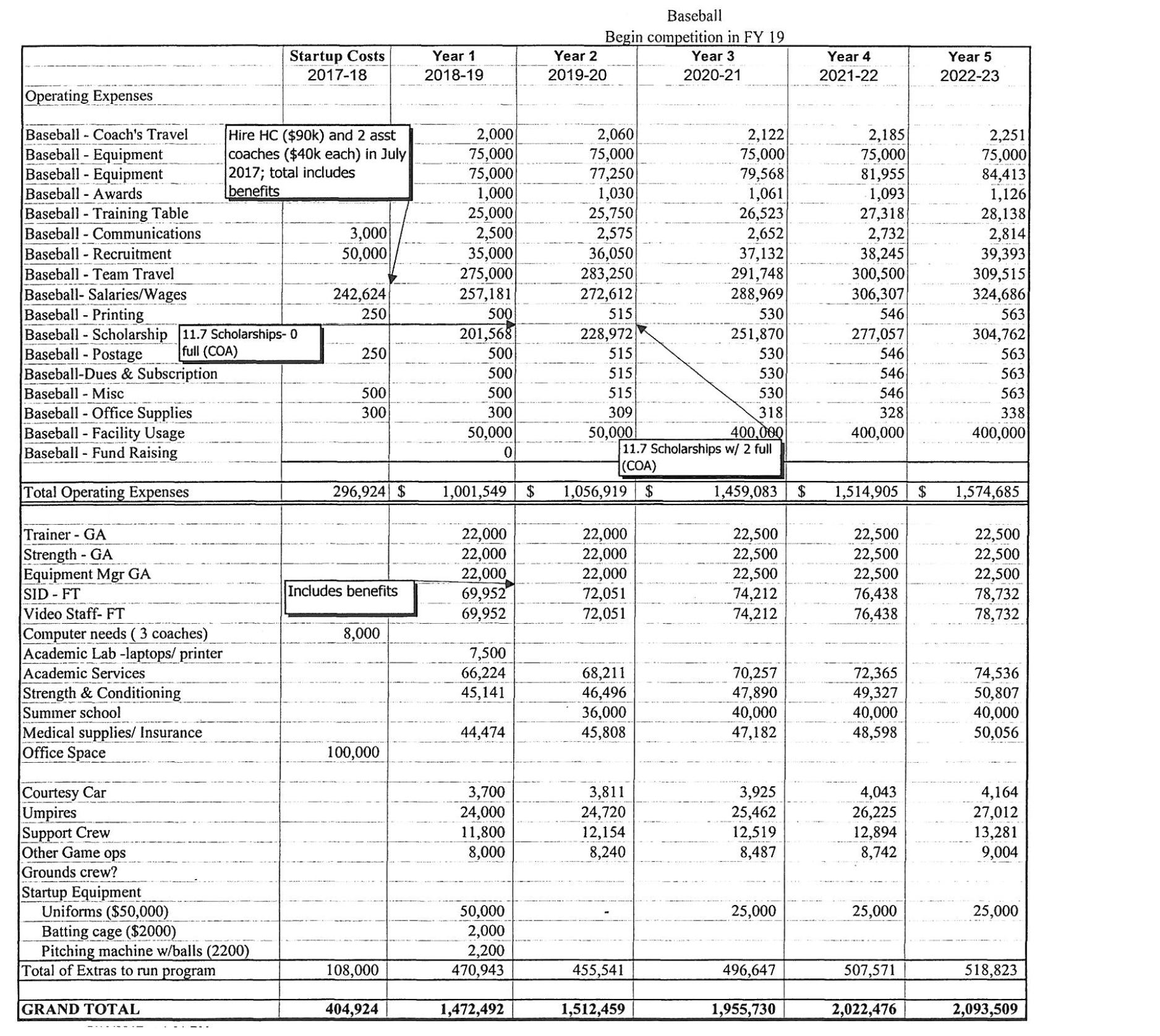 In addition to procuring funds for the team's operating expenses, Boise State will also have to figure out where the Broncos are going to play their games, as no ballpark exists on campus.
It has been speculated by Kustra and others that the Boise Hawks, a local short season single-A level minor league baseball team, could build a new stadium in downtown Boise and lease it out to the new Boise State team. The Hawks estimate that the new stadium would require $2 million per year in debt service to pay for the construction costs, half of which would be covered by an adjacent real estate development project. That would leave the Hawks and BSU on the hook for the remaining $1 million per year.
Whatever BSU's share of that tab might be, the cost is not reflected in the preliminary budget and will have to be added to the already frighteningly high projected expenses.
Despite not having a dugout in which to wear them, Boise State admins still decided that now would be a good time to have Nike design "a custom and eye-catching look for the Broncos." The baseball uniforms
do look sharp
, although fans may only be able to see their team in road jerseys until the stadium issue can be resolved.
In comparison to baseball, wrestling is both cheaper to operate and does not require new facilities in which to compete. The Broncos wrestling team had the lowest game day expenses of any BSU varsity sport, both per event and per participant. Wrestling coaches at Boise State never earned more than a combined $150,000 in salary, whereas BSU is planning on paying its baseball coaches twice that.
The Intercollegiate Athletics Financial Report published by the Idaho Board of Education shows how baseball will be easily the third-most expensive sport on campus, rivaling basketball for being the second-costliest program.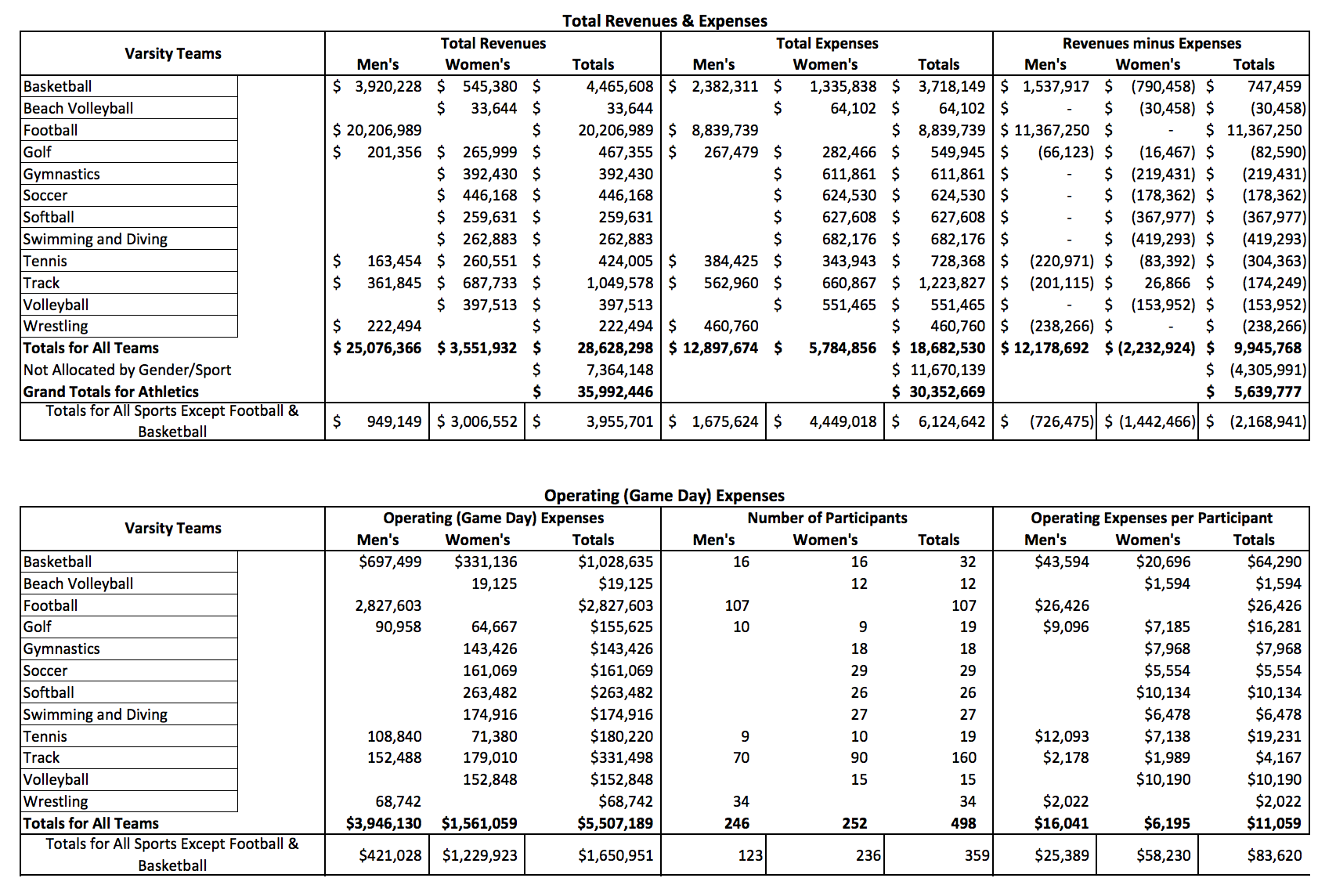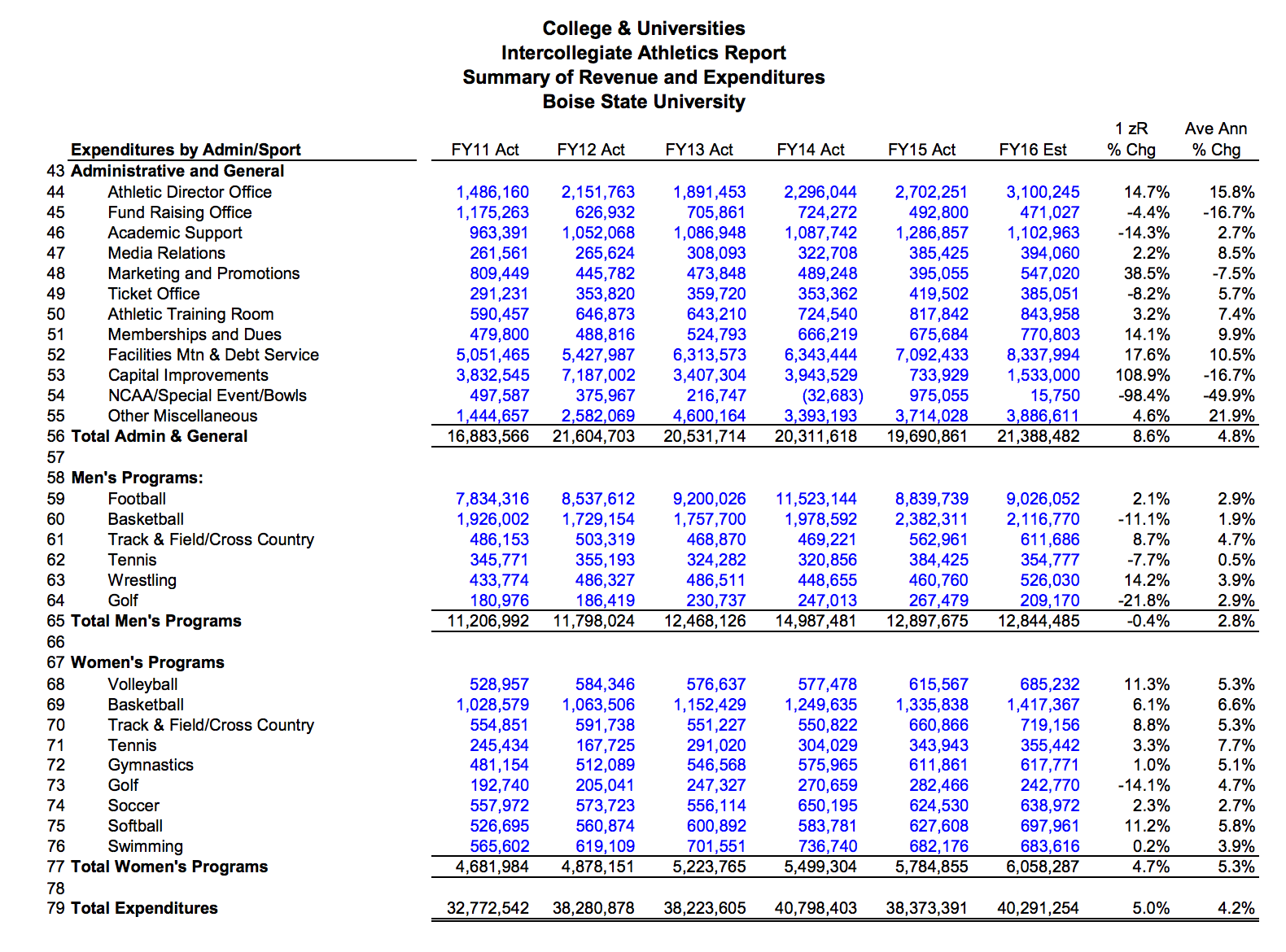 Since there is no financial justification for dropping wrestling to add baseball, Kustra's argument rests almost entirely on the notion of conference alignment. As Kustra points out, the Mountain West Conference sponsors baseball but not wrestling.
However, not all Mountain West Conference members sponsor baseball. In fact, the four most northernly schools do not have baseball programs, perhaps because the NCAA baseball season starts February, when the average daily temperature in Boise is below freezing. Boise State University is, in fact, the most northernly of all the schools within the Mountain West.
It is also unclear where this newfound importance of conference alignment is coming from, as it was presumably not a concern when Kustra was trying to get
Boise State admitted into the Big East Conference
.
Kustra and Apsey could try to assuage the fears of the greater BSU community by answering questions about their decision, but so have so far declined to do so. Jason Bryant of Mat Talk Online has requested an interview on multiple occasions but has received either refusal or silence in each instance. AD's from other schools
have not been so elusive
.
Absent additional information from the administration, all that is left to do is speculate as to where the additional funds will come from to start the baseball program.
Without a massive donation or an infusion from the state, an increase in student fees is the next most likely option. Currently, Boise State students collectively pay about $3.5 million per year in fees, which fund almost 10 percent of the athletic department budget.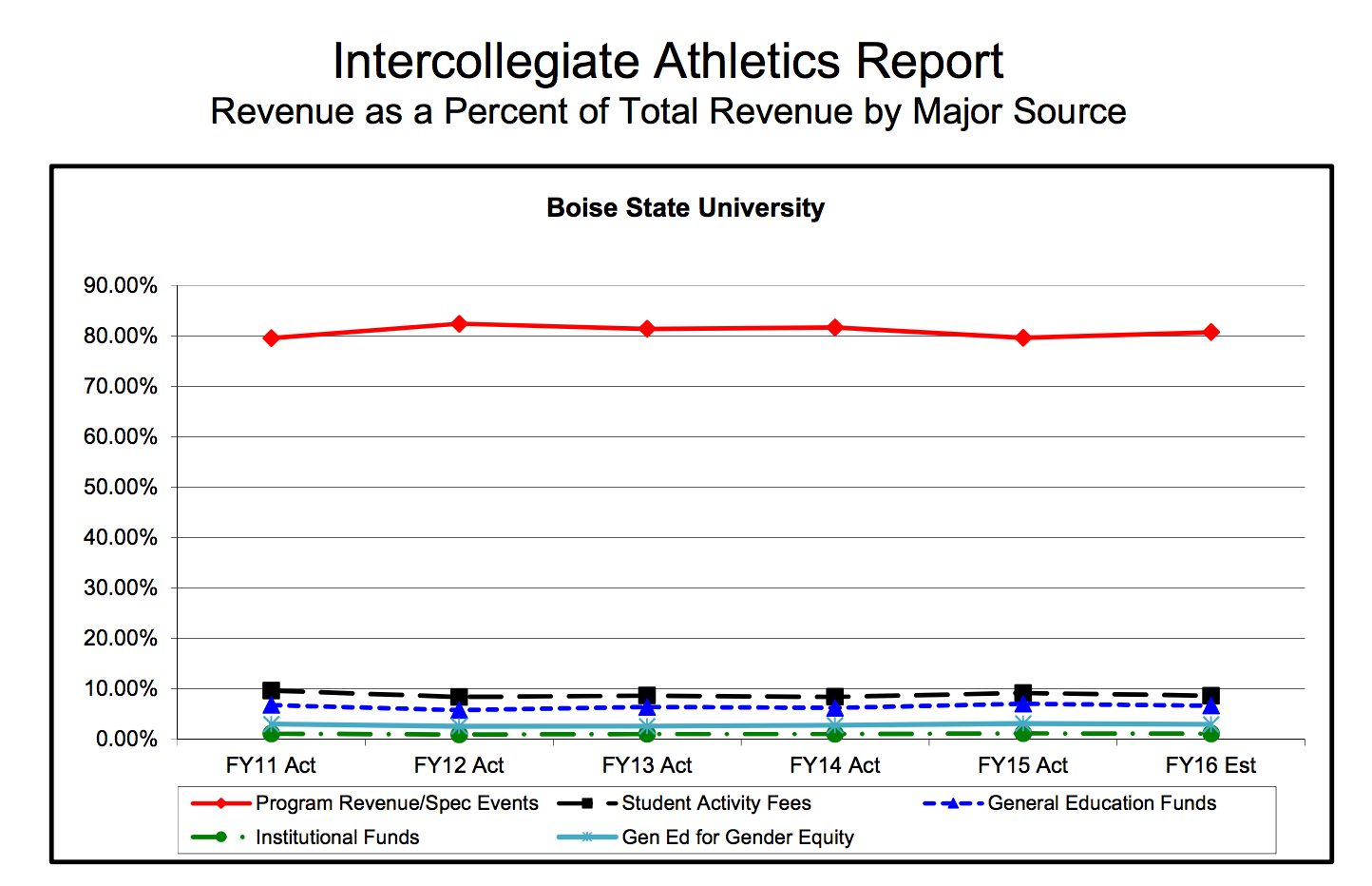 Revenue from ticket sales could supplement those student fees, but it is unlikely that they will amount to much. Even the
most successful programs
of the Mountain West that play in sunnier climates fail to attract enough fans to make a substantial dent in their expense budgets.
What is perhaps most unfortunate about Kustra's decision is not that it will cost Boise State students and Idaho taxpayers more money, though that is still an unfortunate and inevitable result of the decision. Collegiate baseball is a worthy endeavor and one that deserves public support.
The tragedy is that through either carelessness or incompetence, the decision to drop wrestling and pursue baseball has divided a community and set sports fans at odds against each other. One only has to look at Fresno State, Boise State's peer institution, to see how a community can be rallied to add sports at a university without removing others, increasing their opportunities on campus for student-athletes and strengthening a united athletic department.
It is still not too late for Boise State to amend its plan, reinstate wrestling, and resolve to be more forthcoming with stakeholders to which their administration is beholden. That is a choice, however, that it appears can only be made by Bob Kustra.