Create a free account to unlock this article!
Get Started
Already a subscriber? Log In
It appears that the defending World and Olympic Champion, and general consensus pound-for-pound best wrestler in the world will be moving up a weight class.
In an interview that Sadulaev did with Russian wrestling website
Wrestdag.ru
, it looks like he will be wrestling at 97kg in this year's World Championships before finding a new home once UWW changes the weights next year: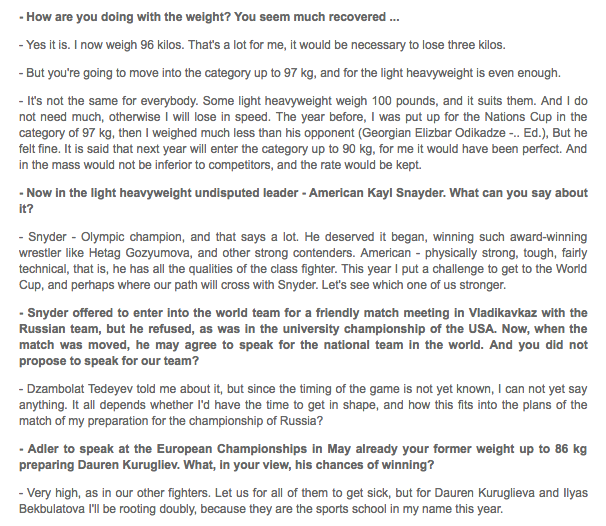 Russia's Abdulrashid Sadulaev was impressive in the last quad at 84/86kg by winning the World Championships in 2013 (cadet), 2014 and 2015 and capped it off with a dominant performance at the 2016 Rio Olympics.
With the news of Sadulaev's move up to 97kg many people are very interested in a potential match-up with him and defending World and Olympic Champion Kyle Snyder.
So how did Kyle Snyder take the news? I'd say he was excited.
It's a beautiful day, the sun is shining, the birds are chirping, and Sadulaev is coming up to 97kg

— Kyle Snyder (@Snyder_man45) May 21, 2017
Part of what makes Kyle so great is that he is always ready for a challenge, and it's no different in this case.
Both Sadulaev and Snyder have been successful at their age-group levels. Sadulaev won a Cadet World Title and then jumped straight into the senior level. Snyder won a Junior World Title, then a Junior World Bronze before jumping up to the senior level and winning right away.
While Snyder has won title in each of the last two years, he has taken losses during the regular season. Sadulaev just doesn't lose. 11kg is a lot of size to grow into and Kyle Snyder is one hell of a great wrestler.
If Sadulaev wrestles in the World Championships at 97kg he will not be seeded because accomplishments are not recognized when moving up in weight according to UWW rules. This means that Kyle Snyder and Abdulrashid Sadulaev could, conceivably, meet in the first round.
Wouldn't that be someting!
Until then all we can do is talk and debate about how we think this super match would go down.