Zain Ratherford and Diachi Takatani stole the show at the 2017 Beat The Streets event in New York City on Wednesday. Here's a minute-by-minute breakdown of all the most important parts of the match. The match is embedded below, but if you'd like to follow along by opening up a different tab, click here.

Minute 1
No feeling-out process for these two. It's obvious that any concept that Takatani had of keeping this a "friendly exhibition" were gone after Zain's first captain cave man club to his head.

(0:51) On his first leg attack, Zain was surprised at how hard he had to work to score, but once Takatani lost the far ankle (1:07) it was just a matter of time.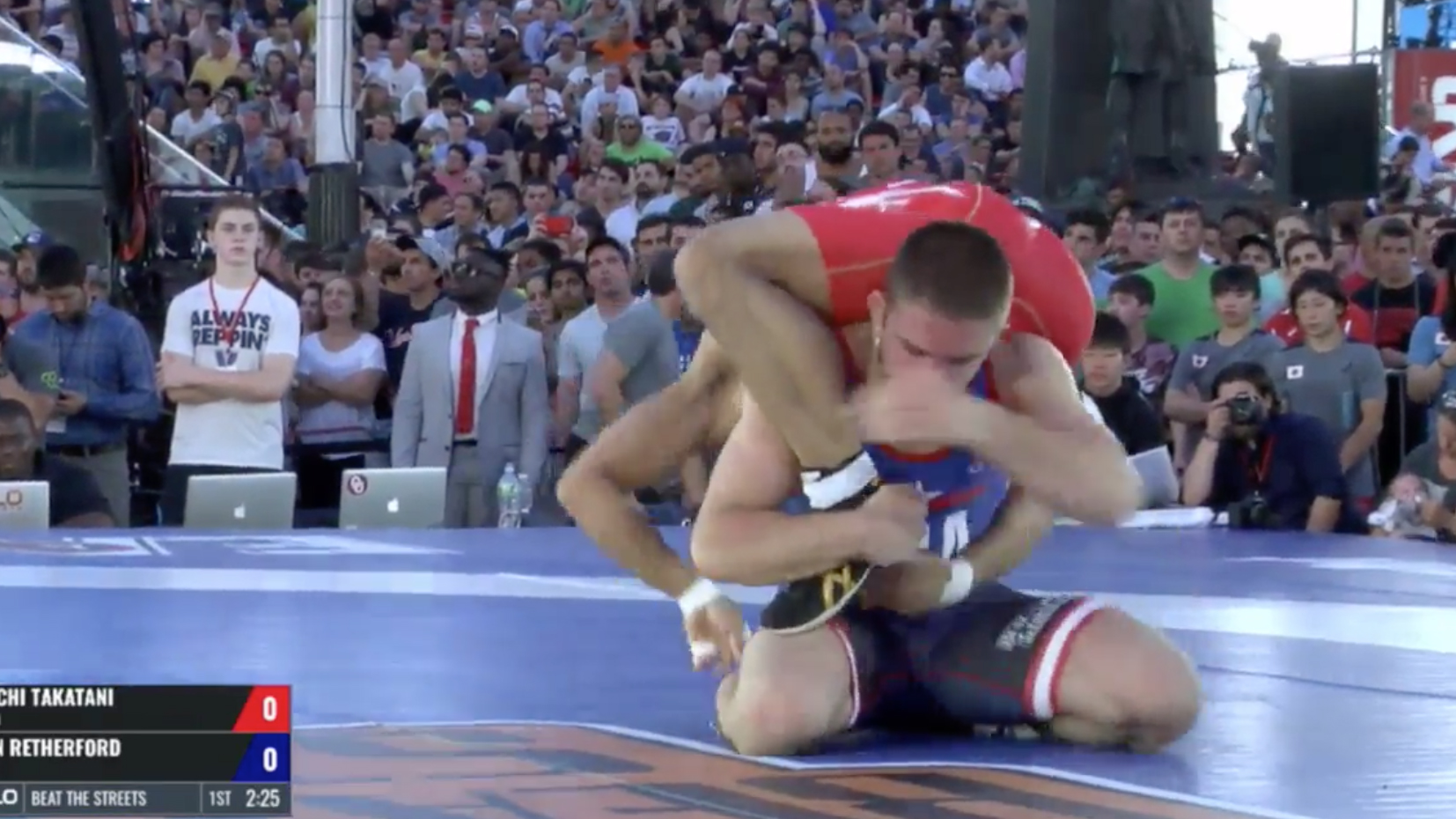 Minute 2
(1:46) Takatani gets a chance to use this level change from the outside, which is a big part of most of the Japanese athlete's game plan.

(1:52) Zain is very careful to not put his hands below the eyebrow.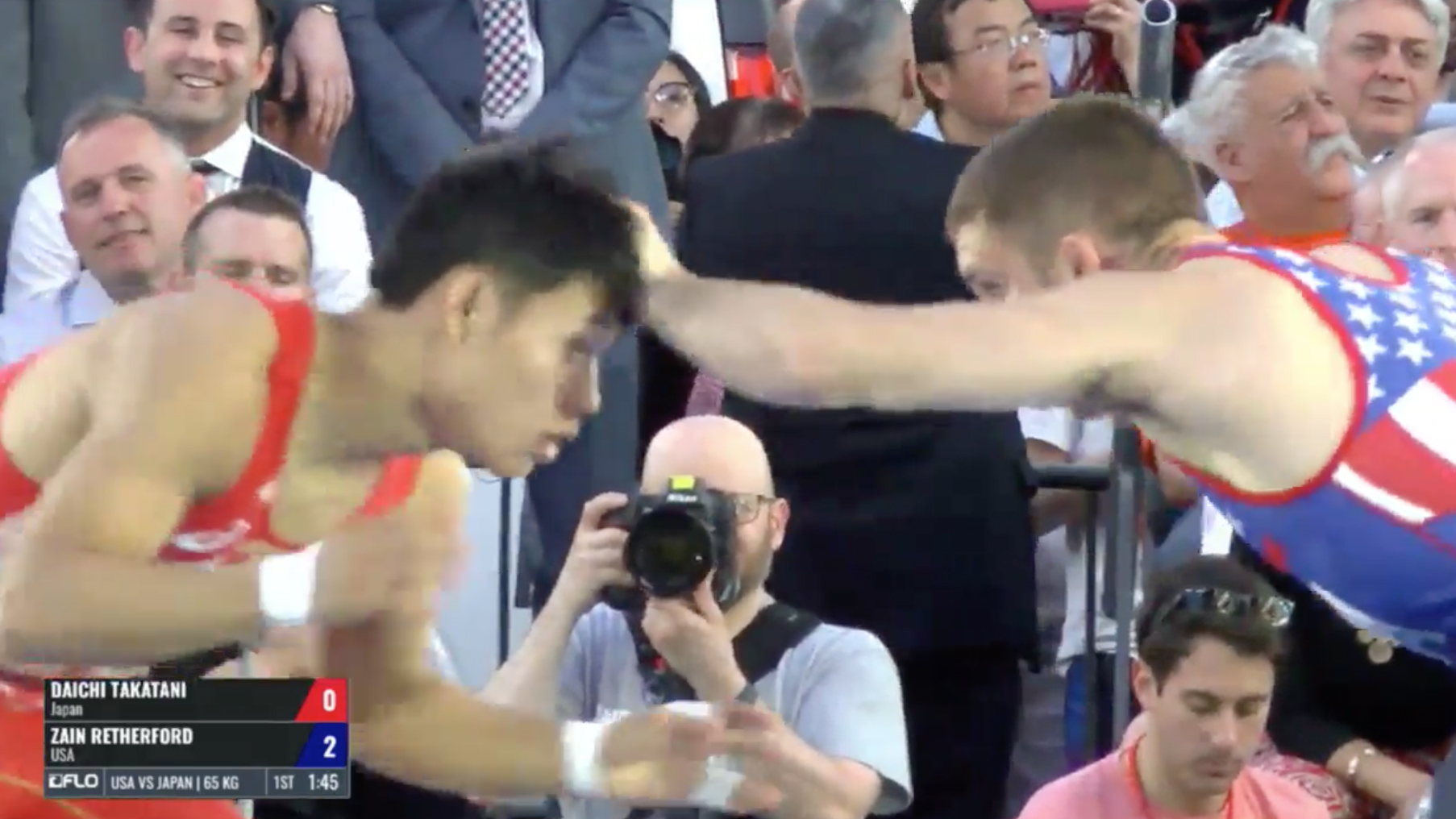 (2:18) Because he was allowed by Zain to keep space, Takatani fires off a beautiful misdirection single leg, but Zain didn't bite. Takatani down-blocked to both knees and got a ton of weight on him immediately.

(2:28) The camera is at a perfect angle to see Zain turn Takatani's face toward his armpit and get ready to pop his hips in and throw a head pinch, but alas, the ref was not entertained and blew them back up to a neutral position.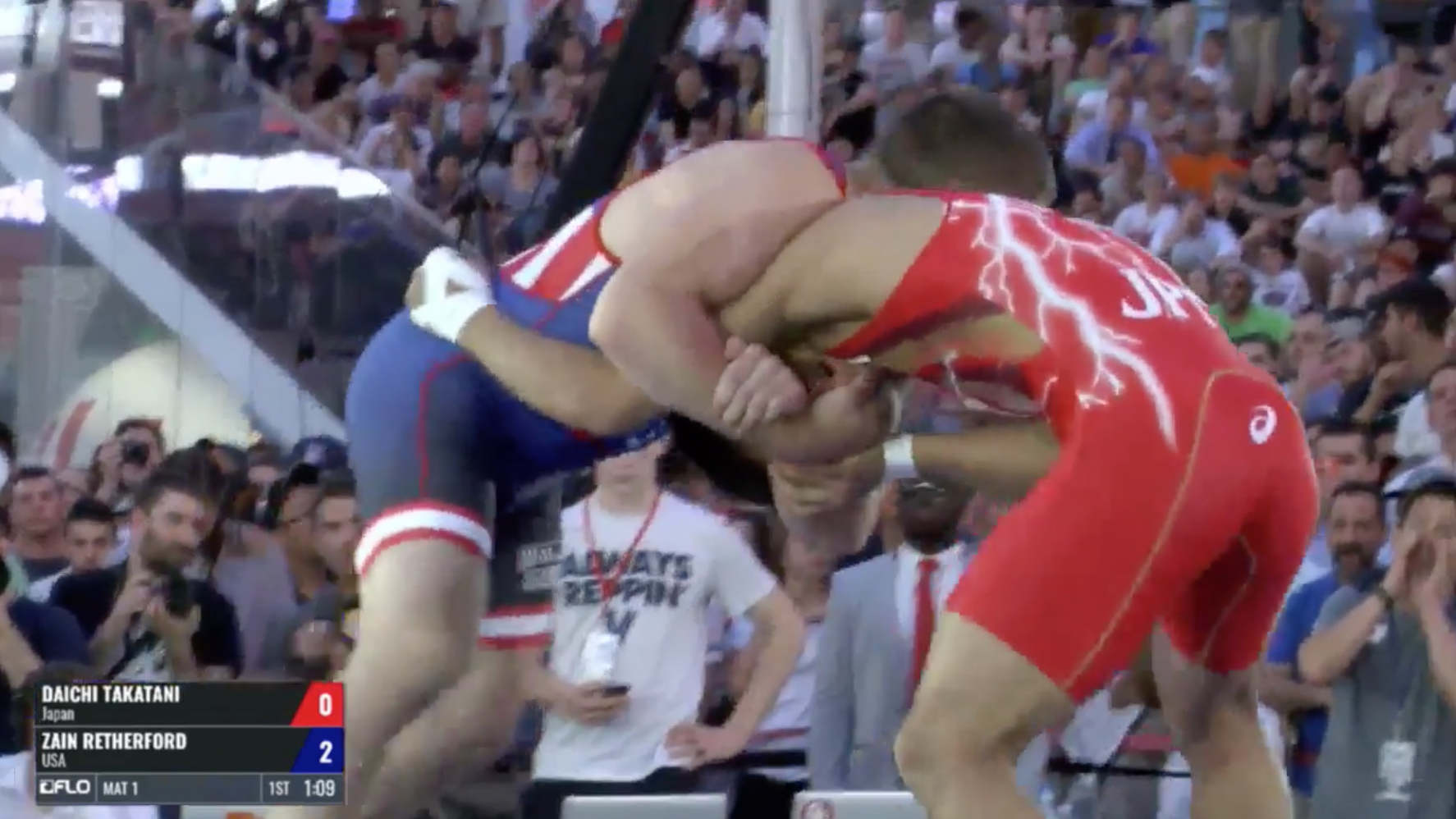 Minute 3
(2:51) You see Zain have a momentary lapse in memory and put his hands dangerously close to Takatani's eyes, but he promptly pulls his hand back like it was burned on a stove.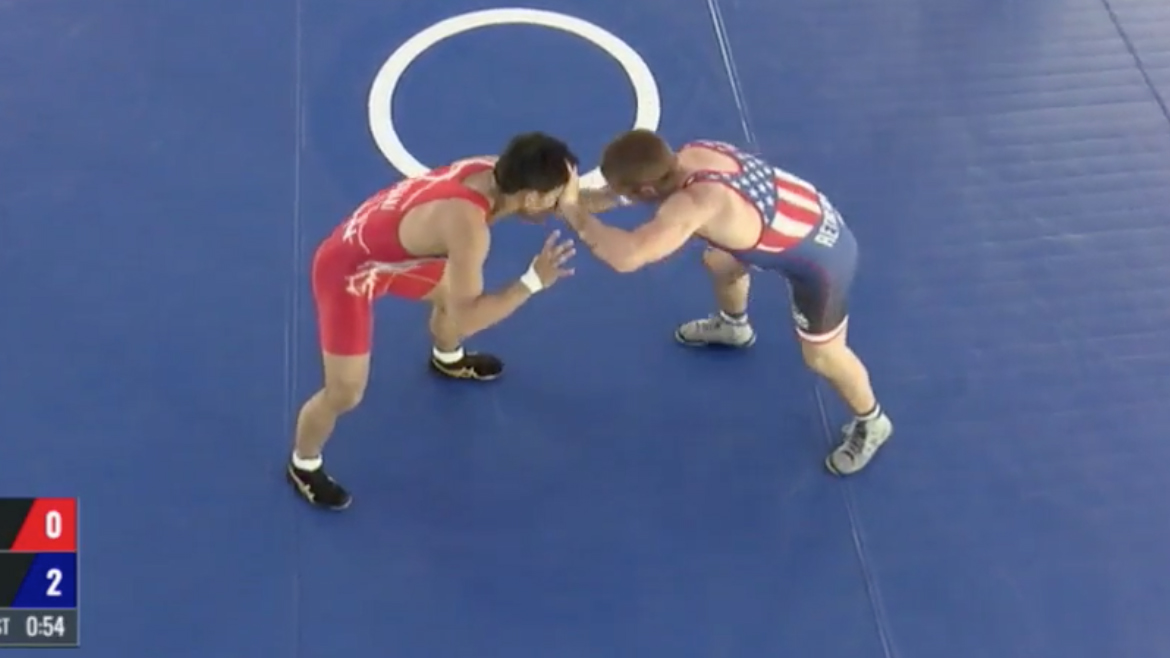 (2:56) The thing that allowed Zain to be successful on his first leg attack was getting his head to the outside. It relieved pressure on his head and allowed him to correct the rest of his body position. To the Japanese wrestler's credit, he adjusted his defense in the middle of a match and made sure to keep Retherford's head stuffed and hip-tipped him for two.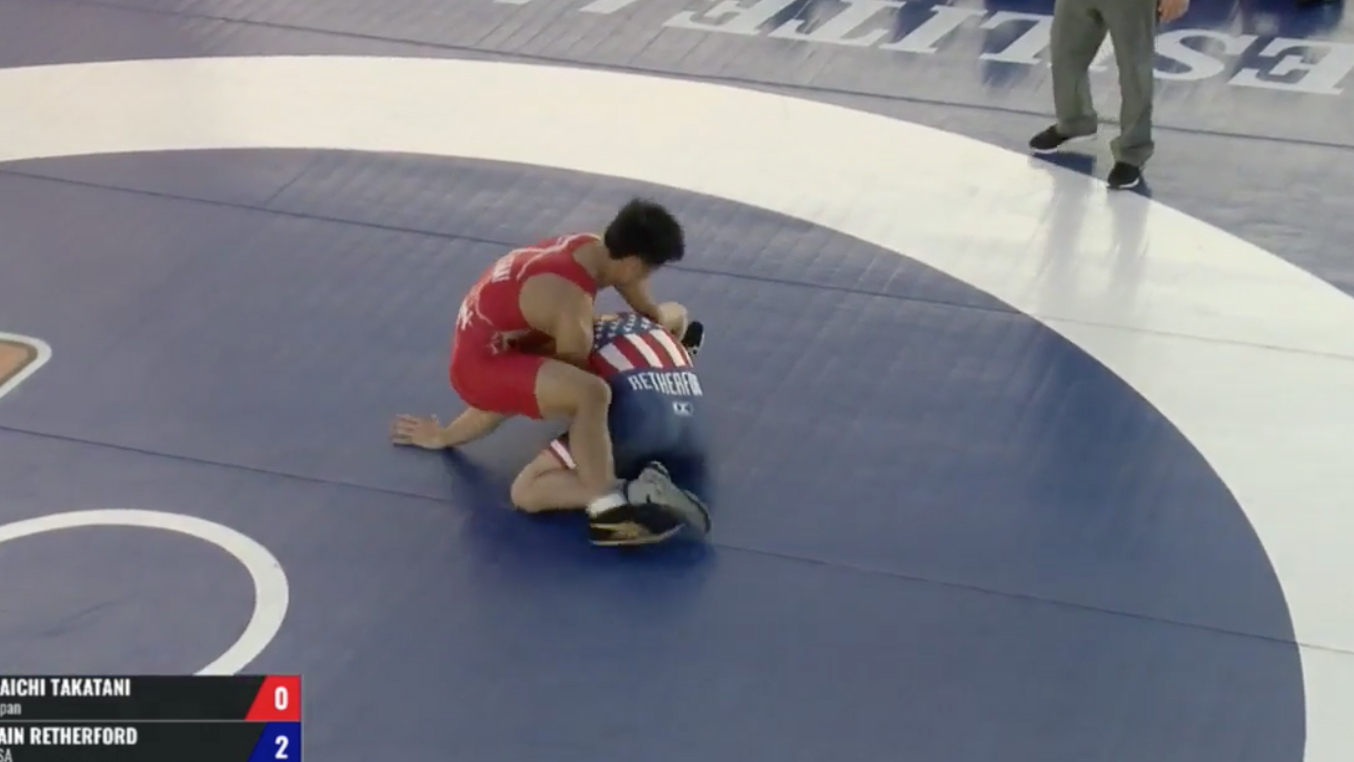 Minute 4
(4:24) Takatani came out of the break firing, and he got in on a sneaky left-handed single leg. Zain finds a way to prolong the scramble long enough to get a stalemate call from the ref. The most impressive part of this exchange to me was the fact that Zain kept his hand (or elbow) posted out so as not to break the plain and give up cheap exposure points WHILE AT THE SAME TIME keeping his left hand in on a high crotch so as not to give up a takedown. Takatani was forced by the ref to give up the exchange and head back to the center, dejected.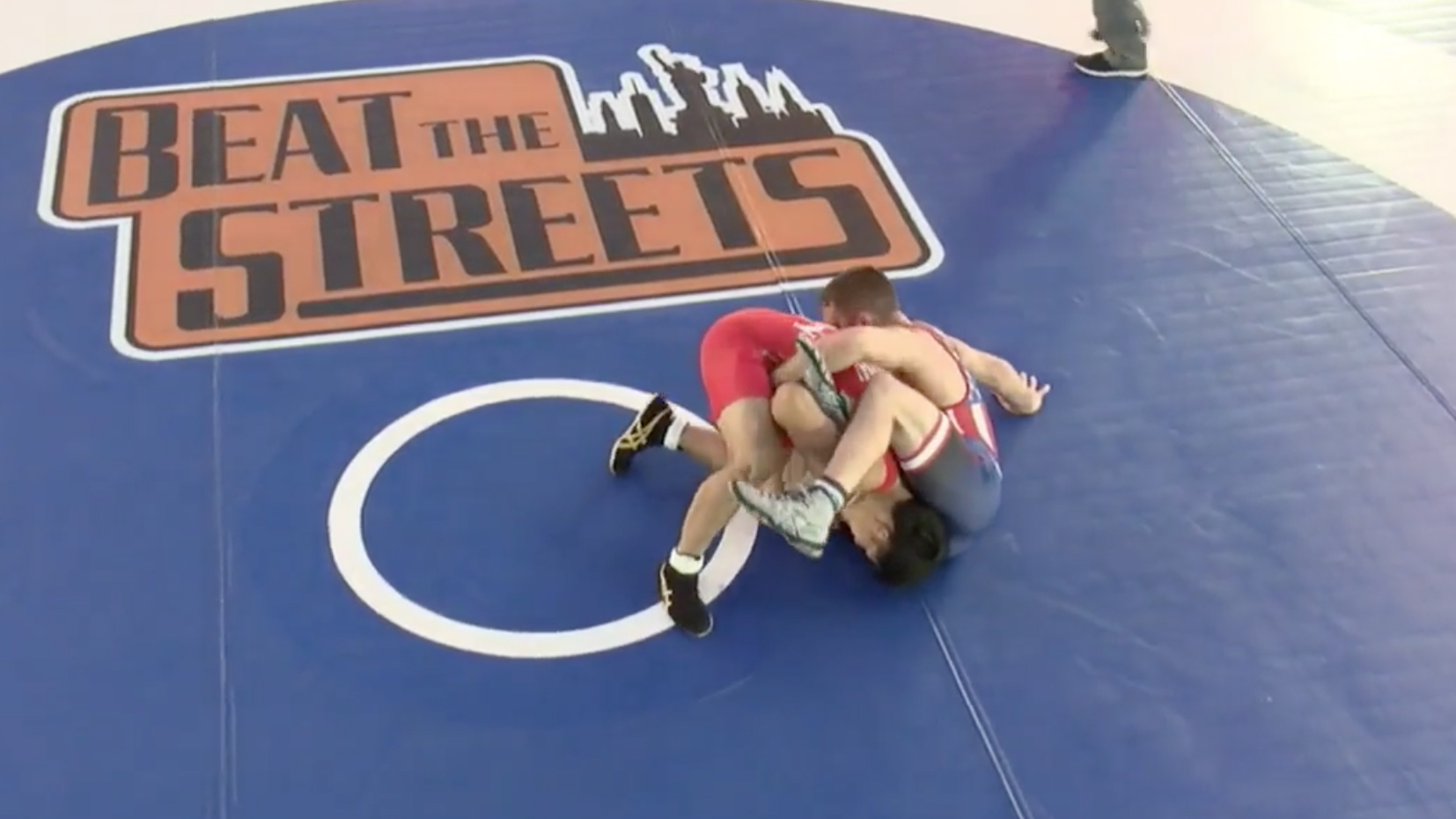 Minute 5
(5:10) The next shot that Takatani takes, and more specifically Retherford's defence to it, are crucial to the outcome of the match. This shot was not as good as his first couple, and Zain knows it. You see Zain try and short drag the single leg hand of Takatani, but he goes to the hip, so he doesn't score.

(5:40) This was the match. It was the last good shot that Takatani would take. He got in on a perfectly timed low single. His head was up, and he started getting height on it quickly. But Zain just wouldn't go away. Usually, when a guy is in on a single leg on you and he lifts you off the ground, you basically tuck everything in and prepare for impact. Not Zain. He keeps defending and manages not to expose his back to the mat before running out of room and going out of bounds.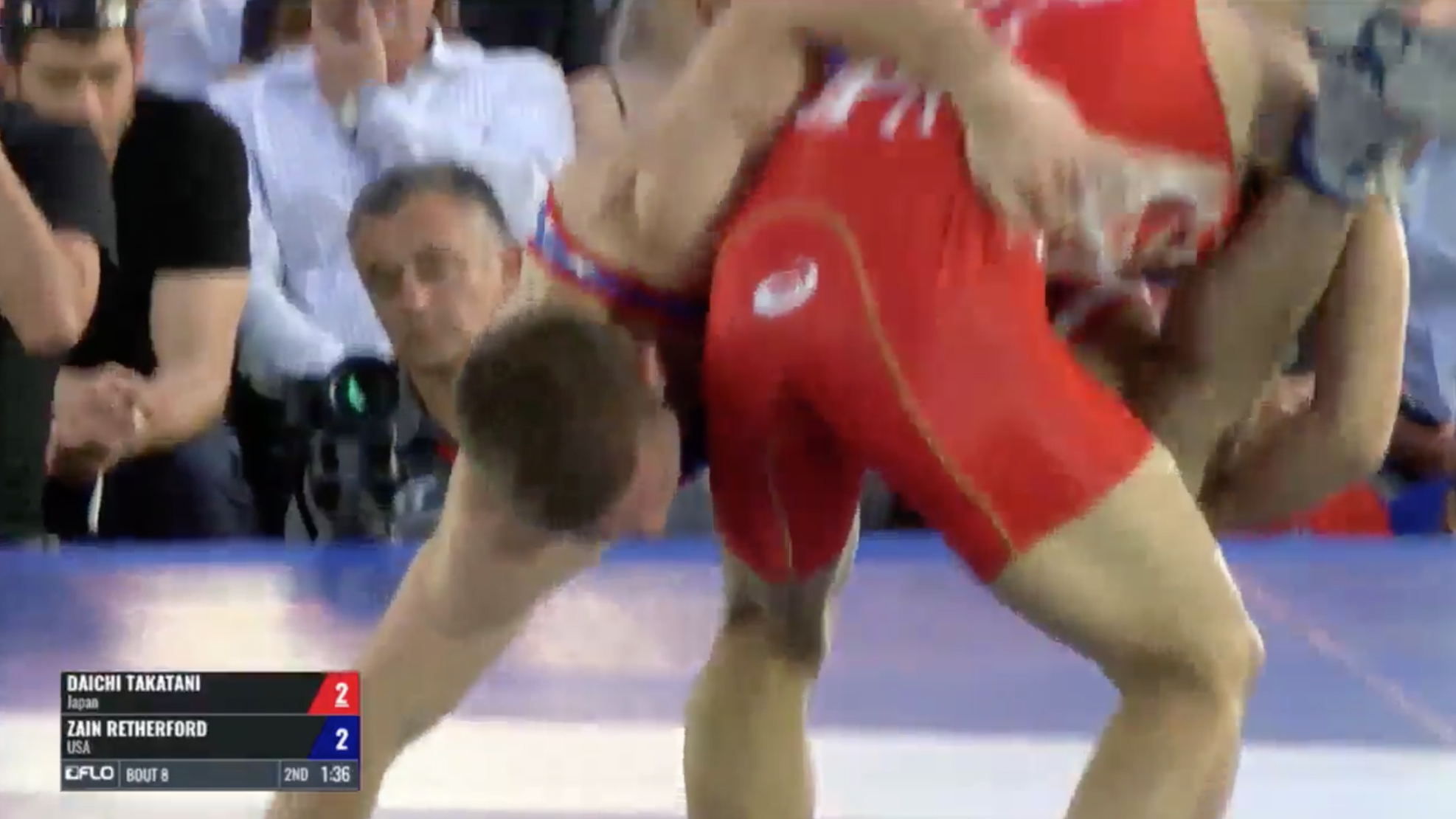 (6:28) Like I said before, the shot that the Japanese wrestler takes at 5:10 would prove to be crucial because the one that he takes here is similar. Zain exploits the poor position and chases the tail of Takatani, scoring the easiest takedown of the match.

Minute 6
(7:07) The nail in the coffin. It's one thing to find yourself down by two and your endurance has affected the positioning of the leg attacks that you need to win. But it's another thing altogether to have the guy you're wrestling keep taking perfect attacks of his own.

(7:33) Zain leaving no doubt.