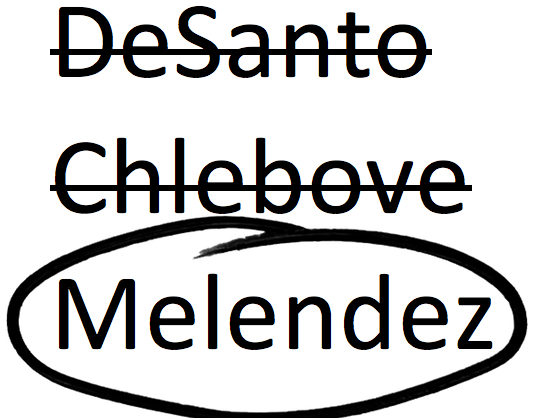 Finding an opponent for two-time World bronze medalist Daton Fix has looked like the last few seconds of a game of musical chairs.

Last night, it was confirmed that two-time Pennsylvania State champ Julian Chlebove would be replacing Austin DeSanto after he was forced to back out due to injury. Then after there was some miscommunication between the camps of Fix and Chlebove about what style they would wrestle (freestyle, folkstyle, or first to five takedowns), Chlebove was then replaced.

Fast forward to this morning and another replacement has taken the spot. Montini Catholic's (IL) No. 4-ranked Joey Melendez is stepping up to the plate. Upon getting the call, Melendez and coach Izzy Martinez hopped on a plane and made their way to New York City.
I always tell the boys anyone, any place, any time! @joeymelendez33!! @flowrestling @btbuckley @_greatest_ever_ we coming!!! pic.twitter.com/h0QhIzTpPz

— Israel Martinez (@IzzyStyle) May 17, 2017
Now, it will be Fix vs Melendez that will get things started before Team USA's men and women take on Japan.
Full Beat The Streets Order of Matches
| WT | Match-up |
| --- | --- |
| EX | Daton Fix (USA) vs. Joey Melendez (USA) |
| 48kg | Victoria Anthony (USA) vs. Yuki Irie (Japan) |
| 69kg | Tamyra Mensah (USA) vs. Miwa Morikawa (Japan) |
| 58kg | Helen Maroulis (USA) vs. Yuzuru Kumano (Japan) |
| 65kg | Jordan Oliver (USA) vs. Frank Chamizo (ITALY) |
| 57kg | Anthony Ramos (USA) vs. Steven Takahashi (Canada) |
| 61kg | Logan Stieber (USA) vs. Shingo Arimoto (Japan) |
| 65kg | Zain Retherford (USA) vs. Daichi Takatani (Japan) |
| 70kg | James Green (USA) vs. Nobuyoshi Takojima (Japan) |
| 86kg | David Taylor (USA) vs. Takahiro Murayama (Japan) |
| 97kg | Kyle Snyder (USA) vs. Koki Yamamoto (Japan) |
| 125kg | Nick Gwiazdowski (USA) vs. Katsutoshi Kanazawa (Japan) |
| 74kg | Jordan Burroughs (USA) vs. Sohsuke Takatani (Japan) |