The Assembly Members of the Associated Students of Boise State University (ASBSU) unanimously passed a "Resolution to Slow Athletic Fee Change" Wednesday, April 19, in the wake of the abrupt announcement by the University that they were cutting the Broncos wrestling program.

The students resolved that the decision to cut the program "should be stalled until students have had the opportunity to provide input."

The resolution further called for the University to be held accountable for making decisions that affect the student body without their consultation.

A copy of the resolution can be seen below.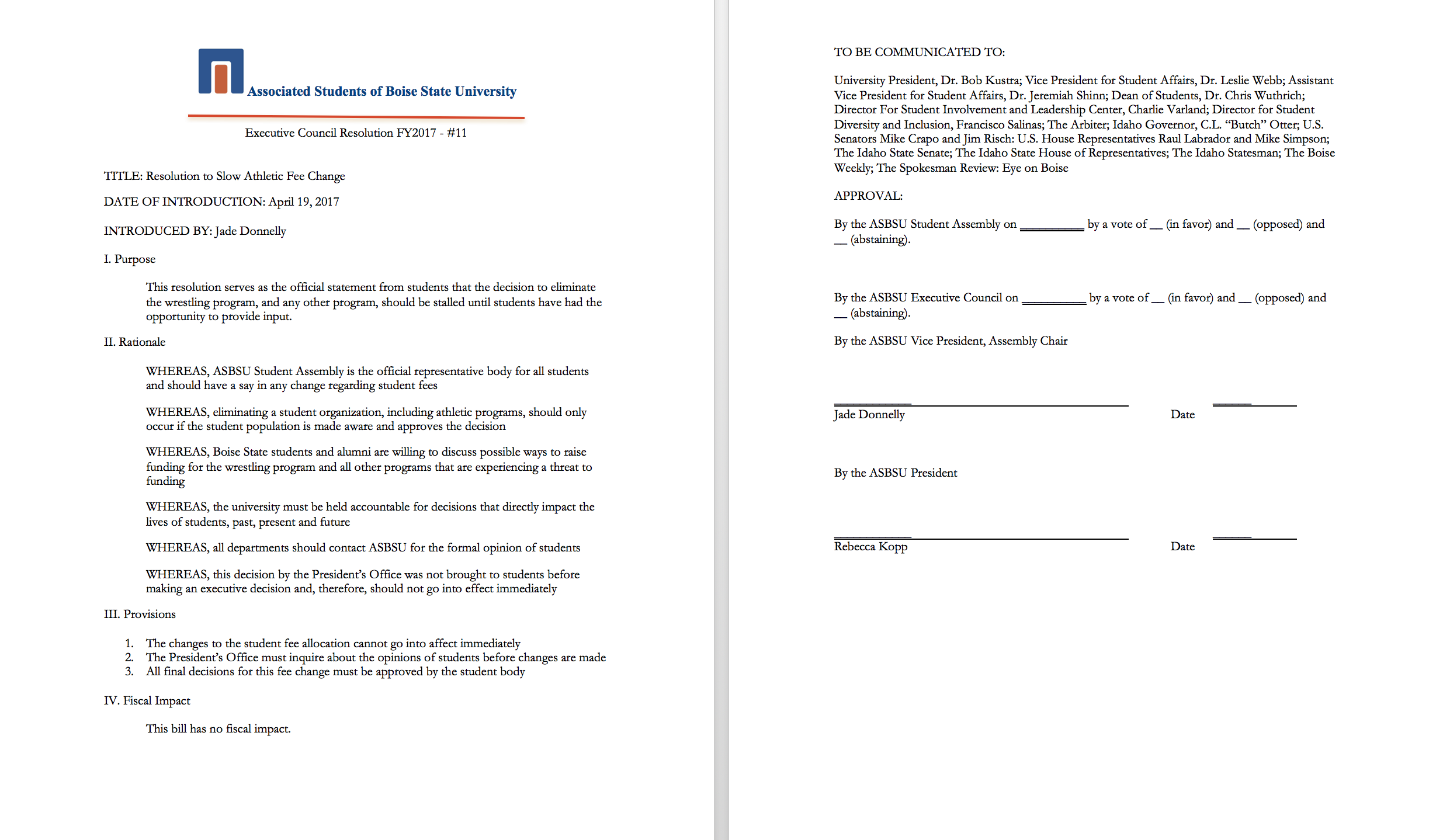 Another ASBSU meeting is scheduled for this Friday, April 20, this time with the Executive Council of the ASBSU. The resolution is on the agenda, including clearing up any confusion regarding a potential hike in student fees.

In the fall of 2016, Leslie Webb, the Vice President for Student Affairs and Enrollment Management, issued a memorandum spelling out the process for making changes to either the amount of the student fees or how they are allocated. The process includes introducing any changes to a "Student Activity Fee Advisory Board" by November 30 of the previous academic year.

Additionally, the Idaho Board of Education states in their Governing Policies and Procedures that "A proposal to alter student tuition and fees shall be formalized by initial notice of the chief executive officer of the institution at least six weeks prior to the Board meeting at which a final decision is to be made."

It is unknown at this time if any hikes in student fees have been officially introduced. Flo has reached out to several Boise State University administrators regarding the subject but have not immediately heard back.

Boise State President Bob Kustra is currently in Moscow, Idaho for a Idaho Board of Education Meeting, and was not present at the ASBSU meeting yesterday, nor were any other Boise State administrators there in official capacities.

We will be sure to keep everyone updated on this matter as soon as news comes in.