State pride runs deep in the wrestling community, and it often transcends collegiate loyalties. This ensures that one of the great post-NCAA debates is always which state had the best NCAA tournament.

To make that determination, we totaled up the placement points earned from all the wrestlers from each state at the 2017 NCAA Championships, as we have for similar analyses of conference and class performances from last month's tournament in St. Louis.

You can also check out the raw data from our By-The-Numbers review of the NCAA Championships.


2017 NCAA Wrestling Championship Placement Points By State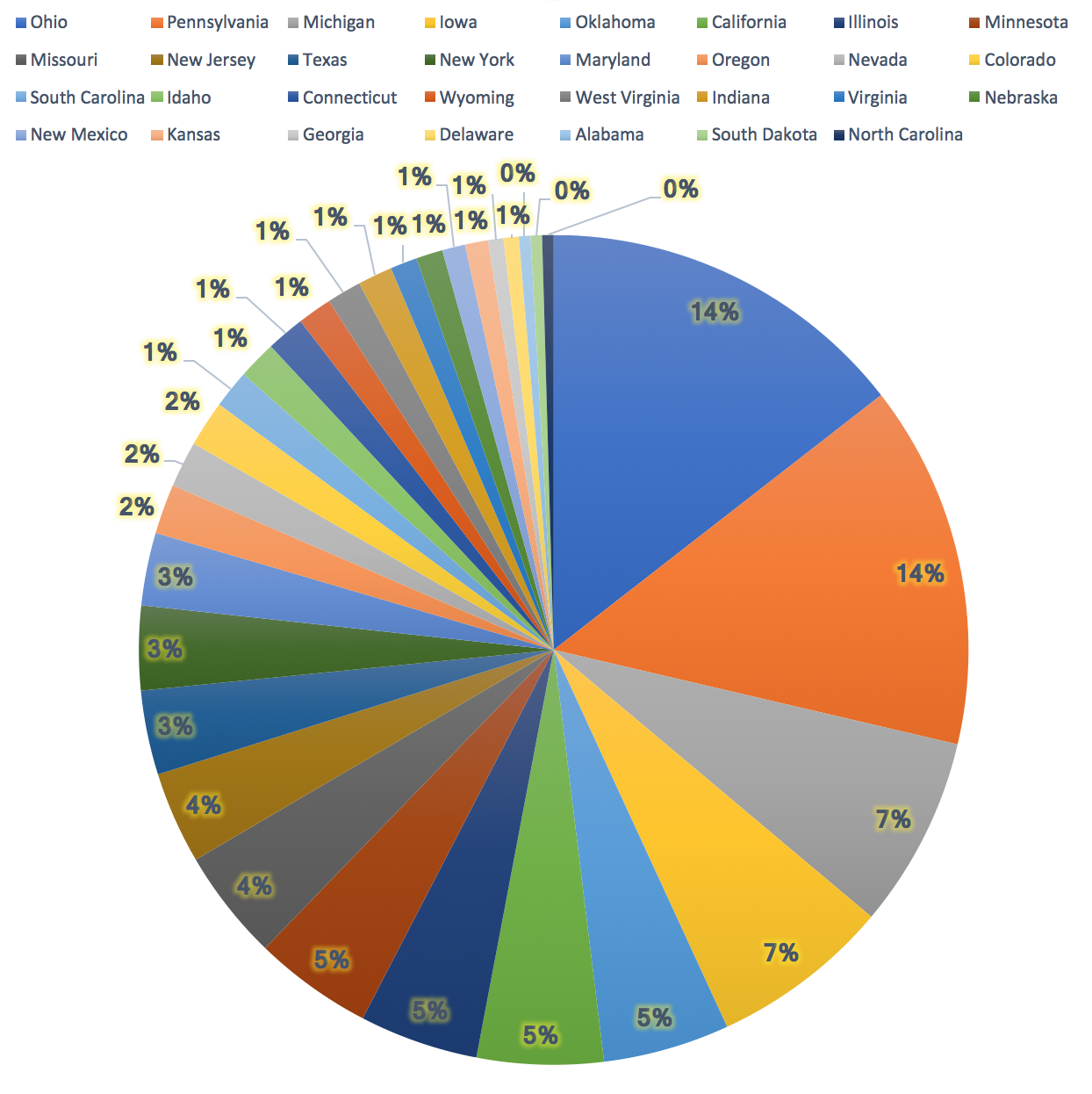 Apologies for the cluttered pie chart but we needed 31 slices to accommodate all the different states that had at least one All-American.
If you can't tell from the color coding, Ohio and Pennsylvania produced wrestlers that scored about 14 percent of all available placement points, followed by Michigan and Iowa, which nabbed about 7 percent each. The next group of states tapered off gradually until you get to our the final group, consisting of Alabama, North Carolina, and South Dakota, which tied with one eighth-place finisher apiece.
Below is the complete breakdown and hopefully a clearer picture of all the placement points earned by each state at the 2017 NCAA tournament.

2017 NCAA Wrestling Championship Placement Points By State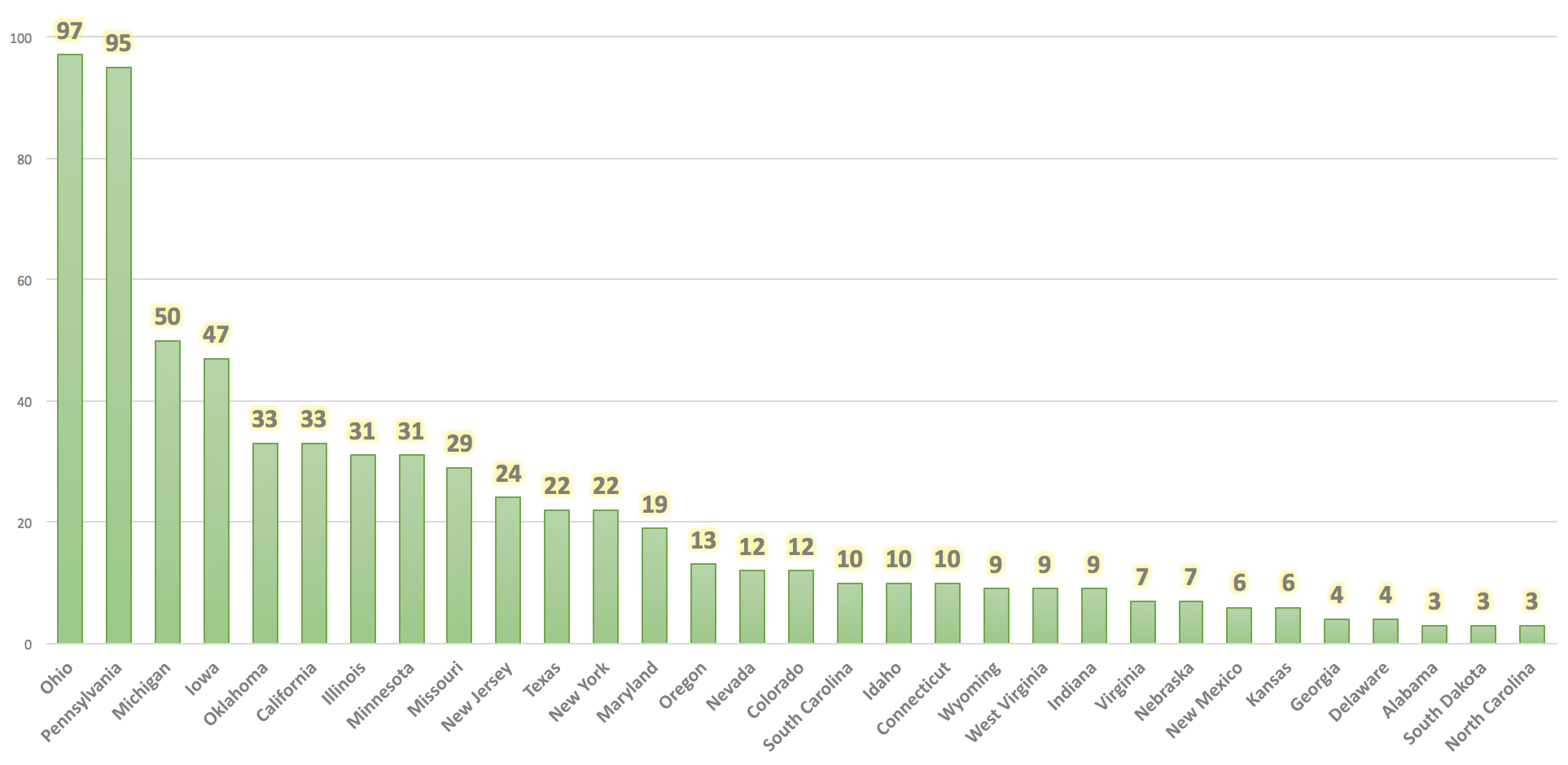 Ohio narrowly edged out Pennsylvania for the top spot. Ohio also had more total All-Americans than Pennsylvania, the first time that has happened since 2008. Those two states have long been known as wrestling hotbeds, so it is no surprise that they finished at the top of the heap in 2017.
Two more Midwestern powerhouses in the sport vied for third place, as Michigan barely overtook Iowa.
The next grouping is a more diverse bunch of states, from the large and western California, tied with Oklahoma at No. 6, to the small and eastern Maryland, which comes in at No. 13. From there, the number of All-Americans per state dwindles as does the height of the podium for the wrestlers.
When ultimately deciding which state had the best tournament, we should consider the each one's performance in per capita terms. This is usually a very non-controversial approach to comparing populations. If, for whatever reason, you object to such a calculation, feel free to stop reading and forever consider the state of Ohio the champions of 2017.
For those who are interesting in such a comparison, a chart of the placement points by state per million inhabitants is below.

2017 NCAA Wrestling Championship Per Capita Placement Points By State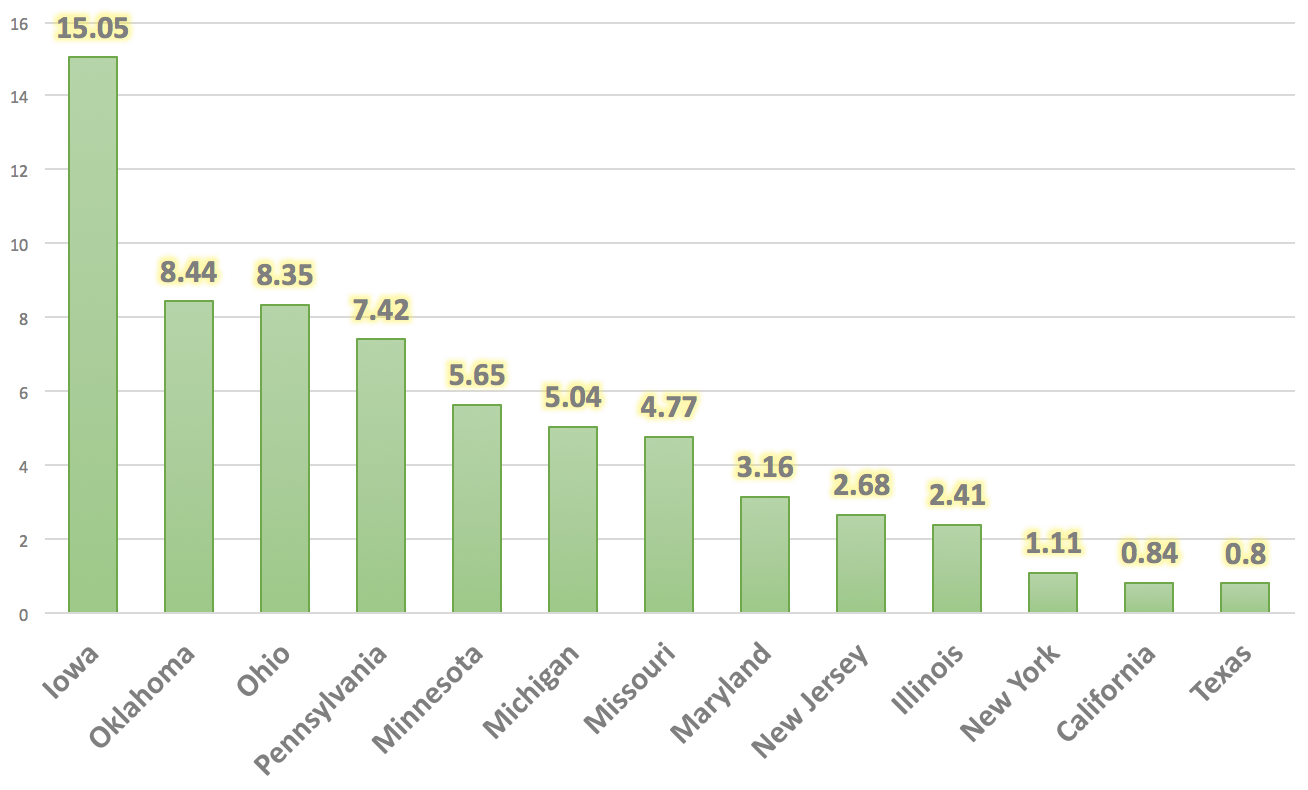 Iowa, one of the historical centers of American wrestling, comes out far ahead of the pack by our final measure.
Iowa managed five All-Americans from a population of just over 3 million. Oklahoma, also with five All-Americans, has a population of just under 4 million, earning second place. Ohio and Pennsylvania both produced an host of incredible NCAA wrestlers this year but did so from populations of over 11 million, and it was not enough to overtake Iowa, which is our 2017 "state" champ.
There are, of course, alternative methods we could have used to analyze the results. Restricting the population to college-aged males may have given us an arguably more accurate measurement but only marginally so. And in that case, the door opens for any number of further qualifications, such as only counting the number of students enrolled in high schools that offer the sport of wrestling and so on and so forth. Here, every state is being measured with all its inherent advantages and disadvantages. It may not be perfect, but no analysis is.
Another point of contention is in determining which state a wrestler should be classified. For instance, if a wrestler moves do a different state while in high school, does the new or old state get to claim that wrestler? In those cases, we left it up to the individual and used whatever hometown he listed in his school bio, only making the rare adjustment after editorial review. Again, it is not perfect, but no solution will leave everyone satisfied.
And while it would be nice to close the case on the subject, we are under no illusion that we have done anything more than sparked, or perhaps reignited, the debate. All challenges to the methodology and findings are welcome and encouraged.
In the meantime, let's enjoy this classic matchup of Iowa versus Oklahoma from Cory Clark and Kaid Brock in this year's dual meet between the Cowboys and Hawkeyes in Stillwater, OK.