NCAA Championship Sites Announced For 2019-22
NCAA Championship Sites Announced For 2019-22
The NCAA wrestling championship sites have been announced for 2019, 2020, 2021 and 2022
Apr 18, 2017
by Wrestling Nomad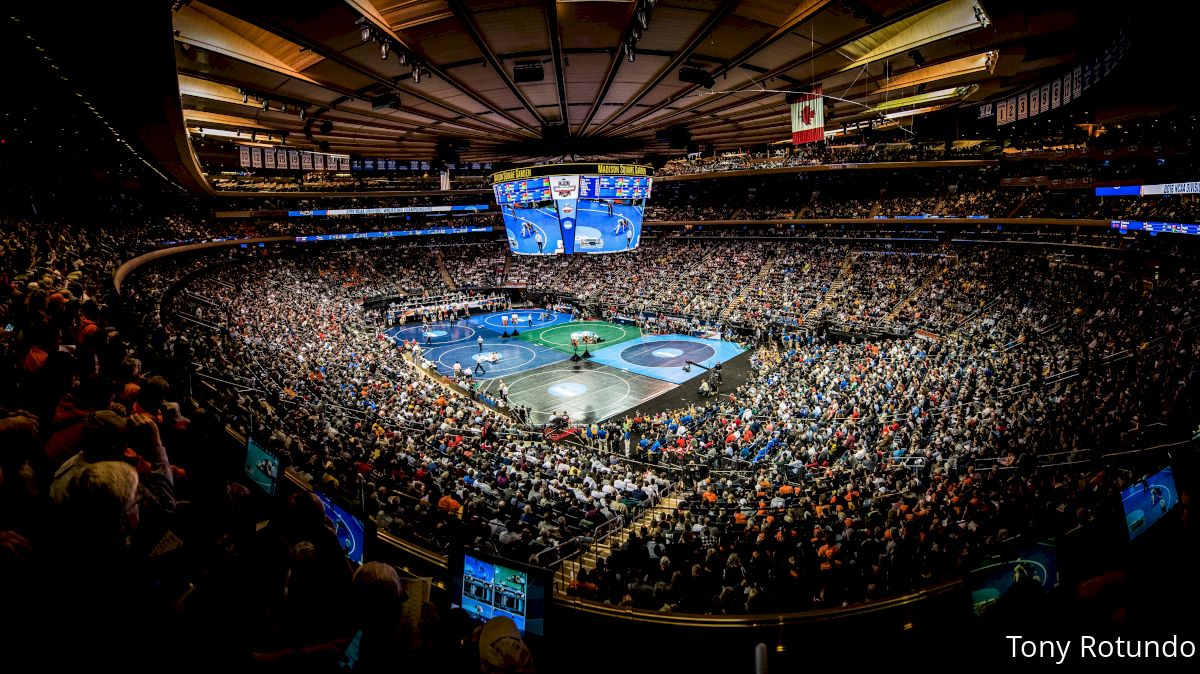 The biggest spectacle in our sport has their home for the next few years. The NCAA championship sites have been announced through the 2021-22 season.
This date had been circled on the calendar, not just for wrestling fans, but throughout the collegiate sports landscape. Here is
our article
from the last time they were chosen, back in December of 2013. As a reminder, next year's tournament will be at Quicken Loans Arena in Cleveland.
We will be making our annual pilgrimage to Pittsburgh in 2019, one of the toughest areas for high school wrestling in the country. Pittsburgh last hosted the NCAA championships in 1957.
The next year, fans will be heading to the land of 10,000 lakes for the 2020 national championships at U.S. Bank Stadium in Minneapolis. It is the home of the Minnesota Vikings and just opened this past September. The only other time Minnesota has hosted the tournament was in 1996.
In 2021, a familiar face pops up at the Scottrade Center in St. Louis, which has hosted the event eight times since 2000, including this year.
Finally, 2022 will be hosted in an arena that hasn't even opened yet. Little Caesars Arena in Detroit, the future home of the Pistons and Red Wings, is slated to open this fall. NCAAs was also held in the Pistons arena back in 2006.
Future NCAA Wrestling Championship Sites
Division I
March 21-23, 2019 National Championships
PPG Paints Arena - Pittsburgh, PA - Pittsburgh and SportsPITTSBURGH
March 19-21, 2020 National Championships
U.S. Bank Stadium - Minneapolis, MN - Minnesota and Meet Minneapolis
March 18-20, 2021 National Championships
Scottrade Center - St. Louis, MO - Missouri and St. Louis Sports Commission
March 17-19, 2022 National Championships
Little Caesars Arena - Detroit, MI - Michigan and Detroit Sports Commission
Division II
March 8-9, 2019 Wrestling Championships
The Wolstein Center - Cleveland, OH - Ashland and Greater Cleveland Sports Commission
March 13-14, 2020 Wrestling Championships
Denny Sanford PREMIER Center - Sioux Falls, SD - Sioux Falls and Sioux Falls Sports Authority
March 8-13, 2021 Wrestling Championships
Birmingham CrossPlex - Birmingham, AL - Montevallo and City of Birmingham
March 11-12, 2022 Wrestling Championships
Chaifetz Arena - St. Louis, MO - Maryville (Missouri) and St. Louis Sports Commission
Division III
March 8-9, 2019 Wrestling Championships
Berglund Center - Roanoke, VA - Ferrum
March 13-14, 2020 Wrestling Championships
U.S. Cellular Center - Cedar Rapids, IA - IIAC and Go Cedar Rapids
March 12-13, 2021 Wrestling Championships
LaCrosse Center - LaCrosse, WI - Wisconsin-La Crosse
March 11-12, 2022 Wrestling Championships
U.S. Cellular Center - Cedar Rapids, IA - IIAC and Go Cedar Rapids