Wrestling fans have high expectations for their teams heading into the NCAA tournament each year. How each team's wrestlers are seeded plays a major role in setting those lofty hopes.

For this series, we're analyzing the team performances of all the top contenders at the 2017 tournament to see who stepped up last month in St. Louis and who came up short.


Now Up: The Arizona State Sun Devils
We tried to keep things as simple as possible. We ignored bonus points (but if an analysis of bonus points is what you're after, have no fear,
we got you covered
!).
We also simplified the advancement points for ease of calculation. The actual advancement points may vary ever so slightly from the number we used depending on the round in which the wrestler entered the consolation bracket. We also ignored any projected advancement points for unseeded wrestlers, and, in order to balance that out, we also ignored any actual points from wrestlers that didn't advance passed the round of 24.
Also, if analysis isn't you're thing and you just want to stare at the team results,
you can do that too
!
But for those interested in the stats, here is a chart showing all of Arizona State's qualifiers, where they were seeded, and what their results were at the 2017 NCAA tournament.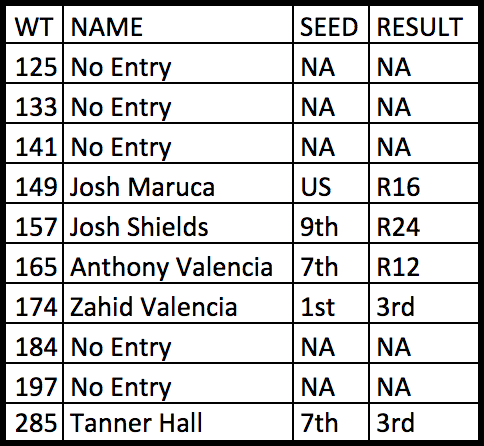 Arizona State rolled up to the Scottrade Center with a very young and modest sized squad. There were high expectations for their five qualifiers, however, especially from Zahid Valencia, the undefeated number one seed at 174 pounds.
Those five were still enough for the Sun Devils to project out as the tenth best team at the tournament. There was little margin for error, though, as it gets harder to outperform expectations when you start with so many high seeds.
The Arizona State coaching staff did not do their team any favors either, as they were docked three team points for failing to control their coaching area. That extra mat side passion knocked the Sun Devils down from 12th to 14th place, through no fault of the wrestlers themselves.
So just how well did Arizona State do? We calculated the difference between the Sun Devils' actual (simplified) scores to their projected scores to find out.

Arizona State's Seed vs. Reality Score: -4.5
Two Sun Devils out preformed their seeds, while three others were unable to match their seeded placements. A very respectable result for four freshman and a sophomore.
No doubt the youth movement happening in Tempe has not yes reached its final stage of maturation. But what Zeke Jones and company have done in such a short time is very impressive, and a few lower than expected finishes at the NCAA Tournament should not be concerning considering the ceiling for the future is still so much higher.
So How'd They Do It?
Heavyweight Tanner Hall graduated high school in 2011 but he was able to delay his NCAA eligibility clock so that he still had sophomore status going into the 2017 tournament. That experience paid off, as the no. 7 seed was able to pull off two upsets in a row in the consolation bracket, over the no. 4 seed Jacob Kasper of Duke and no. 3 seed Ty Walz, to claim third place. The seven extra team points Hall picked up were instrumental in keeping the total team score looking as good as it did.
Also advancing further than expected in the tournament was unseeded freshman Josh Maruca, who made it to the Round of 16 in the wrestlebacks, beating the no. 2 seed Anthony Collica of Oklahoma State before getting eliminated by the no. 11 seed, Laike Gardner of Lehigh. Maruca's tournament was worth an extra point and a half for the Sun Devils.
On the flip side of the ledger, Zahid Valencia lost for the first time in his collegiate career to eventual champ, no. 5 seed Mark Hall of Penn State in the semifinals. Valencia still rallied to place third, but that drop cost his team six and a half team points.
Zahid's older brother Anthony also fell a little short of the target, getting upset by the no. 13 seed Brandon Womack of Cornell in the bloodround. Unable to advance passed the round of 12, Anthony scored four and a half fewer team points than expected.
Finally, no. 9 seed Josh Shields was bounced out of the tournament in the second round of the consolations in the wild and unpredictable 157 pound weight class. Shields lost to two unseeded but extremely talented wrestlers in BJ Clagon of Rider and Taleb Rahmani of Pittsburgh, which cost the Sun Devils two expected team points.
Conclusions
There is a reason so many students at Arizona State wear sunglasses. Yes, the actual sun in Arizona is very bright, but also metaphorically speaking, the future of the wrestling program is quite bright, nigh blindingly so.
Coach Jones will use the lessons his young team learned from the 2017 tournament and continue building the program back up to it's not too distant heights.
The five wrestlers from the 2017 NCAAs have a combined 14 more opportunities to become national champions. There is also a steady pipeline of talent coming off of redshirt and coming in as fresh recruits.
It really isn't a question of if Arizona State is going to improve on this year's tournament, but by how much.
Below is Zahid, showing off his skills in the third place bout against the formidable Michigan Wolverine, Myles Amine.
I am going to go out on a limb and predict that Zahid is going to be pretty decent over the next few years.