Wrestling fans have high expectations for their teams heading into the NCAA tournament each year. How each team's wrestlers are seeded plays a major role in setting those lofty hopes.

For this series, we're analyzing the team performances of all the top contenders at the 2017 tournament to see who stepped up last month in St. Louis and who came up short.


Now Up: The Virginia Tech Hokies
We tried to keep things as simple as possible. We ignored bonus points (but if an analysis of bonus points is what you're after, have no fear,
we got you covered
!).
We also simplified the advancement points for ease of calculation. The actual advancement points may vary ever so slightly from the number we used depending on the round in which the wrestler entered the consolation bracket. We also ignored any projected advancement points for unseeded wrestlers, and, in order to balance that out, we also ignored any actual points from wrestlers that didn't advance passed the round of 24.
Also, if analysis isn't you're thing and you just want to stare at the team results,
you can do that too
!
But for those interested in the stats, here is a chart showing all of Virginia Tech's qualifiers, where they were seeded, and what their results were at the 2017 NCAA tournament.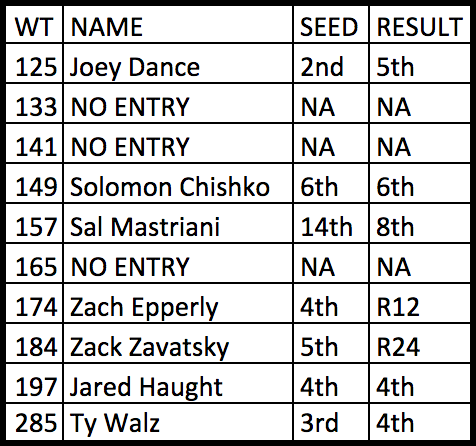 Virginia Tech arrived in St. Louis as one of the favorites to finish in the top four and earn a team trophy, thanks to the six projected All-Americans in its lineup.
The Hokies needed to be at the top of their game if they were going achieve those goals, as they had little margin for error after only qualifying seven of 10 starters. Unfortunately for the team from Blacksburg, VA, it failed to wrestle up to its seed more often than not and wound up in sixth place when all was said and done.
So just how well did Virginia Tech do? We calculated the difference between the Hokies' actual (simplified) scores to their projected scores to find out.
Virginia Tech's Seed vs. Reality Score: -23.5
Ouch. The Hokies had the largest drop-off from their expected score than any other contender that we analyzed.
Losing head coach Kevin Dresser to the Iowa State Cyclones weeks before the tournament couldn't have helped. New VT head coach Tony Robie did not have his interim label removed until after the NCAAs, so it's possible the uncertain coaching situation may have negatively affected the team.
While we don't know for sure exactly how the coaching maneuvers impacted the athletes, we do know that four Hokies finished lower than their projected seeds. Virginia Tech did have one wrestler outperform his seed and unexpectedly -- at least in the eyes of the seeding committee -- make the podium, while two others wrestled up to their seeds.
So How'd They Do It?
Only half of Virginia Tech's vaunted murderers' row of upper weights made the podium. Tech's starters from 174 to 285 all entered the tournament as five seeds or higher, but only one of them, 197-pounder Jared Haught, placed as projected.
Events stuck closely to the script at 197. Haught, the fourth seed, beat the No. 5 and 6 seeds on his way to finishing fourth, losing only to the No. 1 seed in the semifinals and to the No. 3 seed in the third-place match.
Senior Ty Walz only missed his mark by one place, getting upset by Arizona State's No. 7 seed, Tanner Hall, in the third-place bout and dropping just one projected team point in the process.
Zach Epperly and Zack Zavatsky, however, had much rougher tournaments.
A junior, Epperly entered as the No. 4 seed at 174 pounds. He earned All-American honors in his previous two trips to the NCAAs, a seventh-place finish as a freshman and a third-place finish last year as a sophomore. This year, Epperly was upset in the quarterfinals by the No. 5 seed and eventual champ, Penn State's Mark Hall. Epperly was then eliminated in his next match in the bloodround by tournament Cinderella and unseeded senior Jake Residori of SIU-Edwardsville.
Zavatsky fared even worse at 184 pounds. Seeded fourth for the second straight year, the Hokies junior also failed to place for the second year in a row. Zavatsky was taken out in the second round by the No. 12 seed and eventual seventh-place finisher, Drew Foster of Northern Iowa. Zavatsky was then pinned in the second round of the consolations by Garnder-Webb's Hunter Gamble, ending his tournament.
The two Zach/ks combined for 20.5 lost team points.
Senior Joey Dance also stumbled. Dance was an All-American his true freshman year but then fell short of All-American honors on his next two trips to the NCAAs. Dance never took a redshirt and finished his career an All-American this year but only after being upset in the quarterfinals by the No. 10 seed, Jack Mueller of Virginia. Dance ended up fifth, three places below his seed and scoring six fewer team points than expected.
The positive results for the Hokies in St. Louis were claimed by Haught and sixth-place finisher Solomon Chishko, who both wrestled to seed, and most of all by eighth-place finisher Sal Mastriani, who outplaced his seed by six spots on his way to a podium step.

Conclusions
Virginia Tech graduates the senior bookends from its lineup, Dance and Walz, who finished their outstanding careers as four-time NCAA qualifiers. Though the two grads may not have wrapped things up quite as they would have liked, they still have a great deal to be proud of from their time in orange and maroon singlets.
And while 2017 may leave a bitter taste in the mouths of the Hokies faithful, the cupboard is far from bare for Robie and his new staff (which now includes, by the way, two former Olympians in Frank Molinaro and Jared Frayer).
All-American 160-pounder David McFadden returns after taking a redshirt season with three years of eligibility remaining. Chishko, Epperly, Zavatsky, and Haught will all be back in Blacksburg for 2018 as well.
This year's less-than-stellar outing in St. Louis should not damper the mood in Southwest Virginia too much, as the Hokies will be in prime position to once again contend for a team trophy and an ACC Championship. If anything, expect next year's seasoned squad to be that much hungrier for trophies when March rolls back around.
Now Let's Watch A Video
In one of the more satisfying matches of the tournament for Virginia Tech fans, Jared Haught slowed down the Penn State juggernaut just a touch by soundly defeating No. 5 seed Matt McCutcheon in the quarterfinals, which you can watch in the video below.