Wrestling fans have high expectations for their teams heading into the NCAA tournament each year. How each team's wrestlers are seeded plays a major role in setting those lofty hopes.
For this series, we're analyzing the team performances of all the top contenders at the 2017 tournament to see who stepped up last month in St. Louis and who came up short.

Now Up: The Ohio State Buckeyes
We tried to keep things as simple as possible. We ignored bonus points (but if an analysis of bonus points is what you're after, have no fear,
we got you covered
!). We also simplified the advancement points for ease of calculation. The actual advancement points may vary ever so slightly from the number we used depending on the round in which the wrestler entered the consolation bracket. We also ignored any projected advancement points for unseeded wrestlers, and, in order to balance that out, we also ignored any actual points form wrestlers that didn't advance passed the round of 24.
Also, if analysis isn't you're thing and you just want to stare at the team results,
you can do that too
!
But for those interested in the stats, here is a chart showing all of Ohio State's qualifiers, where they were seeded, and what their results were at the 2017 NCAA Tournament.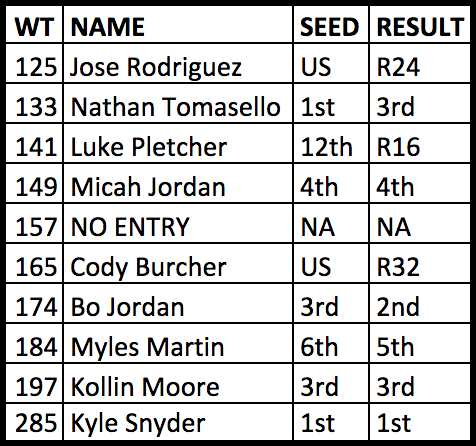 The Buckeyes brought as much firepower to the NCAAs as anyone, including three national champions. They were projected to be in the team title hunt, and for the most part, held up their end of the bargain. No one finished more than a spot or two off his expected place.
Unfortunately for Buckeyes faithful, their team couldn't match Penn State's otherworldly five champions, nor the Nittany Lions' ridiculous bonus-point total, and Ohio State ended up hoisting the second-place team trophy.
While second place may feel bittersweet, especially following OSU's first-place finish at the Big Ten Tournament, coach Tom Ryan, his six All-Americans, and every other Buckeye still has plenty to be proud of this season.
So just how well did Ohio State do? We calculated the difference between the the Buckeyes' actual (simplified) scores to their projected scores to find out.
Ohio State's Seed vs. Reality Score: -3.5
Only one of Ohio State's qualifiers missed the mark, but the gap in points between first and third is the larger than among any other grouping of three consecutive places. Thus, the Buckeyes are still in the red, despite having two wrestlers place higher than their seeds and everyone else coming in as expected.

So How'd They Do It?
Given the choice, it's hard to imagine anyone opting out of being the No. 1 seed. However, when you're already king of the mountain, there's no where to go but downhill. Big Ten champ Nathan Tomasello earned the top seed but was upset in the semifinals by conference rival Cory Clark of Iowa. Nato valiantly battled back for third place, but that narrow defeat in the semis ensured the negative 6.5-point swing.
Nato's minor slipup was countered by 174-pound runner-up Bo Jordan, who avenged his Southern Scuffle loss to Cornell's Brian Realbuto in the semis to make the finals and finish a spot higher than his seed. Myles Martin also helped reduce the point deficit at 184 pounds. Though he was upset in the round of 16 by Illinois' Emery Parker, Martin fought all the way back from the consolation second round to the fifth-place match, where he upset the No. 4 seed, Oklahoma State's Nolan Boyd.
Ohio State's five other qualifiers all finished at their projected seeds (or lack thereof, in the case of Cody Burcher and Jose Rodriguez). That includes the impressive top four finishes from Kyle Snyder, Kollin Moore, and Micah Jordan.
And credit to the Buckeyes for maintaining their composure in the wrestle backs. It's far too easy to lose track of your goals after you suffer the first defeat of the tournament, permanently ending any title hopes for the year right then and there. But the Buckeyes stayed the course and put on one of the best consolation performances of the tournament.
Conclusions
Every fan of a Division I team is going to get a little greedy as March rolls around, but when everyone comes in more or less on target like the 2017 Buckeyes did, it's hard to come away feeling too unsatisfied.
The future is also looking bright. Ohio State returns every starter next year, including its three NCAA champions: Snyder, Martin, and Tomasello. Ryan and his coaching staff have done an outstanding job keeping the wrestling room stocked with young talent and then getting the most out of it at the NCAA tournament.
However, that still might not be enough to unseat the reigning champs next year. If the Buckeyes want to knock Cael Sanderson and company off their championship perch, they'll have to not just meet their lofty expectations but also exceed them. It's a tall but not impossible order, as the Nittany Lions themselves proved in St. Louis.
Check out Bo Jordan upend Briant Realbuto in a dramatic third-period, come-from-behind finish in the video below. And though they don't make it into frame, this is the match that generated the ecstatic shot of Tervel Dlagnev and Ryan captured above in the lead photo of this article.