Legendary Rider Head Coach Gary Taylor Retires After 39 Years
Legendary Rider Head Coach Gary Taylor Retires After 39 Years
Legendary Rider Wrestling Head Coach Gary Taylor Retires After 39 Years.
Mar 29, 2017
by Andrew Spey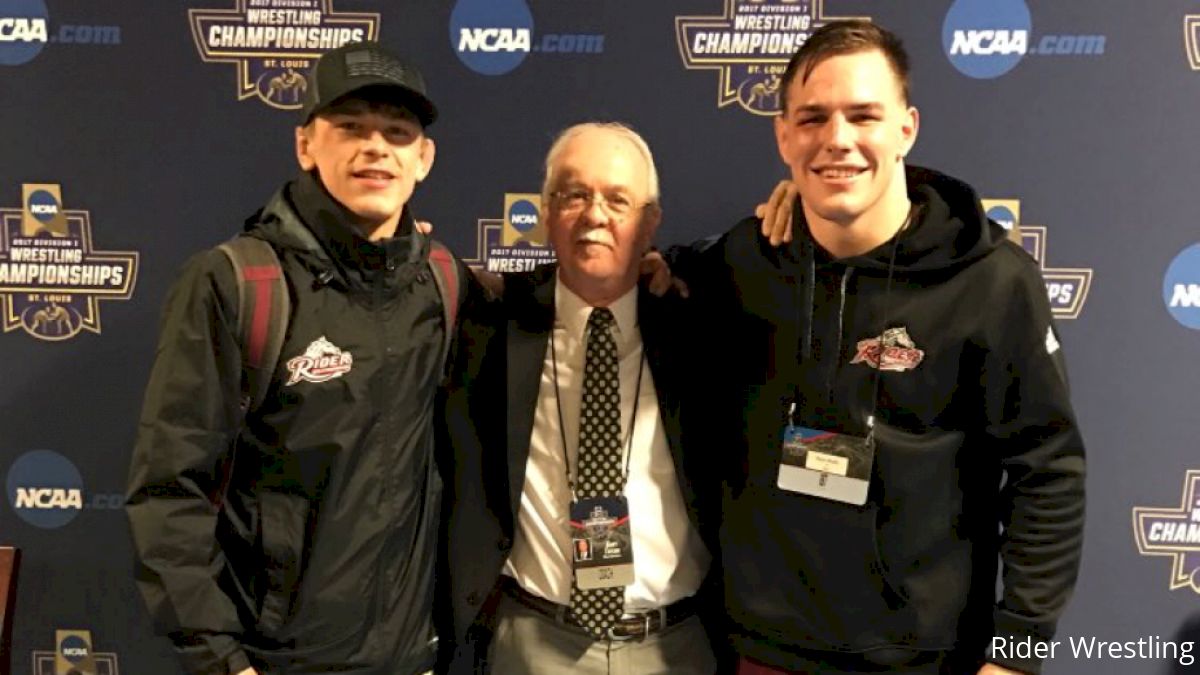 Finding a coach who can navigate the treacherous NCAA landscape for decades is a rare occurrence for any school. But for Rider University's wrestling team, the hiring of Gary Taylor nearly 40 years ago proved to be a program-defining moment.
In the 39 seasons since he picked up the reigns in Lawrenceville, New Jersey, Taylor vaulted the Broncs onto the national stage behind one of Division I's longest-tenured and all-time winningest coaching careers.
Following the 2017 NCAA Championships, Taylor's celebrated run at Rider officially came to a close with his retirement but not before the Broncs further added to his legacy.
CREATING A LEGEND
The Rider wrestling program had only been in existence for nine years on the varsity level before Taylor took the job, succeeding National Wrestling Hall of Famer and Bronc wrestling program founder Barry Burtnett.
It did not take Taylor long to elevate the program and earn a share of the national spotlight, as he shepherded Lou DiStafano to a semifinal appearance and third-place finish at the 1980 NCAA Championships at 190 pounds, a mere two years after taking charge in 1978.
Over nearly four decades at the helm, Taylor ushered forth an additional 14 individual All-Americans. This gave the wrestling program an astounding 39 percent of all the athletes ever to earn such honors at Rider, regardless of the sport. That percentage increases to a staggering 49 percent when only considering the Gary Taylor era.
The collegiate environment has changed in many ways since Taylor began his coaching career. The most obvious change, and most lamentable in Taylor's eyes, is the drastic reduction in the number of NCAA Division I wrestling programs.
As the playing field has shrunk, it has only gotten more competitive, yet somehow Taylor has managed to thrive, keeping Rider, a small university with just 4,500 undergraduates and a modest endowment, relevant at the NCAAs.
A brief recap of the numbers Taylor has amassed over his 39 years gives proof to his sustained success.
15 Individual All-Americans earning 17 total honors
442 Dual Meet Victories (third-highest total in DI history)
173 NCAA Tournament National Qualifiers (over four per year)
110 Individual Conference Champions (14 in four years in the EWL)
14 Team Conference Championships (including the 2016 EWL team title)
THE MOST VALUABLE TROPHY
But to Taylor, the the accolades and gaudy stats are secondary to his role as educator and mentor. While Taylor stressed that, "the main goal is to produce All-Americans," and no one ever questioned his competitiveness, it's the relationships he builds and maintains with the hundreds of student-athletes that really fires him up.
Said Taylor:
Trophies, I don't get too excited about any of that, but those young people are trophies. When you see how they've developed and matured, that means a lot to me.
A prime example of one of those relationships can be found with Broncs senior Ryan Wolfe. A fifth-year senior, Wolfe won his last match of the season, finishing seventh at this year's NCAA tournament at 197 pounds, which also made him the last Rider wrestler Taylor would corner as head coach.
Regarding his coach, Wolfe is effusive with praise, "It was an honor wrestling for Coach Taylor and going out on the same year as him. He helped me focus with a clear mind and definitely was a big part of my wrestling career. Taylor and the program mean a whole lot to me. They've done everything for me, made me an All-American, took me out of the small state of Delaware, and helped me get to the next level."
PASSING THE TORCH
Filling Taylor's shoes would be a tall order for anyone. Luckily for Rider, its new head coach, John Hangey, has the perfect pedigree.
A former Taylor pupil, Hangey placed fourth at the 1993 NCAA tournament at 190 pounds.
Hangey rejoined Taylor and the Broncs in the year 2000, first as a full-time assistant coach and later as the associate head coach. With the conclusion of the season, Hangey now completes the circle, going from Taylor's student to Taylor's peer to the third head coach in Rider program history.
Rarely does a program so smoothly transfer from one coach to another, but leaving the program in the best possible shape and in the most capable hands possible was a priority for Taylor.
Recent results speak volumes to the commitment Taylor, Hangey, and the rest of the staff have made to fulfill that vow. In the past three NCAA tournaments Rider scored at least 15 points and finished in the top 30 of the team race. The program had never before accomplished either of those feats twice in a row, let alone thrice.
For a historical perspective, the graph below charts the NCAA point total of each of Taylor's 39 seasons at Rider. At no point have the Broncs ever been so consistently productive at the national championship as right now.
source: NCAA.org
BUILDING A NEW LEGACY
Regarding the Broncs' success, past and present, Hangey remarked, "How much of that is due to Taylor? Every bit of it." And on whether he feels any pressure to continue that success, Hangey added, "I know that Taylor wants me to take this program further. His expectations are there. The biggest thing for me now is to not let Coach Taylor down."
Hangey will have plenty of firepower returning next year to make that happen. All-Americans BJ Clagon (fifth in 2015) and Chad Walsh (fifth in 2016, seventh in 2017) return for their senior campaigns in 2018. Walsh has an opportunity to become the first three-time All-American in school history.
Previous national qualifiers Mauro Correnti and Michale Fagg-Daves also return, as do all but two graduating seniors from a very young roster.
The Broncs will also welcome a new assistant head coach to the team next year, Dustin Kilgore, the former Kent State All-American and 2011 NCAA 197-pound champion. Besides earning an NCAA title, Kilgore is a two-time Pan-American champion in freestyle and competes around the globe as one of the United States' top 97-kilogram wrestlers.
When asked how Rider competes against the larger institutions and traditional powerhouses, Taylor stresses the team's "David versus Goliath" mentality. With Kilgore in the practice room, the Broncs can even the playing field with a Goliath of their own.
AN ESTABLISHMENT ON CAMPUS
Perhaps no one has been able to follow Taylor's career closer than Rider Athletic Director Don Harnum. Harnum has been on campus since 1989, first as the head coach of the Rider basketball team and later becoming athletic director in 2006.
Although basketball and wrestling do not often mix, Harnum's background growing up in Central Pennsylvania allowed him to fully appreciate how vital a successful wrestling program can be to a community.
"The people in the sport are very passionate," Harnum said. "We're fortunate that we're in an area where wrestling is big. Wrestling has more visibility and that absolutely helps us."
Harnum added that the sport of wrestling has a more supportive network compared to other varsity programs under his supervision. Harnum cited Penn State bringing its No. 1-ranked team to Lawrenceville for a dual meet during the 2015-16 season, the first time a top-ranked team in any sport made a visiting trip to campus.
Said Harnum,

We've hosted Big Ten and BCS schools, you don't get that in any other sport. We can't do that in basketball.
When asked what it means to the university to have a coach like Taylor manning the wrestling program, Harnum replied, "Gary has been a really good voice of reason in the department, and a role model for the younger guys. When Gary speaks, it carries a lot of weight. He's an example for a lot of Rider coaches for what you can do with hard work and a plan."
A STORYBOOK ENDING TO A LEGENDARY CAREER
There are other schools with similarly limited resources that have racked up a longer list of All-Americans and have also stayed competitive at the national level, but a vanishingly few number of schools can boast a head coach who has done more with less for longer than Taylor.
Taylor speaks of his decades at Rider with a measured equanimity. Though never boastful, Taylor is proud of what he, his coaches, and his wrestlers have accomplished.
You can hear Taylor's thoughtful reflection on his career in the video below, when we caught up with him mere minutes after it officially ended at the NCAAs.
For all of Taylor's accomplishments, the coach emeritus never lost sight of what matters most.
As Hangey puts it, "Everything he's done, he's done for the right reasons. It would be hard to write a better storybook ending, and he couldn't deserve it more."
So ends the storybook career, after 39 years, a spreadsheet full of records, and countless lives changed for the better. To sum up how satisfying those years have been, Taylor mused, "Not many people get to do what they want to do their whole life."