Updated Hodge Rankings Entering The NCAA Finals
Updated Hodge Rankings Entering The NCAA Finals
One last look at the race for the Hodge trophy before the 2017 NCAA wrestling finals
Mar 18, 2017
by Wrestling Nomad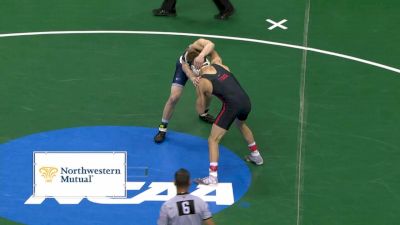 Unlock this video, live events, and more with a subscription!
Get Started
Already a subscriber? Log In

This season has given us one of the most interesting Hodge Trophy races ever. After last night's
semifinals
, just seven wrestlers remain undefeated and in the running for wrestling's version of the Heisman.
We wanted to give one final Hodge rankings update before this evening's finals in St. Louis. Below are the criteria for the Hodge Trophy.
Hodge Criteria

A wrestlers record
Number of pins
Dominance on the mat
Past credentials
Quality of competition
Sportsmanship/Citizenship
Heart
The rankings below are my personal opinion based on my interpretation of the Hodge criteria, specifically the first five, as sportsmanship, citizenship, and heart are tough to measure. I use NCAA
dominance score
for criteria 3, and wins over this year's All Americans for elite wins (a proxy of criteria 5). I also do not have an official Hodge vote.
7. Dean Heil, Oklahoma State (141)
Record:
31-0
Bonus Point Wins:
2 falls, 4 techs, 7 majors
Bonus Point Percentage:
42%
Elite Wins:
George DiCamillo (3-1), Jaydin Eierman (8-6, 6-5), Bryce Meredith (7-5, 10-7), Tommy Thorn (2-1)
Commentary:
The defending 141 pound champ needs a lot of help to keep the Hodge in Stillwater. Alex Dieringer was the first Cowboy to win the award when he closed out his career with it last year. Heil is the epitome of "
just win
," with the fewest falls and lowest bonus rate of anyone left unbeaten.
6. J'den Cox, Missouri (197)

Record
: 27-0
Bonus Point Wins
: 6 falls, 6 techs, 7 majors
Bonus Point Percentage
: 70.4%
Elite Wins
: Brett Pfarr (6-4), Kollin Moore (6-4), Jared Haught (2-0), Ryan Wolfe (10-1), Kevin Beazley (5-0, 8-2)
Commentary
: Unfortunately for Cox, he does not get a boost for being an Olympic bronze medalist. Even with a third NCAA title, he's a long shot to be the first 197 to win the Hodge since Emmett Wilson in 2004. He increased his bonus rate at NCAAs and has wins over four All Americans.
5. Isaiah Martinez, Illinois (165)

Record
: 31-0
Bonus Point Wins
: 6 falls, 10 techs, 6 majors
Bonus Point Percentage
: 71%
Elite Wins
: Logan Massa (3-1, 10-4), Vincenzo Joseph (5-2, 8-5), Chad Walsh (10-6), Daniel Lewis (7-4), Isaac Jordan (2-1), Chandler Rogers (10-5)
Commentary
: For the first 17 years of the award's existence, no 165 won the Hodge. Since, they've won five of the last six. I'm not entirely sure Martinez deserves it this year based on his number of pins, but he does have a win over every other All American except for Brandon Womack. He should start next year as the overwhelming favorite to win as he tries to become the fifth four-time NCAA champ of all time.
4. Kyle Snyder, Ohio State (285)
Record
: 16-0
Bonus Point Wins:
4 falls, 5 techs, 4 majors
Bonus Point Percentage:
81%
Elite Wins:
Connor Medbery (8-5), Nick Nevills (19-9), Tanner Hall (20-8), Michael Kroells (14-7, 13-7), Jacob Kasper (19-6)
Commentary:
Snyder's bonus rate again drops. No one questions Snyder's the best guy at his own weight. But his freestyle credentials not only don't help him, they likely hurt him due to a lack of matches. The youngest gold medalist in US history seemed to have the biggest gap between him and the field, but is unlikely to win the Hodge unless he is the only one to finish the year undefeated.
3. Jason Nolf, Penn State (157)

Record
: 26-0
Bonus Point Wins
: 14 falls, 8 techs, 2 major
Bonus Point Percentage
: 92.3%
Elite Wins
: Michael Kemerer (9-4, 8-2), Tyler Berger (15-7, 13-5), Joe Smith (24-9), Paul Fox (Fall)
Commentary
: The closest match Nolf has had this year is a five-point win over Michael Kemerer of Iowa in the dual. His only other decision of the year was an 8-2 win over Kemerer in the Big Ten finals, and Nolf was very close to getting a takedown at the end for the major. His bonus rate has went up during NCAAs and he has more wins over All Americans, but he has fewer falls and no titles, so he drops behind Dean and Retherford for now.
2. Zain Retherford, Penn State (149)

Record
: 26-0 (27-0 with a forfeit)
Bonus Point Wins
: 17 falls, 6 techs, 1 major
Bonus Point Percentage
: 92.3%
Elite Wins
: Micah Jordan (20-5, 16-1), Brandon Sorensen (9-8, Fall), Alex Kocer (19-2), Kenny Theobold (Fall)
Commentary
: Retherford has the highest pin rate (65.4%) of anyone left undefeated, which is the second criteria. He also has a title and the longest active
winning streak
in Division 1. But Retherford is likely hurt by his 2-1 match with Anthony Collica, who ended up not placing, as well as his overtime win over Brandon Sorensen. Retherford goes ahead of Nolf due to pins (criteria 2), dominance (5.46 to Nolf's 5.31), win streak (62) and previous title.
1. Gabe Dean, Cornell (184)

Record
: 34-0
Bonus Point Wins
: 20 falls, 4 techs, 6 majors
Bonus Point Percentage
: 88.2%
Elite Wins
: Nolan Boyd (14-6, 7-2, 9-3), Myles Martin (10-5)
Commentary
: Gabe Dean would finish with wins over just three All Americans this year should he take out Bo Nickal in the finals, as well as the most pins. Nickal may or may not be better than Dean, but he leads everyone in team points entering the finals and has looked like a man on a mission all weekend. Zain's tournament compares far more favorably to Dean's, with Dean having a 4-3 tiebreaker win over non-AA Dechow and falling below both Nolf and Retherford in bonus percentage. Last year, we saw Dieringer win the Hodge over Zain due
in large part
to his three titles. If Dean wins his third, the Hodge is almost certainly his because of that recent precedent.