Sixteen programs are converging in Lewisburg, Pennsylvania, at Bucknell's Sojka Pavillion for this weekend's 113th edition of the EIWA Championships -- college wrestling's oldest tournament. Cornell has won the conference's last 10 titles, but Lehigh will be a strong contender to reclaim the throne for a record 35th time.

Army, Navy, Princeton, Columbia, Brown, Penn, Harvard, American, Hofstra, Drexel, Binghamton, Sacred Heart, Bucknell, and Franklin & Marshall will also send a full complement of wrestlers into the fray. The tournament's first whistle is set for Friday, March 3, at 11 AM ET, with the finals scheduled for 4 PM on Saturday, March 4.

Follow all the coverage on Flo and watch it LIVE, here.


FLO RANKINGS
Only No. 8 Cornell and No. 9 Lehigh crack the Flo Top 20 Tournament Rankings.

Two-time NCAA champion Gabe Dean of Cornell leads all other EIWA grapplers as the sole No. 1-ranked individual, sitting atop the 184 division.

No weight class has more EIWA wrestlers ranked in the top 20 than 141, with five overall.

A full list of EIWA ranked wrestlers can be found below:

125: No. 3 Darian Cruz, Lehigh; No. 11 Josh Terao, American
133: No. 9 Scotty Parker, Lehigh; No. 12 Kevin Devoy, Drexel
141: No. 4 Matt Kolodzik, Princeton; No. 11 Tyler Smith, Bucknell; No. 12 Jared Prince, Navy; No. 16 Randy Cruz, Lehigh; No. 18 Logan Everett, Army
149: No. 10 Laike Gardner, Lehigh; No. 13 Matt Cimato, Drexel; No. 19 Jordan Laster, Princeton
157: No. 4 Jordan Kutler, Lehigh; No. 7 Dylan Palacio, Cornell; No. 8 Russ Parsons, Army; No. 19 Victor Lopez, Bucknell
165: No. 16 Brandon Womack, Cornell; Cole Water, Lehigh
174: No. 2 Brian Realbuto, Cornell; No. 6 Ryan Preisch, Lehigh; No. 12 Casey Kent, Penn; No. 16 Jadaen Bernstein, Navy
184: No. 1 Gabe Dean, Cornell; No. 19 Steven Schneider, Binghamton
197: No. 11 Tom Sleigh Bucknell; No. 13 Brett Harner, Princeton; No. 15 Frank Mattiace, Penn
285: No. 16 Doug Vollaro, Lehigh; No. 18 Joey Goodhart, Drexel


COACHES' POLL & RPI RANKINGS
The final pre-tournament coaches' poll and RPI rankings have been released and can be
found here
. All of the EIWA's ranked wrestlers can be found in the chart below, with the coaches poll listed first and RPI rankings second: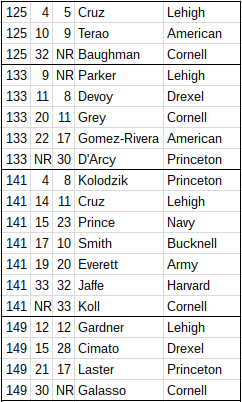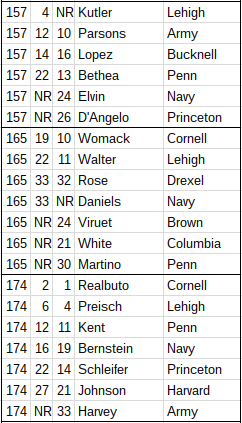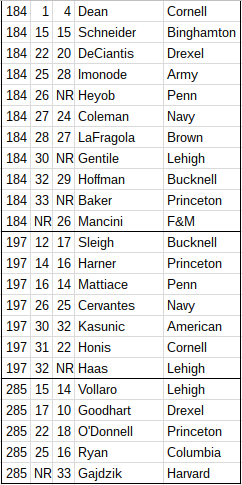 PREDICTIONS
We're living on the edge and predicting all eight place-winners before we even glance at the pre-seeds, (but then making some very slight adjustments once the pre-seeds come out). You can
check out those pre-seeds out here
. The number of NCAA AQs up for grabs is in parenthesis after each weight class.
125
(2)
Cruz, Lehigh
Terao, American
Chalifoux, Army
Baughman, Cornell
Shoap, Drexel
Gessner, Bucknell
Bulzomi, Binghamton
Keeley, Brown
All-American Darian Cruz beat Josh Terao in a dual back in January. They are the only two ranked EIWA wrestlers and should see each other in the finals, earning a trip to NCAAs in the process. Stevan Bulzomi will try to make it two trips in a row to the EIWA podium stand.
133
(4)
Parker, Lehigh
Devoy, Drexel
Gomez-Rivera, American
Grey, Cornell
D'Arcy, Princeton
Ott, Harvard
Kelly, Columbia
Gould, Bucknell
A healthy Scotty Parker is the favorite, having already beaten Kevin Devoy this year. Senior Mark Grey has had an inconsistent career but has the talent to make a deep run in his final EIWA tournament.
141
(5)
Kolodzik, Princeton
Cruz, Lehigh
Prince, Navy
Everett, Army
Smith, Bucknell
Pearce, Drexel
Jaffe, Harvard
Klee, Sacred Heart
Freshman phenom Matt Kolodzik is the favorite, having notched wins over Randy Cruz and Logan Everett this year. Don't count out Jared Prince or Tyler Smith, both of whom are capable of pulling off an upset or two and taking the conference crown in one of the EIWA's deepest weights.
149
(3)
Cimato, Drexel
Gardner, Lehigh
Laster, Princeton
Furnas, Cornell
Oliva, Penn
Ladnier, Harvard
Kropman, Binghamton
Wilding, Navy
Laike Gardner should get the No. 1 seed after scoring a pair of wins over Matt Cimato this year, but I'm picking the Drexel senior to avenge those losses in our mild upset special of the tournament.
157
(4)
Kutler, Lehigh
Palacio, Cornell
Parsons, Army
Lopez, Bucknell
Bethea, Penn
Page, American
Kosoy, Columbia
D'angelo, Princeton
There are high expectations for Lehigh's Southern Scuffle champion, Jordan Kutler, who has missed much of the year with injuries but is supposedly healthy and ready to go. Enigmatic Big Red senior and NCAA fourth-place finisher Dylan Palacio is likewise primed for a final championship run.
165
(4)
Womack, Cornell
Walter, Lehigh
White, Columbia
Mendel, Army
Daniels, Navy
Rose, Drexel
Viruet, Brown
Martino, Penn
With Palacio down to 157, Cornell's 165 slot opens up for Alabama native Brandon Womack, who should get the No. 1 seed. Lehigh freshman Cole Walter gets the nod over Mountain Hawks two-time All-American senior Mitch Minotti, who has been plagued by injuries throughout his college career.
174
(6)
Preisch, Lehigh
Realbuto, Cornell
Bernstein, Navy
Kent, Penn
Johnson, Harvard
Schleifer, Princeton
Heller, Hofstra
Harvey, Army
NCAA fourth-place finisher Casey Kent's predicted fourth-place finish at the EIWAs speaks to the tremendous depth at this weight in the conference this year. Senior Brian Realbuto should get the top seed, having pinned Ryan Preisch in a thrilling dual meet earlier this year, but I'm predicting the Mountain Hawks sophomore to get revenge in our second mild upset special.
184
(7)
Dean, Cornell
Schneider, Binghamton

​LaFragola, Brown

Imonode, Army
DeCiantis, Drexel
Coleman, Navy
Hoffman, Bucknell
Mancini, Franklin & Marshall
This weight class belongs to the Gabe Dean, who has been tearing through opponents this year with reckless abandon. The two-time NCAA champ will look lock up his fourth EIWA Tournament Championship and second Most Outstanding Wrestler award. Six other NCAA bids will be up for grabs, so expect some hotly contested consolation round bouts.
197
(4)
Sleigh, Bucknell
Harner, Princeton
Honis, Cornell
Cervantes, Navy
Caywood, Army
Haas, Lehigh
Kasunic, American
Mattiace, Penn
All-American Brett Harner was the preseason favorite, but he has stumbled this year, opening the door for sophomore Tom Sleigh to claim a championship in his home gym. Though not as top-heavy as 184, this is another deep weight class for the conference.
285
(4)
Vollaro, Lehigh
Goodhart, Drexel
O'Donnell, Princeton
Ryan, Columbia
Scott, Cornell
Gajdzik, Harvard
Smith, Army
Greene, Bucknell
I'm calling for a third mild upset special of the tournament in the final match of the weekend, when senior Doug Vollaro can avenge his two regular season losses at the hands of junior Joey Goodhart.
NCAA QUALIFIERS
Based on these infallible predictions, EIWA teams will earn the following number of qualifiers for the NCAA Tournament:
Lehigh: 8
Cornell: 6
Princeton: 5
Army: 4
Bucknell: 4
Drexel: 4
Navy: 4
American: 2
Columbia: 2
Binghamton: 1
Brown: 1
Harvard: 1
Penn: 1
The EIWA is is down to 43 spots from last year's allocation of 51 bids. The 49 remaining at-large invitations will be announced Tuesday, March 7.
FINAL TEAM STANDINGS
Also based on our predictions, the final team standings, broken down by weight class (and only considering placement points while ignoring advancement and bonus points), can be found in the chart below:
​​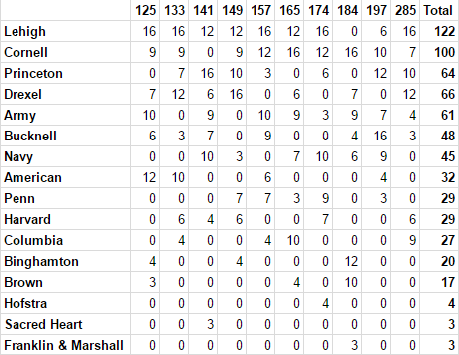 It's been over a decade in the making, but with eight potential finalists, this could be the year the Mountain Hawks knock off their bitter rivals from Ithaca.
March Matness will be in full swing all weekend. Enjoy the tournament, wrestling fans!
How To Watch
ON TV:
Now available on Roku and Apple
TVSTREAMING:
Available only on FloWrestling
JOIN NOW
.