2017 Big Ten Championships
Penn State 125-Pounder Nick Suriano Is A 'Game-Time Decision' For Big Tens
Penn State 125-Pounder Nick Suriano Is A 'Game-Time Decision' For Big Tens
Penn State's 125 Pounder Nick Suriano Is A Gametime Decision For Big 10's
Feb 27, 2017
by Christian Pyles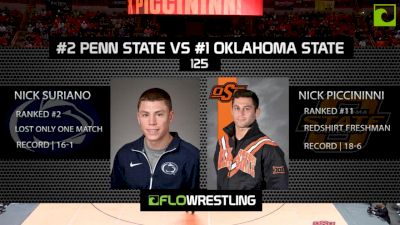 Live On Flo This Week:
Mar 3-4:
EIWA Championships
|
Mar 4-5:
Big 12 Championships
|
Mar 4-5:
PJW Junior High State Championships
Penn State's Nick Suriano is a "game-time decision" for the Nittany Lions heading into this weekend's Big Ten Championships, PSU coach Cael Sanderson said on Monday.
During his weekly press conference, Sanderson said his team's stud 125-pound freshman is still recovering from an ankle injury he suffered in the February 19 dual against Oklahoma State's Nick Piccininni. Suriano was forced to injury default the match.
Cael Sanderson says Nick Suriano will be a game time decision Saturday in light of his ankle injury.

— TDC Wrestling (@TDC_Wrestling) February 27, 2017
CS "were remaining optimistic" about Suriano's ankle.

— TDC Wrestling (@TDC_Wrestling) February 27, 2017
The Big Ten pre-seeds were also unveiled on Monday
, and Suriano was named the No. 2 seed for the Bloomington, Indiana, tournament. Suriano's lone loss on the year came to 1st-ranked Thomas Gilman of Iowa.
If he is unable to compete on Saturday and Sunday, I'd expect to see Penn State implement the same strategy Minnesota did with Dustin Schlatter in 2010. Schlatter battled injuries in the latter stages of his career. Instead of putting him out there to compete at Big Tens, he injury defaulted one second into in his first match and then forfeited out. Of note, former Gophers coach J Robinson advocated for Schlatter to be unseeded, knowing coming into the tournament that Schlatter wouldn't be wrestling.
2010 157lb Big Ten Wrestling Bracket: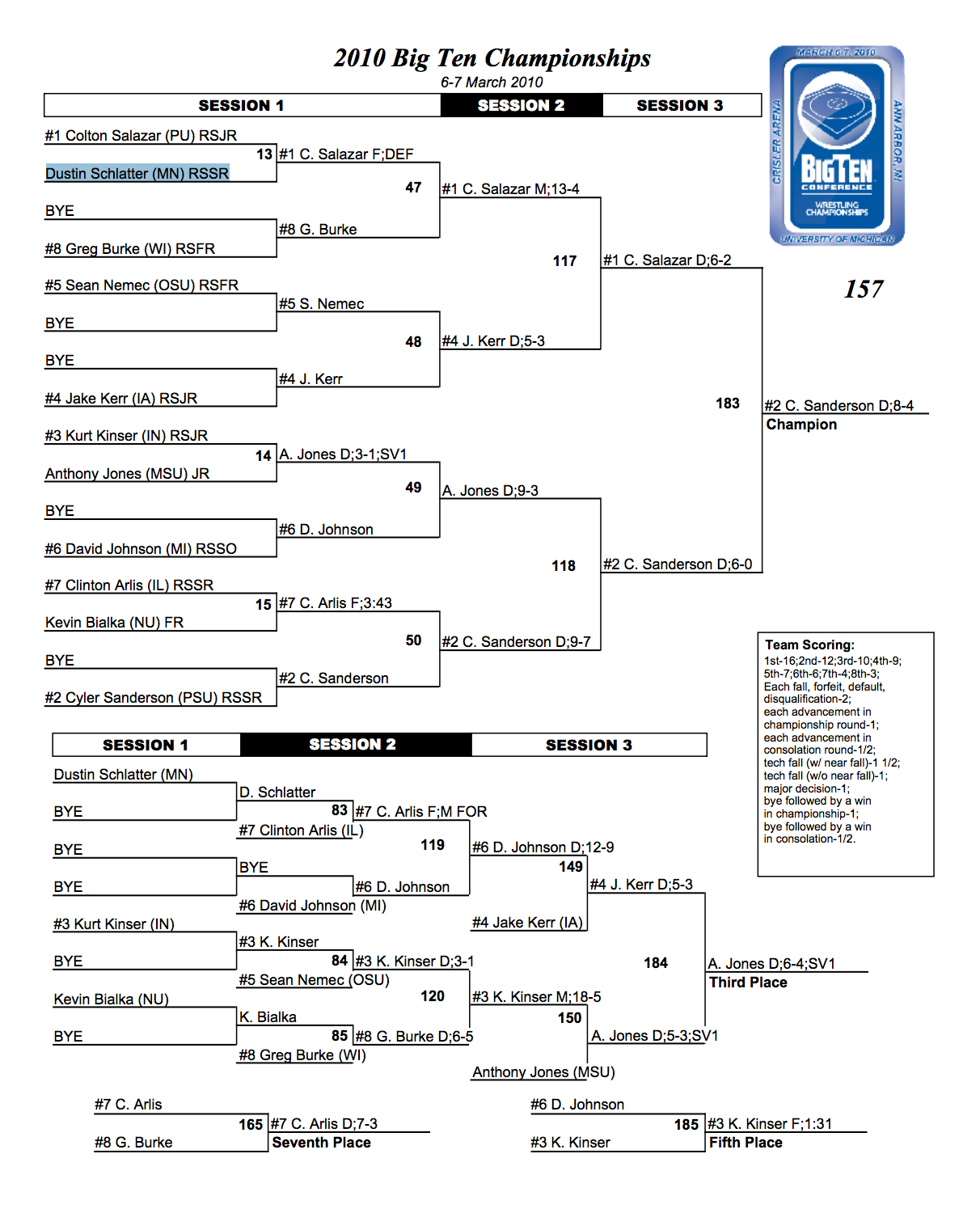 This strategy ultimately worked out for Schlatter in that it didn't crush his seeding, and it allowed him a few more weeks of rest. Despite having just a 6-2 record at 157, Schlatter was given the No. 6 seed at NCAAs. Unfortunately, Schlatter was unable to compete and forfeited out of the tournament.
2010 157lb NCAA Wrestling Bracket: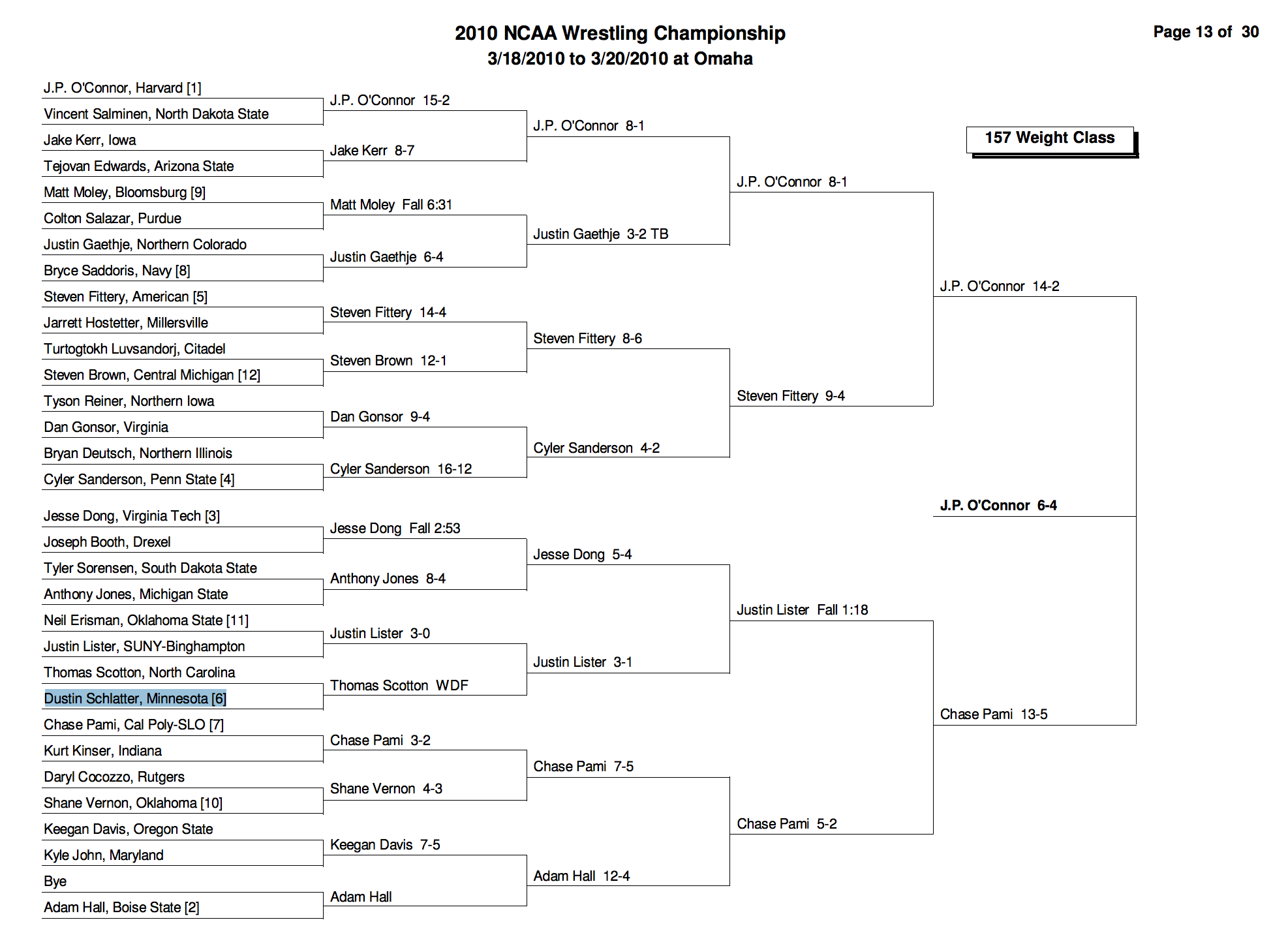 Seven years later, Suriano's ankle will have Penn State weighing several options. There is a possibility that Suriano could injury default out and still maintain a No. 2 or 3 seed at NCAAs
This huge decision all depends on how the seeding committee will weigh these injury default defeats. In most instances, the injury defaults are completely overlooked and ignored. If the committee goes that route, this is a huge advantage for Suriano and Penn State. If it determines these losses have seeding value and should hurt his seeding case, then Suriano's "losses" to Piccininni and whoever he may draw in round one of Big Tens could drastically impact Suriano's spot in the bracket.
Suriano's injury was described as a sprain by Sanderson following the Oklahoma State dual. Whether Suriano wrestles or not, just realize that his possible absence this weekend will not prevent him from earning a high seed at NCAAs and an opportunity to wrestle for a title in St. Louis.
The void Suriano potentially leaves would unquestionably impact the team race. While PSU was a large favorite heading into the Big Ten meet, no Suriano will put Iowa and Ohio State right in position to potentially win a title.
Popular Right Now:

Who's In, Who's Out After Pac 12s
Big 12 Pre-Seeds Released

Big 10 Pre-Seeds Released
Sometimes Zahid Valencia Disappears